Student Conduct Mission
The mission of the Office of Student Conduct is to enhance student learning, personal development, and a student's role as a responsible citizen in an ethical community that is conducive to and focused on academic and personal success.
The Code of Student Community Standards, which is the official policy of the University, is comprised of principles and policies on Student Rights, Student Dignity, Misconduct, Victims' Rights, Alcohol and Other Drug Policies, Disciplinary Procedures, and other principles and procedures.
This website is designed to help our visitors better understand our policies, processes, procedures, and philosophies. Please feel free to contact us if you have any questions, concerns, or feedback of any kind.
Student Conduct Staff
Becca Brumels
Interim Director of Student Conduct
(231) 591-3617
[email protected]
Conflict Resolution Options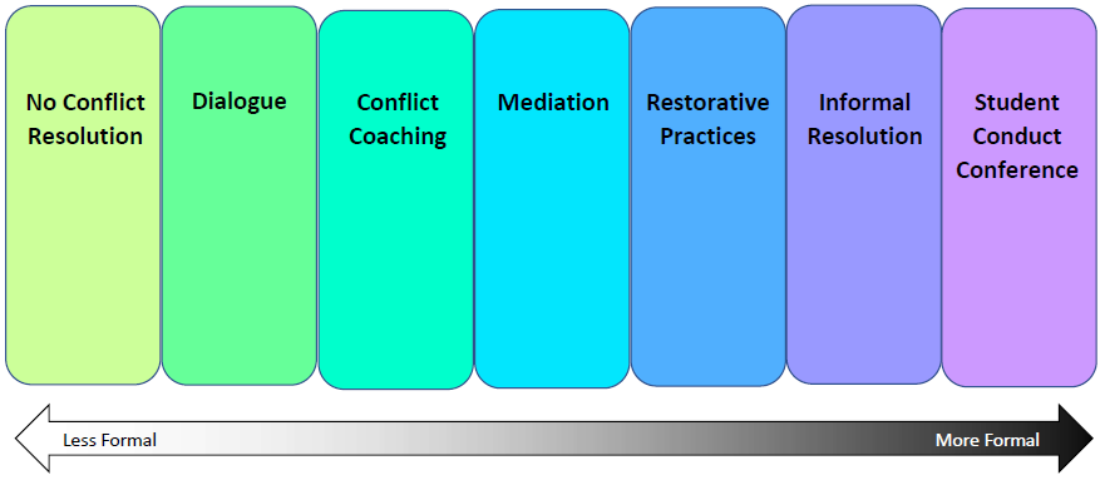 Adapted for Ferris State University from Meyer Schrage, J. and Geist Giacomini, N. (Eds.). (2020). Reframing campus conflict: Student conduct practice through the lens of inclusive excellence.

Ferris State University, through its core values of collaboration, diversity, ethical community, excellence, learning, and opportunity, brings people with a variety of backgrounds, ideas, and talents together. As we come together to learn, grow, and teach, the different perspectives and experiences that create a vibrant educational community can also result in conflict. Conflict is a natural part of living, learning, and working with others. Conflict helps us learn and grow in our understanding of ourselves, others, and the world. Some conflicts can be addressed informally while others benefit from a more structured process of resolution. The nature of the conflict resolution may depend on preferences of the impacted parties, the desired outcomes, and the severity of the alleged conduct.
Student Conduct FAQ
I've been documented.... Now what?
What is a conduct conference?
What are my rights?
Can I bring an advisor/support person?
Who will know?
Can I be documented off campus?
What are my outcomes?