Manager and Head Golf Professional
by John Smith - Jan. 24, 2018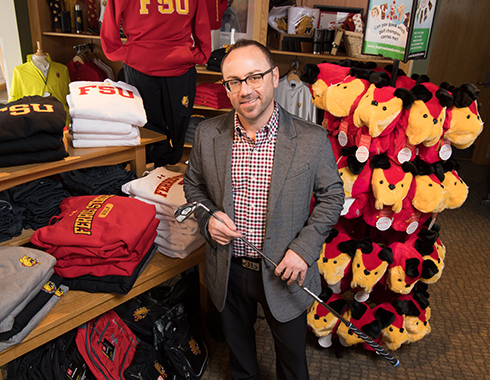 Ian Ziska's career is living proof that, through the pursuit of excellence, a career journey can begin in the shoe room and move to the bag room, golf shop and then an office. Today, Ziska is thriving in his leadership role at Ferris State University's Katke Golf Course, an important training base for the university's PGA Golf Management program.
The Wexford County native was a high school golfer, in the 1990s, and staying near the game included long hours where his professional career began, as a staff member, at the Cadillac Country Club.
"I literally grew up at the club, starting in the shoe room," Ziska said. "Our head pro, Dave Kendall, was among the first classes of Ferris' PGM program. He, as well as other Ferris alumni, introduced me to this great profession. I loved the game and wanted to continue my level of involvement. I felt Ferris was the best place I could pursue being a player and becoming a future golf professional."
Ziska made the choice to focus on the program instead of becoming a member of Ferris' golf team when he began his studies.
"Ron English was golf coach when I started at Ferris. It was a bit of an afterthought to pursue a spot, at that point," Ziska said. "I did speak to Tom Underwood, who came on after Ron retired, before starting an internship in West Palm Beach, Florida. Pursuing my PGM degree meant being away from school. So, not until my final semesters, did I consider competing for the team. The next coach, Brad Bedortha, approached me and was rather direct about asking me to join the team."
Ziska played for Ferris, during the 2000-01 season, placing second to teammate and medalist Mitch Flemming (218), as he carded rounds of 75, 72 and 73 for a 220-total in the Great Lakes Intercollegiate Athletic Conference championship. That event was hosted at Katke, with the Bulldogs finishing 19 strokes ahead of runner-up Grand Valley to claim the program's 16th GLIAC championship.
"Being able to play for Ferris, during my last year, was an unbelievable way to finish my time as a student," Ziska said.
Ziska became a "Class A" member of the Professional Golf Association, in 2001, the same year he earned his Ferris Bachelor of Science. As a West Michigan native, Ziska found opportunities at top-tier facilities, including Eldorado, in his home area of Cadillac, and Manistee National Golf and Resort, near Lake Michigan.
"I worked for some of the best golf professionals in the country and was exposed to every situation someone might encounter as a pro," Ziska said. "When your clientèle is based around public or resort golf, I was able to use what you might call 'old-school' approaches with my focus on making the customer feel special and meeting every expectation I could."
Honors earned by Ziska, during his career as an assistant and head professional serving at these facilities, include receiving the Michigan Section PGA Junior Golf Leader Award, in 2006, and being honored as Michigan Section PGA Merchandiser of the Year for Resorts, in 2010.
"My forte has always been working in the public sector where a diverse group of golfers will gather during the season," Ziska said. "It is important not to make presumptions about a customer, so I was intentional about talking to them about their needs and went about meeting those requests."
In March 2012, Ziska was announced as the head professional and manager of Ferris' Katke Golf Course.
"I think the coolest thing about coming back was with the understanding I was able to oversee and operate the learning laboratory for the PGM program. The students who apply to work here are given every opportunity to augment their golf operations skills and really address any weaknesses they may have identified," Ziska said. "Our students travel the country to gain experience as interns at some of the best places in the country, and even internationally."
Ziska said he can take on 20 students per semester and expose them to all aspects of the Katke Golf Course operation as they work part-time positions.
"First off, I require that they treat every one of our guest as they would those they encountered at any facility where they may have worked before," Ziska said. "Everyone who is looking to play, or visit Katke, should receive that level of treatment."
Expectations are high with the diverse clientèle Katke attracts.
"What we have is very special and isn't often what is found in other parts of the country," Ziska said. "It is an important part of our students' learning to get feedback from customers of all kinds. We have people tell us how fantastic their experience was, at Katke, and that they were pleased by the way they were treated. I tell our staff their hard work is not going unnoticed, and we should keep it up."
Ziska said while the PGM students strive for excellence in their dealings with Katke Golf Course's clientele, a key learning opportunity is responding when things don't go well with a customer.
"This is a collaborative effort where our students learn by the responses they make, including any mistakes," Ziska said. "Then, they become stronger golf professionals as they go into the industry."
In his short time at Ferris, Ziska has been recognized by his peers and the Michigan Section PGA, winning multiple awards including the Merchandizer of the Year – Public, Youth Player Development; Bill Strausbaugh Award, for mentorship; and the Horton Smith Award, for education.
Ziska said Katke is a resource for the community and other guests. Additionally, it offers Ferris students professional experience. He expects the university's plans to develop the Ken Janke, Sr. Learning Center, at the course, will enhance learning opportunities.
"Some of our students are just getting that first look at golf operations and what is to come in their career. I feel obligated to take them on to give them that chance to learn," Ziska said. "It is important they have the opportunity to prepare for the great work experiences our program provides to set a foundation for their professional lives."
Ziska's Ferris golf duties and devotion took an interesting and enjoyable turn, in 2017. He served on the search committee that brought Ferris alumnus Kyle Wittenbach to replace Mike Mignano, in Summer 2016. Wittenbach, an All-GLIAC performer in his playing days, asked Ziska to serve as an assistant coach for the men's and women's golf teams, to fill a vacancy.
"It was a terrific experience and one I will not forget. Our women's team had a very good spring, and to be involved in what is arguably the deepest run our men's program has made, in its history, was very special," Ziska said.
The Bulldog men advanced from a field of 20 teams, in the 2017 NCAA Division II National Championship, as they were seeded seventh in an eight-team field. In medal/match play, Ferris fought to stay within striking distance of the second seed, but Florida Southern prevailed in the quarterfinal and continued its run to a national championship.
"In my duties, at Katke, I offer instruction to many players so they can improve their game," Ziska said. "To work with our athletes, and help them pursue their competitive goals, was very enjoyable. I also admit it is a nice little add to the resume."
As he approaches six full years, in his duties as head professional and course manager, Ziska said the experiences include supporting several classes of students who have completed their education and have gone on to leading golf companies and operations across the country.
"The results have been very gratifying," Ziska said. "I hear from some graduates who were here several years ago. There are daily conversations with a number of them. I am proud to be a mentor, to offer them assistance, even help finding an answer to a situation that may be unique. The idea remains that they learn and succeed, as professionals, which does not come to an end when they graduate from our program."


John Smith is the communications specialist in the News Services and Social Media department of University Advancement and Marketing.

For others featured in the Faces of Ferris series, visit:
https://ferris.edu/HTMLS/news/faces/