Accessibility Coordinator, Educational Counseling and Disabilities Services
by John Smith - Aug. 12, 2019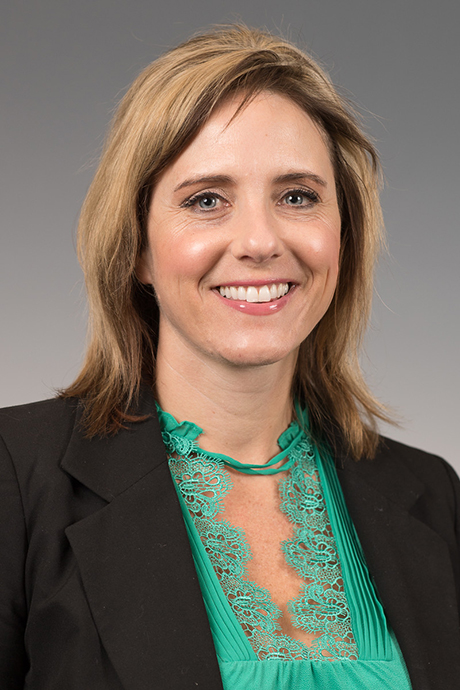 Stereotypical perceptions abound regarding collegiate life as they relate to the path a student might take to earn their degree and prepare for a career. The facets of real-life and the obstacles that an individual might face in their effort to achieve their goals can present a myriad of considerations, with complex and concerted efforts necessary to support each case that might arise on a campus.
Listening to a student's situation, assessing the issues involved and working to facilitate Ferris State University's most appropriate response is standard practice for Marie Yowtz, the accessibility coordinator in the Educational Counseling and Disabilities Services office. The wife and mother of four came to this role in Ferris' Retention and Student Success department following duties with Disability Advocates of Kent County, Grand Valley State University and Spectrum Health, where she served as a therapist and counselor.
"Our contacts could involve a student who requires a single office visit, or we may offer them assistance over the course of several semesters," Yowtz said. "The support offered might involve helping them address time management issues or addressing problems they have with test anxiety. The professionals in our office work with students to define what they hope to accomplish and align them with the appropriate support, by responding to any health issue, or possibly referring them for off-campus counseling."
ECDS is a resource for students who have documented disabilities so that all appropriate accommodations are available to pursue an education and enjoy the opportunities available through campus activities and programs. Yowtz said the Americans With Disabilities Act on Higher Education in 1990 impacts Ferris on every level and builds on Section 504 of the Rehabilitation Act of 1973.
"For those with a physical disability, we have individuals detail the accommodations they have received in the past, to verify what assistance benefitted them previously, while documenting how their condition impacts their everyday life," Yowtz said. "Being a post-secondary institution, the ADA requires that we provide reasonable accommodations, and we handle and address the needs of these students on a case-by-case basis."
Yowtz added that ECDS staff place a high priority on empowering students to make their case with professors and other instructors for the accommodations they might need, while offering other avenues of assistance that are available on campus.
"We discuss career counseling options, while also offering these students workshops, where they can sharpen their skills," Yowtz said. "Addressing how their disability might impact the pursuit of achieving their goals helps these students make confident choices, so they can develop a successful plan to complete their degree."
Yowtz said ECDS also works to support the professors after a student presents their request for accommodation.
"It is an interactive process, we are happy to work with our faculty to troubleshoot alternatives so that we reach some acceptable conclusion," Yowtz said. "Helping them understand how to administer accommodations equally and correctly is an important aspect of our operation so that these efforts are as well structured as they are well-intended."
There are also large-scale considerations for ECDS, such as assisting with the promotion of accessibility at the departmental, college and university levels, particularly concerning Electronic Information Technology (EIT) accessibility.
"We are striving to have our professional schools include information on accommodations in their handbooks and more technical issues," Yowtz said. "Achieving accessibility across the campus, where it applies to a student's right to access facilities and navigating the Ferris website also applies. It can be a considerable and difficult undertaking."
The requests for support can often extend beyond the classroom, as ECDS staff are petitioned to provide assistance so that students might live by themselves in a residence hall, assure that their room is on the first floor of their building, or, in growing numbers, that they might be able to keep an assistance animal on campus with them.
"These matters are reviewed case by case, with serious consideration given to the applicant's situation," Yowtz said. "We work closely with Housing and Residence Life officials, with appreciation that they have the frontline responsibility when accommodation is given. In particular, the concept of approving requests for assistance animals is an emergent situation that calls for careful thought and response. Our goal is to work with all parties involved, to reach the best possible result."
The ECDS also takes appropriate actions if a student has a grievance regarding a request for accommodation by a professor, or the university itself to provide assistance.
"Our involvement includes assessing the efforts made on behalf of the student, to assure they were given appropriate accommodations, and that ADA compliance was met," Yowtz said. "Cases may, on occasion, go on to the United States Department of Education's Office for Civil Rights."
Yowtz stressed that a cross-section of campus partners, such as the Faculty Center for Teaching and Learning, Extended and International Operations office, Ferris Library for Information, Technology and Education, and the Web Content staff actively support the goals of ECDS through their operational effort.
"Each of them has the potential as an immense consideration, in their own right, when it applies to students with disabilities," Yowtz said. "We are glad to have so many concerted advocates in these offices supporting the assurance of accessibility and empowering a diverse Ferris community. It is important that students receive appropriate support during their time here, and that those considering Ferris are given appropriate access to assess their prospects by reviewing our online content."
Yowtz said ECDS staff finds their work complicated on occasion, but rewarding in each case, especially when a semester reaches commencement, and visitors full of pride return to their office.
"It really makes the job to get feedback from those who sought our assistance, then took an active role in reaching their personal goal," Yowtz said. "We welcome that confirmation that a student was able to meet the rigor of a particular class, or that their process is complete and they are becoming a proud graduate. They often stop by and tell us, 'It was all because of your help,' but we understand that convincing them that they could achieve their goal was the key. There is a passion and interest that we receive from individuals and departments across this campus. Their energy is most significant, something that is greatly appreciated. We will continue to strive for greater inclusion, acknowledgement and acceptance of those with disabilities in our Ferris community."

John Smith is the communications specialist in the News Services and Social Media department of University Advancement and Marketing.

For others featured in the Faces of Ferris series, visit:
https://ferris.edu/HTMLS/news/faces/