College of Engineering Technology Professor
by John Smith - May 31, 2016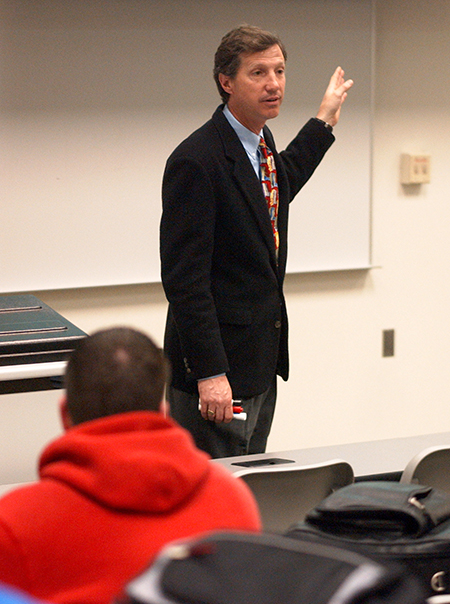 The National Elastomer Center on Ferris State University's campus is a scene of significant activity, and learning. Michigan's only Bachelor of Science curriculum in Plastics Engineering Technology is offered there, and graduates of this College of Engineering Technology program are among the most heavily recruited students on the Ferris campus.
The PET program is nationally respected, and the largest of its kind in the country. An associate degree in Plastics and Polymer Engineering Technology is available, and the BS degree in Plastics was established in 1982. Ferris' NEC was dedicated in 1998, with the Bachelor of Science in Rubber Engineering Technology degree started at that time, as a response to the industry's needs for technically trained personnel. It is the only program of its kind in the country. Program Coordinator and Professor Robert Speirs said they have long-standing relationships with multinational corporations, and new companies who find the talent they seek receive hands-on training in the center's laboratory.
"Our students and graduates have unique qualities, so much so that job providers have been known to allude to 'Ferris-like' skill sets in their descriptions of available positions," Speirs said. "We find that flattering."
The academic standards for these programs are high, but Speirs said that has not deterred the university's ability to recruit students to enroll and seek their associate, and four-year degrees.
"By January of this year, the program was full, and two-thirds of the spots have been filled for Fall, 2017," Speirs said. "Everybody is understanding the value, and they are seeing this opportunity."
Speirs said that other universities' programs offer training that is theoretical, and the learning opportunities in Ferris' laboratory are more experiential. Millions of dollars have been invested in the equipment available at the NEC to train Plastics and Rubber Engineering students, an important selling point to students considering Ferris' program.
"Students grow to understand the U.S.'s 'Big Three' automakers, Nike and Apple, these are the companies interested in them as prospects," Speirs said. "It takes some time to understand the breadth of opportunity."
Those who are pursuing bachelor's degrees in either discipline find ample opportunities for internships. Speirs said those are available throughout the learning process, but are focused on freshman and junior-year students.
"For freshmen, we try to get them acclimated in the environment, let them see how plants work, what a plastics engineering technologist does," Speirs said. "For juniors, we try to align them with the position that is in the discipline of their interest."
Sixty percent of these students see job offers in their junior year, and Speirs said 30 percent will have identified a specific employer by then to start a career. He estimated there are five or six job opportunities available per student, though their careers may start outside Michigan, or the Midwest. That often is the only mitigating circumstance to the programs claiming a 100-percent rate.
Some students who pursue their degrees in Plastics Engineering Technology or Rubber Engineering Technology determine that their career path will not lead to, or reach its greatest heights in a laboratory. Such realizations are not a problem, according to Speirs.
"These students understand that at the end of the rainbow, they can find a really good marketing or sales job," Speirs said. "With our degree, you can go a lot of different ways, as you prepare to work with plastics, rubber, manufacturing engineering, mold design, and product design."
Speirs came to Ferris with medical industry experience, having worked in the design and development of hemodialysis equipment. He said students need to keep a broad view as they consider opportunities, and internships, as corporations focused on automation and medical applications are looking for employees with their skills. Alumni return to the NEC frequently, and help drive that point home to current students.
"That is one of our strongest aspects, alumni interest," Speirs said. "They come back, hoping to find and support students who could be their protégé, or a member of their project teams."
While Ferris students have a unique learning opportunity in Plastics and Rubber Engineering Technology, thanks to the National Elastomer Center and its faculty, Speirs said there is a collegial attitude, particularly when it comes to supporting their customers in the classroom or workplace.
"We don't compete as instructors in this industry," Speirs said. "We share job opportunities, and students. It's all about getting them a job."


PHOTO CAPTION: Professor Robert Speirs is the program coordinator for Ferris State University's Plastics Engineering Technology and Rubber Engineering Technology. Both are based in the National Elastomer Center on campus.

John Smith is the communications specialist for News Services and Social Media in University Advancement and Marketing.

For others featured in the Faces of Ferris series, visit:
https://ferris.edu/HTMLS/news/faces/