Coordinator of Greek Life and Student Life Project Manager
by John Smith - June 14, 2018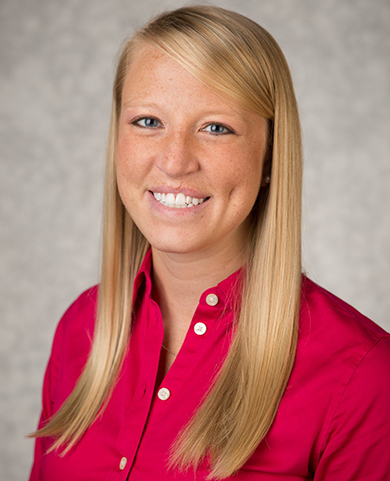 Whether a student hopes to improve upon their career prospects, or seeks to enjoy a greater social experience while at Ferris State University, Ashley Schulte has thrown herself into duty in support of such pursuits as Coordinator of Greek Life and Student Life Project Manager.
Schulte began her first year on the Big Rapids campus, in August, by meeting with a dozen Greek chapters to discuss risk reduction and prevention, so that the groups were familiar with policy and event requirements, whether alcohol was or was not being served at their gatherings.
"I have tried to approach my duties in a progressive and positive light since my first day on campus," Schulte said. "We have focused on managing the demands that these groups are facing, especially considering that each chapter has a new president every year. There are 21 social fraternities and sororities, with their members pursuing associate of applied science degrees, to those seeking a Doctorate or an MBA in Pharmacy. More than half of the 569 students have a 3.0 grade point average or better, and across the board, our goals are to see that they take classes, stay in their programs and succeed in pursuing their degrees."
Schulte had roles in Housing and Residence Life at Grand Valley State University, then served as a Victim Advocate in its Center for Women and Gender Equity before coming to Ferris. She was an involved member of the Xi Psi chapter of Delta Zeta, as a GVSU student, and saw the growth of fraternal organizations move from 500 to 600 participants in her college days to near 2,000 students when she moved on to her duties at Ferris. While Greek Life may not realize that kind of exponential increase in Big Rapids, Schulte said her goals are clear and believes they are achievable.
"We hope that our member organizations make retention a priority, while they pursue their academic careers and foster an environment of connectedness, for each participant," Schulte said. "They represent a wide variety of interests, and range from one to 58 members. A sense of belonging is an important indicator of student success, so we believe the experiences they will find by participating in fraternity or sorority life will be among the best indicators of quality in their collegiate experience."
Schulte is proud to have supported the chartering of the Ferris State Colony of the Sigma Lambda Beta fraternity, a national organization with a Latin@ base.
"Beyond meeting the colonization and founding requirements of their national organization, this group has chosen to emphasize sexual assault awareness as their cause of concern," Schulte said. "It is great that these students are interested in hosting programs, that they are taking a stand, by getting others involved in their actions and advocacy efforts. Those students who are part of the university community, but are not involved in a Greek organization probably are not aware of all that chartering a sorority or fraternity might require from these chapters and colonies. There is much that goes on behind the scenes to establish a new fraternity or sorority."
Whether the organization is newly-chartered or well-established in the Black Greek, Panhellenic or Interfraternity councils, Schulte said those groups can expect her enthusiastic response and support.
"I am very willing to work hard with these students, including a group that is taking the necessary strides for their organization to be clear of probationary status," Schulte said. "Chapter presidents need to be aware of many responsibilities, and delegate as necessary to other members, so they can promote group successes to our faculty and administrators, while being accountable for their choices. No one wants to be singled out by a campus newspaper, or a national news outlet, when a choice is made that the organization didn't consider carefully."
Schulte characterized her early interactions with Ferris' Greek Life and Student Life contacts as opportunities to offer support and suggestion, with many organizational success stories.
"For an example, our organizations totaled 87 event registrations for the month of February, which doesn't even include some internal events, like going bowling, holding a chapter meeting or providing an educational module," Schulte said. "This indicates that both social and impactful activities were being made available almost every day, even in that short month. I am glad to be supportive and make my connections with these groups a helpful and pleasant experience with no need to scold or criticize their efforts."
In her own experience as a member of Delta Zeta at Grand Valley, Schulte was an alumnae financial director and an on-campus advisor. While that kind of involvement may not be the desire of every fraternity or sorority member, she added that those opportunities can prove important as members prepare for life after college.
"Fraternity and sorority life did so much for me personally and many others I know," Schulte said. "I want there to be positive and enriching experiences for everyone who is involved with one or more of our organizations at Ferris."


PHOTO: Ashley Schulte is the coordinator of Greek Life and Student Life project manager for Ferris State University. She joined the staff of the Office of Student Life in September of 2017.


John Smith is the communications specialist in the News Services and Social Media department of University Advancement and Marketing.

For others featured in the Faces of Ferris series, visit:
https://ferris.edu/HTMLS/news/faces/