Academic Support Center
by Sandy Gholston - July 21, 2009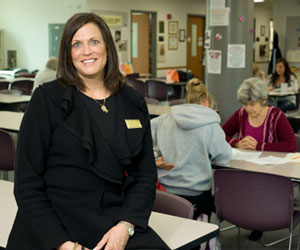 Ferris State University has, and continues to be, a part of the life Marcia Schuberg and her husband, Rex, have built for themselves and their family.
Marcia and her husband came through Ferris, but it's hard to imagine a much better feeling than for parents to watch their children grow and mature into outstanding young adults. Following, to some extent, in the footsteps of their parents, the three of the four Schuberg children (now young adults) have had the benefit of a Ferris education as a foundation for future success.
She and her husband, Rex, are proud parents of three Ferris State University graduates: 28-year-old Tyler, 24-year-old Kyle and 22-year-old Crystal. The Schubergs' youngest, 15-year-old Dylan, is a freshman attending Big Rapids High School.
With three college graduates, and a young son enrolled at Big Rapids High School, Marcia has long had a passion for education and an understanding of the impact it can have on the lives of people — a positive impact. As part of her personal educational experiences, including her family's academic history, it's perhaps only natural that Schuberg would want to do something professionally that involves education.
Being professionally involved in education at Ferris has been personally gratifying for Schuberg, but it has been especially important for the students she works with in Ferris' Academic Support Center. As a former paraprofessional, who specialized in reading and mathematics at the elementary-school level in Big Rapids, Schuberg has a history of reaching out to young people. These days, she is using her experience and expertise to help keep first-and-second year college students on the road to academic success.
"I started doing this because I wanted to do something that had meaning not only for myself but also for students that I could help," said Schuberg, who received an Associate in Applied Science in Legal Studies from Ferris in 1979 and has worked for several law offices. "My hope has always been that students can glean something from this experience that they can use to become better, more successful students.
Schuberg typically works three days a week during the spring and four days a week in the fall in the ASC from approximately 9 a.m. to 2 p.m. Schuberg works with students on the fundamentals of basic study skills: time management, note taking, test taking, memory, reading and more.
Those are a few of the basics that help turn first-year students coming to college into proud graduates who cherish their experiences at Ferris State University — proud graduates like Marcia Schuberg.
Ferris has given a lot to Marcia and her family, and she is happy to give back to Ferris.