Director of Athletics
by Sandy Gholston - October 14, 2010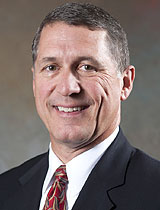 There's nothing like coming home.
Late this summer when Perk Weisenburger was named Ferris State University's director of Athletics, it was a dream come true for the native of nearby Mount Pleasant and graduate of Central Michigan University.
As Weisenburger sat between President David L. Eisler and Vice President for Administration and Finance Jerry Scoby, at an introductory press conference, his appointment served as the official realization of an opportunity he had coveted almost from the minute he became aware of the opening at the top of Ferris' Athletics Department. Previously, Weisenburger had served as associate athletics director for external operations at the University of Nevada-Las Vegas. However, Michiganders at heart, Weisenburger and his family were eager to return to the Great Lakes State when Perk was selected as Ferris' new AD.
"It's a pleasure to be here and I'm quite honored to be the athletics director at Ferris State University," said Weisenburger, who quickly rolled up his sleeves and went to work upon his arrival on campus in early September. "I was impressed with this university before I took the job and after being here a few days, I'm convinced that this was a great decision for our family."
Ferris, for more than 125 years, has taken great pride in one of the defining characteristics of its mission: opportunity. For Weisenburger, opportunity had a slightly different meaning. For him, opportunity revealed itself in the form of a return to the Midwest with a challenge to shape and lead a college athletics program near his hometown. While it comes across as a major transition to move from the bright lights and fast action of Las Vegas, to a much smaller city like Big Rapids, the move is eased by the excitement of a personal homecoming.
"It's exciting to be back in the state of Michigan and at an institution of this caliber which has a commitment to students, student-athletes and also the competitive values that we want to instill in our teams," he said.
The competitive instincts already are showing in Weisenburger, who has immersed himself into the Ferris Athletics culture. Part of his philosophy is that you don't stay the same and that, over time, you either get better or you get worse. His drive is to push Ferris' Athletics Department to become better. Part of that push begins with learning Ferris' history and becoming familiar with the community and even with competitors. Weisenburger has made and will continue to make efforts to visit other campuses in and around the Great Lakes Intercollegiate Athletic Conference and the Central Collegiate Hockey Association (the two leagues Ferris competes in athletically).
Recently, as part of the Ferris homecoming activities, Weisenburger handled the normal business in and around Top Taggart Field. He also took time to meet and greet alumni tailgating in the parking lot as he continues to embrace the rich history of athletics at Ferris.
Anyone passionate about Ferris Athletics hopes the best is yet to come as Weisenburger is poised to lead the way.
"I'm looking forward to becoming a part of Bulldog Athletics and helping to continue the solid tradition of academic and athletic success while cultivating an atmosphere of enthusiasm and pride that reflects Ferris State's past, present and future," he said.
For video footage of the Perk Weisenburger press conference, visit the official Ferris State University YouTube page: http://www.youtube.com/watch?v=lprLXEUNvr4.