Safety Coordinator, Human Resources
by Betsy Garbe - Dec. 19, 2014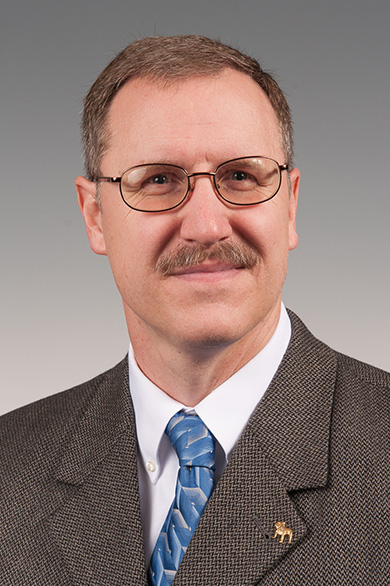 Mike McKay is the Safety Coordinator for Ferris State University and is responsible for the administration of the University Employee Safety function. His duties include coordinating the University's Workers Compensation program, health and safety training, CDL drug testing, building safety and health inspections and Material Safety Data Sheet system. He also supports all safety and health trainings at the University including Hazard Communication, new employee orientation, and Lockout/Tagout.
His favorite part of his job is that he gets to deal with different things on a daily basis. There is always a puzzle to solve, which drew him to this field initially. As a kid he was exposed to manufacturing, EMS, Firefighting, emergency preparedness, wilderness, and survival due to his father's career and lifestyle.
"Ferris helps a lot of people," McKay said. "It really does the kind of things that I believe in. It helps people solve problems and it helps people get out there and do hands on kind of things."
McKay started his career at Grand Valley State University, receiving a bachelor's degree in Occupational Safety and Health Management, in 1993. He went on to complete an internship at Prince Corporation, an automotive parts manufacturer that focused on rescue, entry, and procedure when dealing with confined spaces. Following his internship, Mike began working as a safety specialist/instructor for a consulting firm and then worked for Meridian Automotive Services for 10 years, where he spent the majority of his time traveling to and from 23 of their locations building a safety program and training the employees.
After deciding he didn't want to travel as much he began looking for other positions and came across a job opportunity at Ferris, in 2004.
"I came up and visited with people from all across the whole University and spent a day meeting with people and was ultimately offered the job," McKay said. "How can you come to a better place? Just look at the mission. I walk by the Woodbridge Ferris plaque every day that talks about how we formed the school and what the core mission is. I don't think you can ask for a better place to put your energy behind and help support."
Among the many tasks McKay does, emergency response is a very important piece. The steps he and his team needs to take in the event of an incident are to make sure the person is getting the emergency care they need. He has worked to build relationships with multiple response teams in the area to make sure the teams involved know the area and have a plan of what to do before an incident even occurs. He also helps the victim get what they need in terms of hospital care and anything they may need after the incident happens. Lastly, he makes sure to help protect the university from future incidents and liability by providing resources, information, and training materials to those who need it.
"We are a service organization," he said. "If someone calls and says they have a problem and need help, resources or input, that is what I am going to do because that is my mission."


Betsy Garbe is a News Services student writer in University Advancement and Marketing.


For others featured in the Faces of Ferris series, visit:
https://ferris.edu/HTMLS/news/faces/