Associate Professor, Michigan College of Optometry
by John Smith - Aug. 15, 2022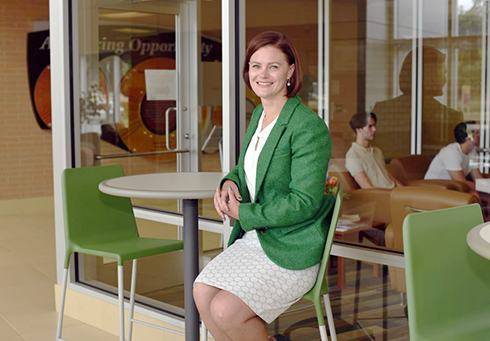 Dr. Paula McDowell
A rewarding career is likely for those who complete studies in Ferris State University's Michigan College of Optometry.
Dr. Paula McDowell, an MCO associate professor, saw her path to success take her to low-income urban areas before she returned to her alma mater to serve as chief of Pediatrics, and as supervisor of the Pediatric Residency program, after serving as its founding resident.
"I came to Ferris from Livonia to study Vision Science before entering MCO," McDowell said. "I earned a minor in ethics as part of my Bachelor of Science studies. Becoming a pediatric optometrist was always on my mind, so I was honored to be the first resident in our program."
McDowell continued her learning after a residency at the MCO by practicing at Cherry Health Services in Grand Rapids.
"I worked with a diverse patient base there, which broadened my experience with at-risk youngsters," McDowell said. "I took those experiences to the Illinois College of Optometry in Chicago, where I was asked to develop their ethics curriculum. The patient populations at clinics in that area and their unique circumstances gave me additional perspective. They have been great examples to share with students and colleagues as we strive to continue excellence in our instruction in our college."
McDowell returned to the MCO faculty in 2012.
"I always hoped to get back into education, but I did not anticipate these teaching positions would come about early in my career," McDowell said. "As a member of the MCO faculty, I have been afforded a wide range of opportunities, which includes the ability to prioritize marginalized and underserved patient groups."
Changes in the Michigan College of Optometry faculty find McDowell with her Pediatric Care specialty and teaching Public Health courses, which offer a greater understanding of important aspects of the profession outside of patient care.
"An optometrist needs to be proficient in providing service to their patient base, with varied types of insurance, with a good awareness of all factors that impact the care of their young patients," McDowell said. "Their socio-economic status, the families' traveling arrangements, a parent's employment situation, as it relates to bringing their child to the clinic, those are all significant elements of a pediatric patient's care."
McDowell added, "We want our students to be aware of those mitigating factors, so they can recommend and discuss care options and avenues based on their patient's circumstances. That includes our instruction in the University Eye Clinic, as Medicaid largely supports the pediatric patients at the University Eye Center."
As a practitioner and an educator, McDowell wants MCO students in her Public Health classes to understand and manage activities with their patients so they receive the care they need, with all possible resources utilized to defer their expenses for treatment.
"A patient may only be allowed one paid visit every two years from their insurer," McDowell said. "We show our students how to examine, case by case, so that the patient's circumstances may allow follow-up care to be paid by their medical coverage. I believe our students can take these concepts we offer in coursework and apply them to have the greatest benefit to their patients. Our clinical setting in the college also allows us to drive these points home, as it comes up regularly, during patient care."
McDowell is not only concerned with illustrating the proper response MCO students should make in patient care, but she also focuses on serving young patients and those who identify as LGBTQ+. Her involvements include membership on the Michigan Optometric Association's Children's Vision Care Committee and serving as an investigator for the Pediatric Eye Disease Investigator Group, an aspect of the Jaeb Center for Health Research.
"For me, much of this research and educational activity overlaps," McDowell said. "I did not see myself having a role in teaching Public Health to our students until the opportunity presented itself. I am comfortable with it and find it enjoyable. I realize now that would have been a good fit for me earlier in my academic career. It speaks to the MCO faculty in general, having so many well-regarded and capable professionals working together to help our students prepare for their careers. To meet these aims, the faculty are ready and willing to support each other, which is a great comfort and resource."
One collaborative effort, a lecture co-authored with Interim Associate Dean of Optometry Lillian Kalaczinski on the "Optometric Care of Transgender Patients," reached audiences at MCO, along with schools on the East and West Coast, beginning in 2019. McDowell followed those presentations with webinars for the State University College of Optometry and the American Academy of Optometry to support the goal of building an inclusive practice.
The Michigan Optometric Association noticed McDowell's endeavors in diversity, equity and inclusion, along with her leadership in pediatric care, by naming her the 2021 MOA Keyperson of the Year. That award, for an optometrist's contributions to the association and the profession during their years of membership, was presented this spring at the Great Lakes Eye Conference.
"I was so honored to be nominated for this award by my MCO peer, Dr. Jennifer Schad," McDowell said. "Our college was well represented at the ceremony. Assistant Professor Emily Aslakson was named Optometric Educator of the Year and 1990 MCO alumnus Dr. Matt Maki received the Roger R. Seelye Distinguished Service Award."
She added, "I still have trouble believing it has happened. I have struggled to think of myself as a key person. I do not do anything for our students and the profession in isolation. I focus on doing the best I can for the students of our college, my patients, my MCO colleagues, my family, and my MOA peers in each situation that presents itself."
Another aspect of supporting the MCO student body finds McDowell as co-advisor to the National Optometric Student Association chapter, a registered student group dedicated to helping minority patients in their field and healthcare. After forming in 2020, Paula and the student leaders in that group put on a stage production in March of this year, where faculty members sang and played music, students danced and performed. McDowell served as host for this talent show, saying the troupe was talented and humble while they brought attention to their organizational goals.
"I have to credit so many in the MCO faculty and our entire NOSA group, for all of the time and efforts they invested in demonstrating what we are capable of, beyond the classroom and clinic, while we break some stress and have fun with our message," McDowell said. "Given the constraints of the pandemic, this was the first chance many of us had to see each other, without our masks."
McDowell said the Association of Schools and Colleges of Optometry and the NOSA are separate groups but essential partners in prioritizing greater diversity in the profession.
"We certainly enjoy and welcome an increase in the diversity of our MCO student population," McDowell said. "We want students of all backgrounds to realize this is a field they can serve in, to make a difference and be more reflective of the broad diversity of the patients we serve."
I believe our main constituents throughout the university are our students. I hope those I see in MCO classes can see by my instruction and various offers of involvement that they can become great providers. That extends beyond their time in our college to their professional careers, so they can make the most of their opportunity to serve marginalized and underserved patient groups."


John Smith is a communications specialist for News Services and Social Media in University Advancement and Marketing.