Veterans Program Specialist
by Samantha Bankey - January 3, 2013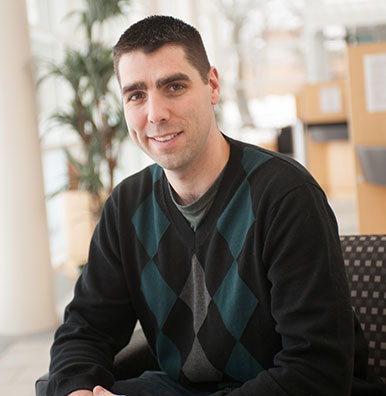 Making a difference in people's lives isn't just another day at the office for Veterans Program Specialist Adam Forbes – it's also a lifestyle.
The St. Johns native was studying criminal justice at Grand Valley State University when he enlisted in the United States Coast Guard Reserve nearly 10 years ago. After graduating from GVSU in 2006, Forbes spent time at the Coast Guard station in Manistee where he is based and on active duty at locations across the U.S.
About a year after he joined Ferris in 2010, his unit was deployed to Afghanistan.
"Being in the Coast Guard, I'm not a gunfighter or a door-kicker," he said. "I wasn't trained to do that while I was overseas. Instead, I traveled to different regions of Afghanistan to help Army soldiers ship things back home. I'd go through the documentation and segregation of items. If something went wrong with those containers, they'd sit in the port and incur all these fees and possibly get lost, so everything had to be sorted out."
Forbes' one-year deployment was recently featured on an episode of "Great American Heroes with Trace Adkins" on the Great American Country Channel. The country star/host talked with Forbes and his wife, Holly, who received free lawn care from GreenCare for Troops while he was deployed. Atkins united Forbes with the GreenCare volunteer at the Forbes' Grand Rapids home during taping last summer.
"It was heartwarming to meet everyone and have the chance to say thanks for helping," Forbes said.
His experience as a reservist and as a veteran is beneficial in his role at Ferris, said Forbes, who serves one weekend every month and two weeks each year on active duty with the Coast Guard. His primary mission is search and rescue.
Ferris has more than 450 self-identified veterans and about 250 students who are using V.A. benefits, he said. It's his job to coordinate those benefits and help students make the transition from active duty to civilian life.
"It's kind of like Adam Sandler's movie 'Billy Madison'," he said. "You're so used to doing things a certain way in the military, and now you're back at school as a non-traditional student. It's a hard transition, and it's a completely different culture and world than the military."
Forbes' day is spent on the phone and sending emails to communicate what student-veterans need to do to receive benefits. He also processes paperwork, organizes programming and helps student-veterans with on- and off-campus resources. In addition, he serves as advisor for the Student Veterans Club, a registered student organization on campus.
Ferris has been recognized several times as a Military Friendly School by G.I. Jobs, a publication for military personnel transitioning into civilian life. The annual list includes the top 15 percent of schools nationwide that provide the best experience and support for service members, veterans and their spouses to ensure their success on campus.
"It certainly is nice recognition for Ferris," Forbes said of the list, which is compiled through extensive research and a data-driven survey of more than 12,000 U.S. Department of Veterans Affairs-approved schools nationwide.
Forbes' favorite part of his job is getting veterans the benefits they deserve.
"Sometimes, veterans don't even know what is available to them, such as scholarships that Ferris offers. I get satisfaction out of helping these people go to school and be successful, and to get all of the benefits that they deserve," Forbes said.
"Ferris recognizes the need to be military-friendly and what members of the military can bring to this school. I enjoy how veteran-friendly the campus is, as well as the people and the community."
Samantha Bankey is a News Services student writer in University Advancement and Marketing.
For others featured in the Faces of Ferris series, visit:
https://ferris.edu/HTMLS/news/faces/