Head Coach, Women's Basketball
by John Smith - March 24, 2020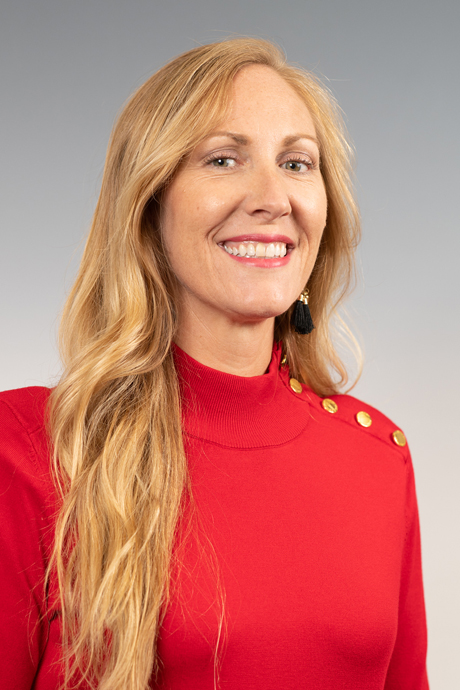 Success, in winning records, competing in the Great Lakes Intercollegiate Athletic Conference postseason, and reaching the NCAA Division II Tournament, was a complicated task for the Ferris State University women's basketball program.

Coach Kendra Faustin came to Big Rapids in Summer 2015 with the understanding that Athletic Director Perk Weisenburger was seeking the development of a championship-driven program.
"As coaches, we view our effort on and off the court as education," Faustin said. "We have been working since we arrived to establish a foundation of learning and growth for our players and program."
Faustin said that base includes three non-negotiable concepts when it comes to their efforts and conduct as members of the program.
"Integrity is first and foremost, an investment to being their best, and we place a high priority on accountability of self and to the team," Faustin said. "We put a great deal of emphasis on knowing what our players and team want to be about and become, through their membership of our program. We have established core values, believing that when we live these values and the associated expectations of behaviors, we can grow to become the best versions of ourselves individually and as a team."
Winning basketball games was a difficult commodity in Faustin's first years leading Ferris' basketball program, but the focus on learning and instilling program values was a constant.
"It is a process that is a lot of work, but also incredibly rewarding," Faustin said. "I have the opportunity to witness our player's growth while they learn and pursue our team goals. For us and for them, it is a challenging process full of failures, big and small. We know that failure is an essential part of our learning and growth process."
Faustin said the cornerstone elements of their value system include a commitment to trust, respect, positivity and communication.
"We address how this applies to their on and off-court lives, including how they approach and interact with each other," Faustin said. "It is bringing results for us that I could not have imagined. One of the key benefits this investment has brought is the desired results of upperclassmen and leadership, who willingly and consistently communicate our vision, teach our core values and lead these responses with their teammates."
That focus on investment and positivity has borne results in gameplay, as Faustin related a particular experience from the 2019-20 season.
"We reward effort as one of the few things we can control," Faustin said. "Even in practice, if the ball goes out of bounds, we want them to run it down and return to finish the play. It paid off, as we were able to make a last-second shot to win an overtime game at Wayne State. One of our players tweeted the video of the winning segment and added the hashtag, #finishtheplay. That was a very rewarding result since it illustrated they understood that our focus and practice of how we do things translate to the results we want."
Faustin said the investment they make to excel on the court and in the classroom means putting in the time, both in the Ewigleben Sports Complex and the Ferris campus.
"We have what we call our 'labs,' where we gather as a team to spend an hour, away from the athletic complex, to focus on personal player development. We believe that solid individuals are able to make a greater contribution to our team and even beyond our team."
To illustrate that point, Faustin described a lab where participants discussed the opportunity to model themselves as a "thermostat" or as a "thermometer."
"A thermostat sets the temperature, or condition for the situation our athletes encounter, and a thermometer simply reflects a temperature or condition," Faustin said. "Dr. Tim Elmore's 'Habitudes' is a leadership message that calls on our team to understand that you need two things to be a thermostat, a moral compass and to value to others. We want that positive result that can be shared and instilled, in themselves and others."
The women's basketball program also turned to technology for an exercise to illustrate their team concepts and values.
"We had players use their phones to create a video, to illustrate how they express their joy and give energy to each other," Faustin said. "They are all individuals, there were varied interpretations, but it really brought home the point, while allowing them to be creative and add value to the team and its goals."
Faustin and her players and staff are finding success on the court, as well. The Bulldog women won the North Division title and advanced to the Great Lakes Intercollegiate Athletic Conference tournament for a third straight year. Their 21 wins marked the most victories since the 2011-12 team went 23-7, which equaled the program record established in 2006-07.
"There has never been a year in my coaching or playing career where adversity has not arisen," Faustin said. "It can be injuries or real-life situations that arise. I am in awe of the resiliency of this group, how they pick each other up, regardless of the problem or distraction. Our players have sorted through what is important and keep communicating that with each other, as they move forward."
The coach said that the team staying focused on their academics is very much in line with the program's commitment to integrity, investment and accountability.
"I believe that athletics is the best teacher, what they navigate through during interactions with coaches, teammates and the Athletic Department staff serves them well as students, who respond to teachers and classmates," Faustin said. "We want them to learn through adversity and high-pressure situations, so they respond in the most beneficial and productive way for themselves and others, because it is an important skill to learn and apply to their lives. Many people would benefit from developing these skills, as my players have."
Twelve members of the women's basketball program made the GLIAC Academic Excellence or All-Academic teams following the 2018-19 season, including leading players Adrienne Anderson and Riley Blair.
With Blair, Lilly George, Emilee Kott and Renee Sturm completing their senior years, Faustin knows a considerable level of talent, experience and leadership is departing the program. Among her 2019-20 commitments are Ariel Jenkins, who was poised to help Detroit's Edison Public School Academy pursue a fourth straight Michigan High School Athletic Association title, and Lauren Ross, of Muskegon Reeths-Puffer, who was among the players being considered for the title of Miss Basketball.
"Recruiting works best when we can bring prospects together with our players," Faustin said. "They can learn about who we are and what we can achieve. Everyone in the program understands that we need to bring in good players and people, to continue what we have established. We are crystal clear with our recruits that being on the team is hard work, that we will push them outside of the comfort zone and into their growth zone, that it is more than basketball and that they will leave our program being a better person and player."
The coach said the efforts to establish and develop a program culture are important to their advance in conference standing, but Faustin's goal is more far-reaching than competitive results.
"I am most concerned about how we do things, such as our approach to training and game preparation," Faustin said. "We show our players the video and stats that are process-related. When their playing days are done, they will not recall the number of points scored or even win totals. It will be about how they invested in each other in an effort to be their best, helping their teammates be their best and the way their teammates made them feel."
Faustin said she views program success in her ability to develop women who are strong, confident and clear on who they are.
"The program culture allows our team, regardless of a specific player or position, or year in the program to be in a safe place to be themselves, and to contribute to the goal," Faustin explained. "I am pleased that our team thinks in terms of concepts like process, joy and people. They know that our goal is to be our best, not simply focused on a particular result. I can be disappointed in how a game turned out, but that has nothing to do with the value of our players as people. A win-loss record does not define us. We are defined by who we are."
Faustin said she also works hard to strike a delicate, though imperfect balance as a wife and mother while leading her program.
"This is a tough time of year, being a mother of 7-and 8-year-old sons," Faustin said. "My husband is an incredible partner, who understands as I do, that it is about the quality of our time together, not the quantity.
"The balance between what is important to me in my personal life, a strong partnership with my husband and being a great mom, and being a head coach is a constant challenge. To invest wholeheartedly in both my team and family, and take care of myself so I can do that requires a lot of planning and support. My children love being around the team, their connection to the players and in particular, both attached to their favorite player. I am grateful our staff and team welcome my kids and even included them in our North Division championship celebration. It is incredibly special to me that my favorite people can be together."
The women's team was awarded the program's fifth opportunity to compete in the NCAA Division II basketball championship. Still, due to COVID-19 (Coronavirus) concerns, the postseason tournament was canceled before Ferris played their regional opener against GLIAC rival Grand Valley, in Missouri.

John Smith is the communications specialist in the News Services and Social Media department of University Advancement and Marketing.

For others featured in the Faces of Ferris series, visit:
https://ferris.edu/HTMLS/news/faces/