Hockey Coach
by Sandy Gholston - February 8, 2010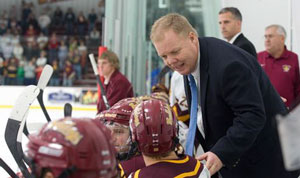 For decades, Ferris State University has taken great pride in being one of the smaller schools in Division I hockey and a member of a premier conference laden with Big 10 teams.
Today, more than 30 years since Division I hockey arrived at Ferris, 18th-year head coach Bob Daniels has in many ways become the face of Bulldog Hockey.
Daniels, the 2002-03 American Hockey Coaches Association Division I National Coach of the Year, currently has the Bulldogs in the midst of their best season since his Chris Kunitz-lead squad made headlines seven years ago. While hundreds of players have come and gone during Daniels' tenure, he remains a rock of consistency in Big Rapids -- well respected by peers for the way his program battles Division I college hockey heavyweights like Michigan State, Michigan, Notre Dame, Miami and Ohio State.
Through it all, Coach Daniels, aided by a trusted and experienced staff that includes associate head coach Drew Famulak and assistant Mark Kaufman, has remained as humble and hard working as ever while recruiting and developing quality players on the ice.
This season, it was doubtful many fans expected a whole lot from the Bulldogs. But, the coaching staff was optimistic -- long before Ferris shot out of the gates to a high national ranking and a spot near the top of the rugged Central Collegiate Hockey Association standings.
"When the year started, we were cautiously optimistic. We knew we had the talent, but it was just going to be a matter of how it all came together," Daniels said. "It has come together and our leadership has been tremendous. We have a great group of seniors led by our captain Cody Chupp, who is a Big Rapids native. Not only are these seniors playing well in key roles, but they're playing well in key situations."
A Commitment All Year
When the season ends, and hockey begins to slip into the back of the minds of most fans, the players and coaches continue their hard work on and off the ice. In college athletics today, strength and conditioning programs are vital. In recent years, Ferris has stepped up its commitment to high-quality strength and conditioning for its student-athletes.
"A lot of our success does go back to the summer and the strength and conditioning program we have here at Ferris," said Daniels, who coached the Bulldogs to the 2002-03 Central Collegiate Hockey Association regular-season championship and a trip to the NCAA Tournament that same year. "Dave Cencer was our strength and conditioning coach up until this fall (2009) when he joined the Chicago Blackhawks of the National Hockey League. Now we have (Ferris football assistant coach) Whitney Bell, who does the football team's strength and conditioning and our strength and conditioning. From a strength standpoint, it is awesome, but it also brings our team together."
Off the ice, Bulldog hockey embodies what it really means to be a cauldron for true student-athletes.
"We are so fortunate with this group of kids," said Daniels, who has been married to his wife, Leslie, for 25 years (the couple has three children, Jenna, Pete and Sara). "As successful as we are on the ice we're more successful off the ice. Last semester, our team's grade point average was 3.46. That is fantastic when you consider the amount of time our kids spend with traveling, games, practices and in the weight room. They also spend time in the community reading to the kids and hosting clinics."
The Youth Hockey "Explosion"
In Big Rapids and beyond, hockey has continued to grow stronger in communities across West Michigan.
"The biggest change in my 18 years (at Ferris) has been the explosion of Division I players from the west side of the state and we've had a number of players from that region," Daniels said. "Corey Couturier, who is from Traverse City, played for us and one of our star defenseman right now, Zach Redmond, also is from Traverse City. Through Cadillac, we had Tommy Mueller. From Big Rapids, we've had a number of players and three come to mind. Grand Rapids and Kalamazoo also come to mind when you think of Division I college hockey players."
It's exciting for Daniels and his players to engage young hockey players who participate in Ferris State University-run youth hockey camps or clinics.
"We also run a summer hockey school where a lot of the kids from the west side of the state come to participate," he said. "Our guys work in those camps and they get to know these kids. The kids then really want to come back with their families. It's also great because even when we go to places like Michigan State and Michigan, we will see kids from our camps and we recognize them out there because of our camp jerseys they wear when they see us on the road."
Bulldogs on the Tube
This season, Ferris has had great regional and national exposure with Fox Sports Detroit and CBS College Sports airing several Bulldog hockey games live on television.
"It is exciting to be on television. It adds a certain element of a thrill to the program and for the kids," said Daniels, who has coached eight All-Americans during his time at Ferris. "One of the main reasons Ferris has a hockey program is to add an activity for our students, but also to bring publicity to the University in a healthy way and a positive way. It's exciting to see the television cameras, but we want to put forth our best image not only on the ice, but also show what we're doing in the classroom and in the community."