Hispanic/Latino Cultural Center Associate Director
by Carlie Zervan - November 27, 2012
It's been quite a year for Jessica Cruz.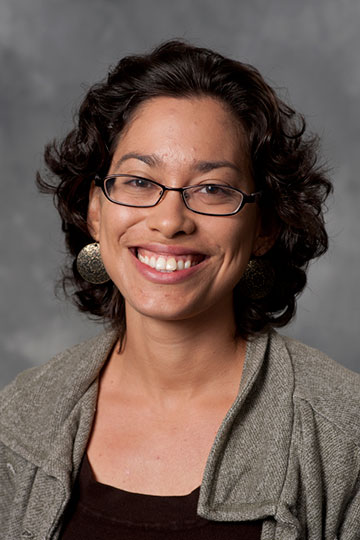 Cruz, a doctorate student at Columbia University in New York, was home in Grand Rapids for spring break earlier this year when she received an email from Tony Baker, a professor of Social Sciences at Ferris State University. Baker also serves as executive director for the University's new Hispanic/Latino Cultural Center.
Baker was looking for an associate director, and Cruz was recommended to him. She was on board without hesitation, and the two got down to work. Ferris established the center last summer to provide educational, social engagement and leadership-development opportunities within Latino communities throughout the Midwest. Several outreach programs are in the works, and the center's home in Interdisciplinary Resource Center Room 131, on Ferris' Big Rapids campus, provides a place for Latino students and others interested in Latin American culture to connect.
Cruz, who was born in Puerto Rico and moved to Chicago at age 6 with her mother before eventually moving to Grand Rapids, graduated in 2001 from Central High School. She earned bachelor's degrees in French and Public Administration from Grand Valley State University, and master's degrees with concentrations in Latin American and Bilingual-Bicultural education from Columbia University. She is working to complete a doctorate through Columbia and expects to graduate in the spring.
"I am from a large family – my mother and father did not have high education," Cruz said. "I am proud to be fulfilling my doctorate at Columbia."
Not only does Cruz have an impressive education on her resume, she has experience to match. As a student at GVSU, Cruz was involved in several organizations, including the Latino Student Union and Academic Resources, and she also was an advocate for education for immigrants.
In 2010, Cruz created the Latin@ Empowerment Conference to increase access to higher education for Latino students. It attracted 100 people its first year and more than 300 the following year. The conference features a motivational speaker and a panel of Latino/Latina community members from West Michigan who have earned doctorate degrees to serve as role models. Plans are under way for the 2013 conference.
As for her current role with the Hispanic/Latino Cultural Center, Cruz has big ideas. The center is designed to increase access to higher education, promote intercultural exchange and provide opportunities for meaningful partnerships between Ferris and Latin communities through student, academic and community connections.
Cruz said she values the importance of Latino students coming together, and the center will support the university's student organizations by providing a home base and developing various initiatives.
"The Latino Student Union was a home base for me when I was at Grand Valley," Cruz said. "There are Latino students here at Ferris who have just recently met other Latinos through our center who are already in their third year."
Her academic goals include the addition of a Spanish major and a bilingual education minor, which she said will help meet yet another goal of increasing enrollment of Latino students at Ferris.
The center also will reach out to Hispanic groups at other universities and in communities to establish connections that could result in access to higher education, service-learning projects and internship opportunities.
"The center is so well-received by the campus and the community," Cruz said. "I want to make the center successful and sustainable, and increase Latino enrollment and retention."
Carlie Zervan is a News Services student writer in University Advancement and Marketing.
For others featured in the Faces of Ferris series, visit:
https://ferris.edu/HTMLS/news/faces/