Professor of Music
by John Smith - Oct. 19, 2020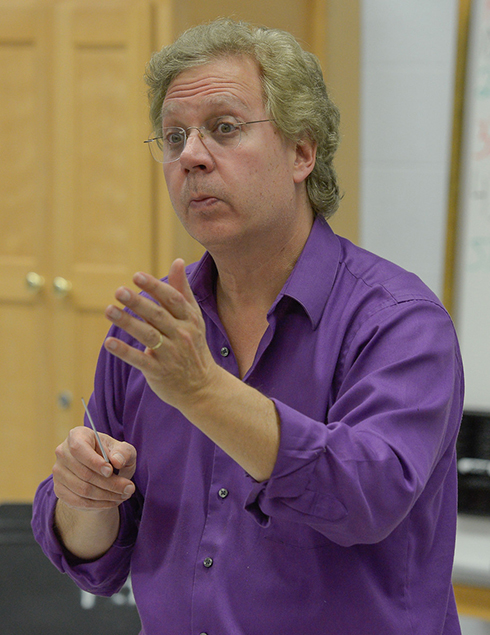 In the best possible sense, and with great benefit to Ferris State University and the Big Rapids community, Scott Cohen gets around.

As chair of the Department of Humanities in the College of Arts and Sciences, mobility is necessary, with its 12 academic disciplines located in six facilities across campus. Cohen is a professor of music and director of Instrumental Concert Ensembles at Ferris, while he approaches the start of his fourth year as Humanities chair, in what is now 18 years on campus.

"It is a rich and complex department, with very diverse academic disciplines and physical spaces for instruction," Cohen said. "Our' confederation of 12 academic areas does a great job of communicating its successes, in promoting the presentations they offer, such as humanities colloquia, other academic discussion series, speech contests, and Arts collaborations with the University Art Gallery. Recently, there was a series organized and offered by Communication professors to promote the centenary of Women's Suffrage in the United States. It is important in working with this vast group of advocates and experts to keep an open mind while understanding the primacy that each instructor has in their particular field."

Cohen said his role as Humanities chair has also included supporting outreach for the Music and Entertainment Business program, as they seek to collaborate with community colleges in the region.

"Program Director Paul Kwant and I have been able to partner in the development of a transfer agreement with West Shore Community College, in Mason County," Cohen said. "We believe our extensive discussions with leaders at Grand Rapids Community College and Lansing Community College will similarly attract their Music program students. They have completed Associate degrees with an eye on performance, but have an opportunity to serve in the industry, through our Bachelor of Science in Music and Entertainment Business."

Cohen is also familiar with operations across campus, through his service on more than a dozen committees, councils and his support as a liaison with the Office of International Education, which earned him the 2019 Ubuntu Award from the OIE.

"I have been a Fulbright research scholar and lecturer on community bands in the Valencia area of Spain, and offered my assistance to establish a Study Abroad program with the University of Salamanca, an institution with a more than 800-year history," Cohen said.

To highlight musical opportunities available for students and members of the Big Rapids Community, Cohen has been a regular exhibitor at Founders Day, Dawg Days and other Admissions-related gatherings throughout the academic year. He continues that effort by promoting students' chance to continue musically through visits to high schools across West Central Michigan.

"In the last year, we were able to host the Central State Activities Association Honor Band," Cohen said. "We had more than 100 participants from 14 area high schools, an important collaboration that helps students from key communities gain a better understanding and appreciation of the university. Being active in outreach with students who seek the opportunity to continue as performers is something I have always done and enjoyed in my time at Ferris."

It is in his role as director of Instrumental Concert Ensembles that Cohen collaborates with area nonprofits, community support groups and area performers or presenters who serve to bridge the university with the Ferris campus.

"One of the last concerts we were able to offer before COVID-19 brought an abrupt end to the year's schedule was a performance dedicated to the 100th anniversary of the passage of the 19th Amendment, which gave women the right to vote," Cohen said. "It was the final event of the 2020 Big Rapids Festival of the Arts, which I helped found more than a decade ago. That concert included the premiere of a special musical work that we commissioned from Michael Boo, a composer from northern Indiana. This arrangement of songs and spoken word segments from Anna Howard Shaw's writings was made possible through the support of nearly a dozen area women's organizations."

Cohen said another unique community engagement concert on campus focused on the centenary of the founding of Pharmacy instruction at Ferris.

"Harry Dempsey, an emeriti member of the Music department, was commissioned for a composition that saw its world premiere in our 2019 performance," Cohen said. "It may well have been the only such presentation commissioned to celebrate this important profession. The School of Pharmacy was certainly supportive, as they gathered alumni and former professors from their school to be with us for this performance. It was certainly a memorable and enjoyable collaboration."

Each fall, Cohen has a primary role in concerts that edify the Music Center's collaborative efforts in their outreach to and support of greater West Central Michigan.

"We recognize there is some level of cultural divide that exists between the university and the larger community," Cohen said. "We work intentionally to bridge that gap by organizing these concerts, where audiences of up to more than 1,000 have joined us at Williams Auditorium to honor our veterans, or to welcome the holiday season."

Cohen established the annual Veterans Day concerts at Ferris, presented each year since 2004. He said there has been a growing range of offerings in this program's evolution, beyond the musical works of John Philip Sousa, Irving Berlin or George M. Cohan.

"Last year, we had a multimedia presentation called 'Objects in the Mirror Are Closer Than They Appear," which was written by James Samuels," Cohen said. "Jim has written two short plays about veterans and these works have been performed as part of the concert, an atypical element for such events. We feel that they are important and impactful."

For several years, the Veterans Day Concert has also collaborated with local advocate Dr. Mark Kane to incorporate an element with the "Clownvets Project" of Patch Adams' Gesundheit Institute.

"Theirs is an important therapeutic endeavor that gives hope and health to veterans who are struggling with Post-Traumatic Stress Disorder," Cohen said, "It really adds to the richness of the event."

While the audiences often include veterans and families from the Ferris State and Big Rapids-area community, Cohen said an anecdote from last year's performance was particularly striking.

"A friend and former Ferris Distinguished Teacher, Phillip Middleton, was attending and noticed a man by himself, seated in the back of the auditorium," Cohen said. "It turned out this fellow was from the Chicago area but had heard about the annual concert and wanted to experience it, himself. Phil and this man were able to share their experiences with each other after the concert. That is just one of the rewarding results that came to be through this yearly collaboration."

The "Symphonic Santa Sunday" family holiday concerts predate Cohen's involvement with musical presentations at Ferris. Still, he is pleased to have brought about a charity collaboration to benefit nonprofits in and around Mecosta County.

"We started performing with a cause in mind, in 2008, when the Project Starburst Food Pantry was the beneficiary," Cohen said. "Over the years, we have been able to support a rotation of charitable groups and causes, most recently raising funds for the operation of the My Brother's Keeper shelter, in Big Rapids."

Cohen said it has been a pleasure throughout his involvement with these concerts to work with Ferris alumnus Rudy Grahek, whose "Dynamite The Clown" character has been a regional fixture for generations, along with the annual and appropriate participation from Santa Claus. The Ferris Symphony Band, FSU West Central Concert Band and the FSU West Central Chamber Orchestra regularly perform at these events, as part of their seasonal schedules. The West Central Concert Band's configuration, The West Central Chamber Orchestra and the Ferris Symphony Band, include community members Cohen said the collaborative efforts of Ferris students and residents from numerous surrounding communities are a valuable and essential element of these troupes.

"Music has been part of the Ferris experience since the days of Helen Ferris," Cohen said. "The Symphony Band has been performing for well over a decade. The West Central Concert Band has a history of more than 25 years, and the West Central Chamber Orchestra has been a fixture on campus for more than 50 years. It is a gratifying relationship that allows Ferris to have a most positive involvement with the community."

The COVID-19 pandemic has forced the cancellation of activities of the Ferris Community Summer Band, which Cohen said has enjoyed a similar 50-plus-year history with the Chamber Orchestra.

"Usually, our makeup for our Summer Band performances includes Ferris students who are working on campus or taking summer classes, high school students from the area, and community members," Cohen said. "There is a bit of a touring nature to the schedule, with performances held at the Old Jail in Big Rapids, at the Community Health Day with Spectrum Health-Big Rapids Hospital, and at the Castle in Canadian Lakes. These outdoor performances make for a comfortable gathering, with the audience bringing folding chairs or blankets, all in the mood for an enjoyable evening."

Collaborative efforts for Cohen go beyond preparing and offering musical performances or working with departments or university colleges. More than a decade ago, he worked with former faculty members Bruce Dilg and Scott Whitney and Ferris alumnus Rex Schuberg to head up fundraising and administration of the Big Rapids Bandshell's development Mitchell Creek, between Big Rapids Middle School and Hemlock Park.

"We have a number of Summer Band concerts there each season. It is a wonderful venue for our performances and other musical acts," Cohen said. "With the Muskegon River nearby and the comforts of that open space, it has made all the efforts to develop this resource most worthwhile."

Cohen's other community involvements include service on the Big Rapids Parks and Recreation Board, which included a period as their chair, while he enjoyed continued involvement with the Mecosta County Community Arts and Humanities Committee and Artworks of Big Rapids. A dozen years with the Rotary Club of Big Rapids found Cohen as President in the turbulent times faced by every organization, earlier this year.

"I am proud of the Rotary's efforts, as our fundraising allowed us to provide more than $16,000 to support 26 area organizations," Cohen said. "It is, at minimum, interesting to lead an organization through Zoom meetings and outdoor sessions at Northend Riverside Park to advance our projects. The meetings and effort have paid off. We have also begun to arrange for the return of the Community Giving Day, in a wonderful collaboration with the Lions Club. We have high hopes for this event, which we're hoping to hold in early December."

Ferris' Director of Community Engagement Tony Baker said Cohen's efforts are exemplary.
"Scott's campus, and especially community engagement, is incredible," Baker said. "The community views his collaboration as a significant contribution from Ferris. His work should be a model for engagement."

Cohen wrapped up the reflection on his collaborative efforts by describing the organization of a Christmas Luncheon caroling band, which performs for the clients and staff of Hope Network each December – an event organized by Ferris's Dining Services.

"It is important, first, to acknowledge those student performers, who would be off on their holiday break, yet come back to take part in this event," Cohen said. "The program goes back to when our audience came from what was then known as the Mecosta-Osceola Area Rehabilitation Center. Community musicians, and current and former faculty and staff members also contribute their time and talent, and the joy on the faces of this audience makes it all worthwhile."

Cohen said these wide-ranging activities, involvements and collaborations have another tangible benefit.

"I am not often bored," Cohen admitted.

John Smith is the communications specialist in the News Services and Social Media department of University Advancement and Marketing.

For others featured in the Faces of Ferris series, visit:
https://ferris.edu/HTMLS/news/faces/