Head Men's Basketball Coach
by John Smith - June 14, 2018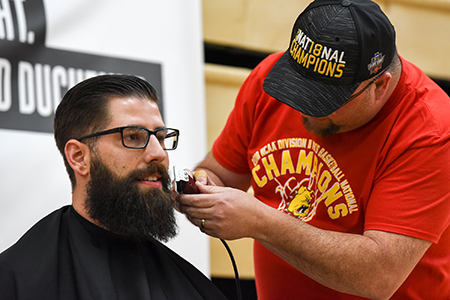 He organized and oversaw a first for the Ferris State University Athletics Department, as Andy Bronkema coached his Bulldog men's basketball team to an NCAA Division II national championship, notching 26 straight wins to close the 2017-18 schedule, with nine of those victories coming in the post-season.
While the excellence of that pursuit was the stuff of regional and statewide media coverage, including network television exposure for Ferris, Bronkema kept certain considerations front and center that speak to his belief in the importance of character and community, as the team pursued its goals.
Those who attended the NCAA Midwest Regional championship game on Tuesday, March 13 witnessed an example, as redshirt freshman wing Michael Peterson, of Rockford, was joined on the court by his brother, Mitchell, for a shared moment with the team's trophy. Mitchell, who has Duchenne Muscular Dystrophy, was signed to a national letter of intent by the basketball program on Saturday, Aug. 19, 2017. The team attended and participated in the 19th annual "Mitchell's Run" in Rockford that day, which is a road race that raises funds to support research of the disease.
"This is not done so someone can say, 'Look at me, hey, look at our team,'" Bronkema said. "We want Mitchell to know that we truly view him as a teammate, we were glad to be at his run last year, with definite plans to run it again. He has made it through adversity and Mitchell has achieved much this season."
The program's championship pursuits during the postseason also meant visits to Big Rapids and Sioux Falls, South Dakota-area schools, as the team takes "March is Reading Month" seriously.
"We like to get involved, to have that chance to sit down with elementary kids, and that's the case for all of Ferris' athletic programs," Bronkema said. "It was an NCAA mandate that we participate in a visit while we were at the Elite Eight, but we were happy to do it."
The list grows, from being part of the fun as players haunt a local corn maze, to more graphic realities, by making a visit to Eagle Village in Hersey, to talk with the residents. Bronkema said assistant coach Dave Schlump was a former employee, and former players James Chappell and Raymoan McAfee worked there more recently. Residents have been inspired by the team's visits to the nonprofit resident facility that supports delinquent youth, along with the victims of abuse and neglect.
"It brings on some powerful messages, as we have a station when we host clinics there, where residents and players discuss making choices," Bronkema said. "We have had players' stories which are not that much different than those of some of the people living there. We hope that kind of honesty and candor helps them in their recovery and rehabilitation."
Members of the men's and women's basketball teams returned to the court on Tuesday, April 17, as the 13th annual Heart-to-Heart, Hand-in-Hand charity basketball game was played. Area 5 Special Olympians were also on the floor, along with the Bulldog players to raise funds for the Mecosta and Osceola County-based special-needs athletes. More than $3,000 was raised that evening to support their costs of competition.
"I was at The Rock, recently, and one of the Special Olympians, Josh, was there," Bronkema said. "He was excited to be seen wearing his national championship shirt. He knows the names of my children. Nick, Kim and Amanda are among the Special Olympians who regularly attend our home games. We truly know and support each other."
Events like the Heart-to-Heart, Hand-in-Hand game predate his involvement with Ferris basketball, but Bronkema said having players head into the stands to thank their fans after each home game may give them a better perspective during the season, and for the rest of their lives.
"Our players went to cheer the freshman basketball team that one of our managers, Scott Rowley, was coaching," Bronkema said. "We have met with the Big Rapids football team and have visited Two Hats Ranch. Our kids have gone to speak to middle school groups, young people who could use a bit of a mentor and we have welcomed them to our practices. Dr. Jeff Mossel, a podiatrist in Big Rapids, has helped the team get into the community, by hosting a scavenger hunt. Winning and losing, it can be thrilling and agonizing, but what is most important is the lessons that we learn about being a team. What if you put in that investment of time and are not getting to that championship reward, not pulling in a bunch of honors? What you need to pursue, most certainly, is being part of an ethical community."
Bronkema said that this philosophy is a function of his upbringing in McBain, a town of fewer than 700 residents in southwest Missaukee County.
"It comes from what my parents and grandparents have been telling me, to make sure I know what is important, so when you deal with stuff that is not important, you can quickly return to doing the right thing," Bronkema said. "I won't learn all the lessons that are out there in my lifetime, but my wife Jenae and I will keep raising our daughters as best we know how and remain thankful for all the great things that have happened for us."
He added that their efforts to promote an ethical community include team teaching the fifth-grade Sunday School class at Trinity Fellowship in Big Rapids Township.
Bronkema's father Joel, who also played for McBain, was the school's athletic director when Andy was a three-sport athlete. Bronkema was part of a Ramblers team that made it to the MHSAA Division 6 Football finals, against Schoolcraft, then played on McBain's Class C State Championship basketball team, defeating Kalamazoo Christian in the finals. On the court, Bronkema had two years as a team captain and honorable mention NAIA All-American honors at Cornerstone University, in Grand Rapids. Perseverance paid off, as Andy taught elementary physical education in his early days at Crossroads Charter Academy, joined Ferris' staff, became the top assistant, and was named head coach in 2013. Five years later, his Bulldogs are Division II champions, and he remains thankful to the community.
"Everyone who came to even one game and clapped for us, if they baked cookies for the team, or invited them to come hang out in their basement, we have been glad to share it with them," Bronkema said. "It was great to see videos from Riverview Elementary encouraging us last month. We are part of the community and feel like we own this town and they own us."
In the weeks following the team's championship run, Bronkema accepted the challenge to shave off the beard he had grown during the season, as a fundraising event for Parent Project Muscular Dystrophy, which supports research of Duchenne MD. What started as a simple notion grew past a $1,000 goal, to $7,500 and more than $10,000, as support continued to come in prior to the weather-delayed championship celebration, which was held on Friday, April 20 in Ferris' Jim Wink Arena.
"I really didn't know what to expect and was happy to have passed those goals," Bronkema said. "Noah King, one of my seniors, agreed to give up his beard, which he has had his entire Ferris career. Six members of the program, including Mitchell's brother, Michael, had their heads shaved. Our team made many sacrifices to meet our goals, and win a championship. No one can take that away from us. When we pursue our goals again, we will keep doing things that are more worthwhile than basketball, because they are an important part of the experience."

PHOTO CAPTION: Men's basketball head coach Andy Bronkema (left) had help from Dan Decator (right) shaving his beard in support of the Parent Project Muscular Dystrophy at the team's championship rally held on April 14 in Big Rapids.


John Smith is the communications specialist in the News Services and Social Media department of University Advancement and Marketing.

For others featured in the Faces of Ferris series, visit:
https://ferris.edu/HTMLS/news/faces/