Photo Services Coordinator and Photographer
by Stephanie Dallman - March 12, 2013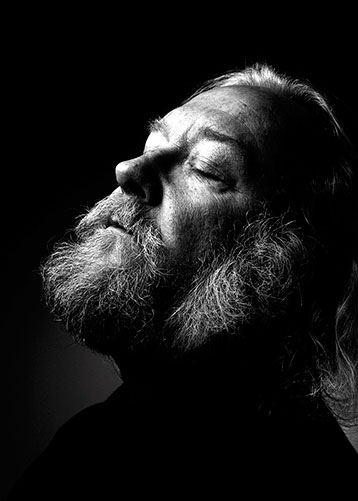 Bill Bitzinger describes himself as a "visual storyteller" for Ferris State University. Whether it involves students, faculty, staff or alumni, his role as the university's photographer is to share their stories through pictures.
"I've had the privilege of meeting some incredible people through working here," Bitzinger said.
"What I enjoy most about my job is the wonderful stories and different people I connect with on a daily basis. There are amazing people here that always have something new to share with me."
Bitzinger, who joined Ferris in 1992, coordinates University Advancement and Marketing's Photo Services department, which provides publicity photos for university and media publications, documents events, covers athletics and takes portraits of faculty, staff and students.
"I enjoy photographing the classroom to show the learning aspects of Ferris," he said. "I have a bachelor's degree in biology, so I really enjoy going into the labs on campus."
Bitzinger, who was born in Flint and raised in Port Huron, earned his biology degree in 1977 from Michigan State University.
"At the tender age of 30, I was getting tired of killing rats and washing test tubes. I really had a hook for science research, but I realized that with having only a bachelor's degree in biology that I would never be able to design experiments and that I would always be a technician," Bitzinger said.
"The researcher I was working for recognized I was unhappy and asked me what I really wanted out of life. I told her I wanted to be a photographer. She then told me to go out and be the best photographer I could be. With that excuse, I dropped out of the job market and enrolled in photography school."
After taking courses at Lansing Community College, Bitzinger graduated with an associate degree in applied technology in 1986. He landed his first professional photography job within the Detroit automotive industry. He then went on to do freelance photography at Michigan State, and after building an impressive portfolio, Bitzinger joined Ferris.
"I've always felt an artistic need in myself, and photography is my creative outlet," he said.
In addition to his work for Ferris, Bitzinger serves on the board of directors for the University Photographers Association of America, an international organization of college and university photographers and is on the advisory board for Ferris Graphic Design program. He also offers digital photography workshops during Festival of the Arts in Big Rapids.
And while he has no "favorite" photo subjects, he enjoyed taking pictures during a recent vacation to Singapore to visit family.
"As photographers, we see the world in frames," he said. "It's as though we cannot stop taking pictures. The camera really doesn't go away."
During his free time, Bitzinger enjoys spending time with family. His wife, Amy Packard, also works for UA&M. They met at Ferris' Kendall College of Art and Design in Grand Rapids while both were working.
During his nearly 21 years at Ferris, Bitzinger has stayed true to his personal mission statement: "Be a visual storyteller by putting a human face on the Ferris State University experience of students, faculty and staff, and be thankful for that opportunity."
Stephanie Dallman is a News Services student writer in University Advancement and Marketing.
For others featured in the Faces of Ferris series, visit:
https://ferris.edu/HTMLS/news/faces/