Associate Professor of Music, Concert Choir Director
by Carlie Zervan - March 12, 2013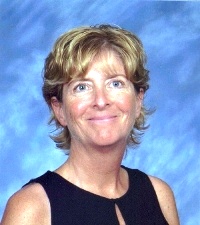 Cate Arroe doesn't have much free time. In addition to teaching a Music and Culture course and directing the Ferris State University Concert Choir, Arroe also is the adviser for Pet Savers, a Registered Student Organization on campus, and director of Animal Rescue Coalition, a new animal shelter in Big Rapids.
Before she came to Ferris in 2000, Arroe was a choir conductor at Brevard College in Brevard, N.C., Campbellsville University in Campbellsville, Ky., and the University of South Dakota in Vermillion, S.D.
"I like working here, because everyone is so supportive of each other," Arroe said. "All of my colleagues are supportive, and we all get along. It is a very comfortable environment."
Originally from Ferdonia, N.Y., Arroe graduated from Ferdonia High School in 1976. She completed her undergraduate degree in voice at the State University of New York at Ferdonia in 1980. She earned a master's degree in Choral Conducting from the University of Oklahoma in Norman, Okla., in 1982, and a doctorate in Educational Administration from the University of South Dakota in Vermillion, S.D., in 1992.
The past 13 years at Ferris have been rewarding for Arroe.
"I love my job, and I like that Ferris doesn't have a music program," she said. "Students join choir voluntarily, and, for many, it's the high point of their week."
The choir, the largest vocal ensemble at Ferris, presents at least two concerts each semester and performs pieces from various periods and in various styles. Membership is open to all students and community members; students can earn general education course credit and scholarships are available.
Arroe also serves as chair of the Arts and Lectures committee, a group of faculty members devoted to bringing diverse art and music events to campus.
"We try to have four to five acts per year – events that will broaden attendees' horizons," Arroe said.
Her campus involvement as the Pet Savers' RSO adviser is an extension of her love for animals. Arroe helped start the animal-rescue group in 2009 after she learned students were abandoning their pets. The organization places the pets in foster homes until permanent homes can be found and also offers training and dog-walking services to help owners. Since it began, about 200 dogs and cats have been adopted.
Arroe also serves as board director for the Animal Rescue Coalition of Mecosta County, a non-profit, no-kill animal shelter that opened in October.
"It's going really well," Arroe said. "We are very excited about the number of animals we have been able to adopt out."
Arroe and her husband have two dogs: Horton, "the sweetest dog you will ever meet," is a pointer who has spinal stenosis, and Ellie Mae, a dog she is fostering.
To volunteer or to find out more information about ARC, visit:
www.arcofmecostacounty.com.
Carlie Zervan is a News Services student writer in University Advancement and Marketing.
For others featured in the Faces of Ferris series, visit:
https://ferris.edu/HTMLS/news/faces/