Professional Tennis Management Director
by John Smith - May 31, 2016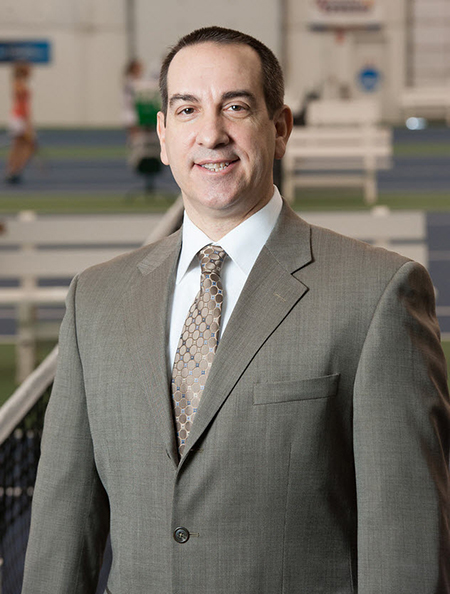 As a 1994 graduate of the Professional Tennis Management program at Ferris State University, Derek Ameel was able to pursue his career as a coach, trainer and speaker in the sport he loves.
Ameel said now, as director of the PTM program at Ferris, he's encouraged by the United States Tennis Association's initiative to support those universities with established or developing tennis management programs, and is excited by the association's new focus regarding on-court instruction, from a skills-based to a game-based learning method.
Ferris was first in the United States to offer a Bachelor of Science degree in PTM, as the program plans a number of 30th anniversary celebrations this year. Ameel said that the USTA has also partnered with Methodist University in Fayetteville, N.C., and will begin relationships later this year with Grand Canyon University in Phoenix, Ariz., along with the University of Central Florida in Orlando, as well as Berry College in Mount Berry, Ga.
"I think Ferris is the flagship for the USTA," Ameel said. "Association President Katrina Adams was our keynote speaker Saturday, April 2 as part of our PTM Banquet Weekend, along with a presentation from our program's founder, Scott Schultz, the USTA University's managing director."
Ameel said that the association will continue to build relationships with NCAA Division I universities and other schools in years to come, as the professional tennis industry's core of instructors is "a graying-hair group."
"The 1970s was tennis' heyday," Ameel said. "You had the 'Battle of the Sexes' between Bobby Riggs and Billie Jean King, and the rise of Chris Evert, Martina Navratilova, Bjorn Borg, Jimmy Connors and John McEnroe. The USTA recognized that this is an appropriate time to invest in the long-term future of the sport, and get involved in supporting the next generation of professional tennis management."
Ameel said that the association can also help him pursue students who would love a career in Professional Tennis Management, but are unaware that a degree program exists.
"I would bet that on each high school tennis team, there is a very interested candidate for our program, or one like it," Ameel said. "There aren't databases that help us identify those kids, and let them know what we offer. The USTA has the dollars to spend, and can help us promote PTM nationwide."
The USTA is also supporting upgrades at Ferris' Racquet and Fitness Center, as a $150,000 grant will be used to improve surfaces on the indoor tennis courts, as well as the clay surface outside the facility.
"We held a ribbon-cutting ceremony Saturday, April 23," Ameel said. "It was a great opportunity to help us promote the '10 and under' 36-foot courts."
The USTA developed a 36-by-18 foot court for these young players, and smaller racquets are paired with balls that travel slower and bounce lower, so these players find greater success as they develop skills. There are also 60-foot court dimensions with 21-foot baselines for association-sanctioned singles play in that age group, and 27 feet baselines for doubles matches.
Ameel said that Ferris' PTM program understands the challenge of training students who were raised in a skills-focused environment, and helping them teach players with a game-based focus.
"The way instruction had been, tennis clinics were like training Little Leaguers who were never permitted to play their game," Ameel said. "You learned racquet skills before you could play. Now, we teach playing tennis right from the beginning."
That instructional method can be successful for players of all ages, as Ameel said that their hope, and the USTA's goal is to get more people on the court, and enjoying the game.
"Tennis is unique, because families can take the court and compete together," Ameel said. "There are father-son tournaments where the players can achieve national recognition. We would like to get families interested, and learning the game together."
Beyond teaching the game-based instructional method, Ameel said Ferris' PTM program seeks to train students to be good employees, along with the understanding that a variety of career opportunities can result from their training.
"Making the transition from education to career participation should correspond with the mentality of 'You practice how you play,'" Ameel said. "Tennis players use a great deal of independent thinking to get by on the court. In our curriculum, we help them make a transition to a team effort with the people they train, and serve."
Ameel said their departmental advisory board has given them valuable input, which has resulted in adjustments to the PTM curriculum, which will begin in the Fall 2016 semester.
"We looked at things the larger industry wants, and are happy with these changes," Ameel said. "We have offered the opportunity to pursue a minor in Resort Management or Event Management, and can grant certificates in Ski Resort Management. Now, with the new curriculum, students will be able to include a minor in Accounting, Finance, or any other College of Business program."
The curriculum changes are seen as an improvement to a program that already boasts 100% placement rates, where 73 percent of students secure positions prior to completing their studies, with many finding financially-rewarding opportunities.


PHOTO CAPTION: Derek Ameel, the director of Ferris State University's Professional Tennis Management program, is a 1994 PTM graduate. He also began duties as Racquet and Fitness Center Manager in January, 2009.

John Smith is the communications specialist for News Services and Social Media in University Advancement and Marketing.

For others featured in the Faces of Ferris series, visit:
https://ferris.edu/HTMLS/news/faces/