Professor of Organic Chemistry
by Sandy Gholston - July 29, 2009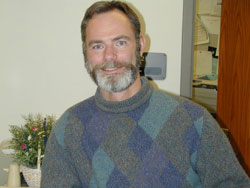 Dr. Daniel Adsmond doesn't teach to get rich or to enjoy some sort of celebrity status at Ferris State University.
Adsmond, Ferris' 2009 Distinguished Teacher Award recipient, largely teaches for those special moments when he sees with his eyes or hears with his ears that his students get it. Watching the learning process unfold, within students, has been and continues to be gratifying for one of the University's celebrated teachers.
"I've always enjoyed teaching," said Adsmond, an Organic Chemistry professor in the College of Arts, Sciences and Education, who realized his passion for education and helping others at a young age. "One of the things I've always enjoyed about teaching is watching the light bulb turn on in a student's head and you know they get it."
He added, "I love seeing students begin to feel enjoyment in the learning process."
Adsmond started at a young age when he tutored his older sister in geometry. Even in his youth, the seeds for a fulfilling career as an educator were being planted and nurtured. Over time, those seeds have blossomed into something special.
Time has only made his commitment to education and helping others grow stronger.
Adsmond is not just your standard lecturer, however. In the pursuit of academic excellence, he is a strong proponent of a more engaging brand of education that draws students out of a shell and encourages interaction.
Adsmond believes in a learning approach that converts the classroom into an educational community where all input is valued and important. One of the distinguishing characteristics of his classes is an emphasis on group work. College students have been known to moan and groan about group work in classroom settings, but Adsmond brings his students together to foster a community-type experience that encourages a sense of collaboration in the pursuit of academic excellence.
A Ferris professor since 1998, Adsmond's Distinguished Teacher Award was the result of the selection committee's thorough work over a one-year period to identify teachers who embody academic excellence. Adsmond and the other candidates endured a process that included classroom visitations, student surveys, personal interviews, the evaluation of essays and curriculum.
As the selection committee's process reached its conclusion, Adsmond's name was revealed by the co-chair, Dr. Adnan Dakkuri, a professor in the College of Pharmacy.
Adsmond was humbled by this spring announcement of the Distinguished Teacher Award.
"It's a real honor to receive this kind of award and, in many ways, I think it's an affirmation of the positive things I've always felt I've been doing with students I've had the opportunity to work with," said Adsmond, who has a bachelor's degree from Northern Michigan University and a Ph.D. from the University of Minnesota.
Making a difference in the lives of others has been a consistent theme throughout the life of Dr. Daniel Adsmond, and it's a theme that will continue for years to come.