Human Resource Management Student
by Julia Hohman - March 17, 2021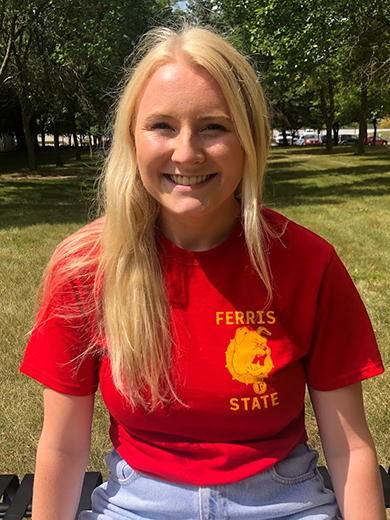 Olivia Adams came to Ferris State University with a day-one goal to seek leadership opportunities. A Traverse City native, Olivia chose to live on the main campus rather than commute to attend her classes. Now, looking ahead to graduation, Olivia is happy she elected to seek the full college experience living on campus and enjoying more of what college life has to offer as she pursues her Human Resource Management degree and certificate in Supervision and Leadership.
"I could have commuted from home if I wished, but there were too many opportunities on campus to live at home," Olivia said. "The class size is perfect. I am always able to meet new friends, and there is not a day that goes by where I don't see a friend in the University Center."
Olivia is a member of Ferris' chapter and the national chapter of The Society of Human Resource Management and Traverse Area Human Resource Association. She is also associated with the Institute Leader-shape certification and the College of Business Leadership Distinction program.
Soon, a new opportunity presented itself as Olivia decided to run for president of the Ferris chapter of the Society of Human Resource Management during the Fall 2019 semester.
"Before being the president of the SHRM chapter on campus, I was the fundraiser chair. I soon realized I would enjoy being the president of this organization. As president, my biggest duty is to bring everyone together, whether if it's for executive board meetings or conferences in Grand Rapids. Being president of SHRM has definitely heightened my soft and hard communication skills. I have enjoyed mentoring others and coordinating other peers with our administrators."
The Society of Human Resource Chapter annually attends conferences together.
"My favorite thing about SHRM is the conference it holds every year. It is great for networking in other cities," Olivia said. "I was offered the opportunity to connect and become a student member with the Traverse City group. The little connections go farther than you think."
Olivia soon discovered an opportunity to become an RA during her sophomore year. Beyond her dedication to academics and student organizations, Olivia became a resident advisor in Puterbaugh Hall during the Fall 2018 semester.
She continued to work in the Housing and Residence Life Office for two years and now is a "senior staff advisor." Olivia manages and coordinates desk operations, responds to emergencies, assists the hall directors, and serves as second-in-command during University openings and closings.
"Thankfully, I got the job, and I have been working in housing since. I started as an RA in Puterbaugh Hall, and now I am a senior staff advisor for Ward Hall. Being able to grow up in Housing has allowed me to find leadership opportunities while helping others and making friends through it all."
As Olivia is finishing her final Ferris semesters, she likes to reflect and appreciate everything the University has offered her as an individual and a professional.
"Thanks to Ferris, I've learned my leadership style. I've learned that using a democratic and affiliative style is the best fit for my role as a senior staff advisor and other leadership positions. I also am very thankful for the faculty that have helped me realize my potential. Particularly, Kasey Thompson pushed me to complete the leadership and supervision certificate. I couldn't be more grateful for everyone who has pushed me to grow into who I am today."
Olivia is excited to graduate from Ferris in Spring 2022 and move back to her hometown, Traverse City, to work as a Human Resource professional.

Julia Hohman is a student writer for News Services and Social Media in University Advancement and Marketing.