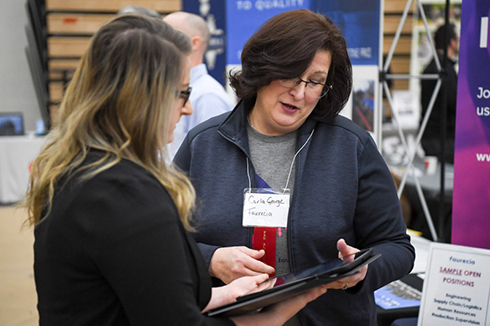 A virtual Career and Internship Fair is available to Ferris State University students from 8 a.m. to 7 p.m. Monday, Oct. 19 through Wednesday, Oct. 21, as organized by the Center for Leadership, Activities and Career Services.
Dozens of employers have registered to engage Ferris State University students and others participating through the Easy Virtual Fair platform, Monday, Oct. 19 through Wednesday, Oct. 21, as the Center for Leadership, Activities and Career Services hosts its Fall 2020 Career and Internship Fair.
CLACS Assistant Kathryn Thomas, the event's coordinator, is hopeful of attracting an even larger and diverse group of operations that are seeking students for entry-level and pre-graduate opportunities to join those businesses and operations already taking part.
"It will be different than other years, but we are glad to have a wide variety of participants for this semester's fair," Thomas said. "I welcome emails or calls to our office, to further our goal of providing interesting opportunities to consider for each of the students who join us that day."
Thomas said students should be familiar with Easy Virtual Fair, used for Bulldog Bonanza, in September, in addition to other activities this Fall 2020 semester.
"By checking in on Bulldog Connect, students can go through training sessions, so they might make the most of this virtual opportunity to show off their skills to our employers," Thomas said. "These will include half-hour sessions to go over rules of conduct for the fair, along with best practices they should follow. They will have the chance to ask questions through the chat function in these webinars, and we hope everyone interested in optimizing their presentation will take part."
Thomas said the early sign-ups from employers include healthcare providers, insurance companies, nonprofit organizations, automotive suppliers and construction firms.
"We are hoping to add to the educational employers taking part. There are already a number of opportunities for our students to connect with criminal justice operations," Thomas said. "It should be a well-rounded field of participants to visit with that day."