PHOTO CAPTIONS: The 30th annual International Festival of Cultures will be held on Sunday, April 8, from 1 to 5 p.m., in the University Center Ballroom. The Office of International Education at Ferris State University thanks the 140 volunteers who have worked to organize and prepare the cuisine and activities that will make up this event.

The University Center Ballroom will come alive with culinary delights and children's activities Sunday, April 8, as Ferris State University's International Festival of Cultures will be hosted from 1 to 5 p.m.
Office of International Education Assistant Director Lisa vonReichbauer said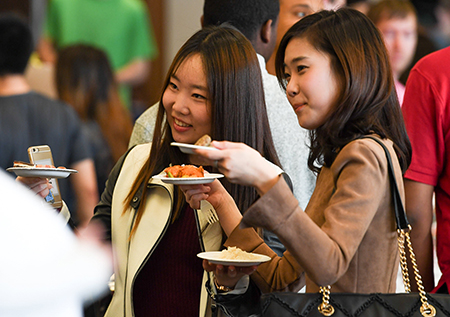 the festival began in 1989 and considerable efforts have been made by the student organizing committee so this 30th anniversary of the event will be a delight for all ages.
"This is the second year that Anh Ngo, a native of Vietnam and senior in Business Administration, has been our festival committee chair," vonReichbauer said. "The activities, displays and foods that they will offer have been carefully reviewed and planned by this group."
The festival offers cultural information and other presentations from approximately 40 countries, as a 140-student volunteer base will offer entertainment and activities specific to their native lands, with plans to serve approximately 20 international food choices. Students who present their university identification will receive food tickets. Also, tickets will be available for purchase by the general festival audience.
Anyone who would like to attend the festival, but requires special accommodations, should contact (231) 591-2450 or send an email. Anyone with questions related to the event can contact OIE at the same phone number and email address.


Below is a highlight video from the 2017 International Festival of Cultures.