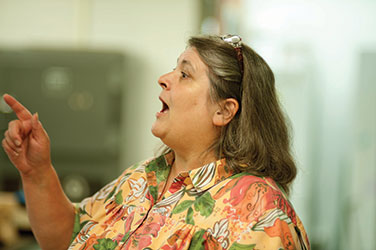 Professor of Chemistry Kim Colvert is the first recipient of Ferris' Academic Scholar Award, which recognizes a member of the academic community for excellence in research, inquiry or scholarship. Colvert, who joined the Physical Sciences department as an assistant professor in 1988, spends her summers, and has spent several sabbatical leaves, conducting collaborative research at the University of Kansas. The results of her research have been presented in peer-reviewed journals and at international conferences, including the 15th International Congress on Photosynthesis in 2010 in Beijing, China.

Can you explain a little bit about your ongoing research?

I'm currently working on characterizing several enzymes that oxidize substances and produce hydrogen peroxide. The peroxide produced can be detected electronically, so these enzymes can be used on electrodes to monitor the oxidized substance. This technique is used in many situations today. For instance, glucose levels can be monitored by glucose oxidase sensors. Structural analysis of certain enzymes with neurologically important substrates suggests mutations that could maximize the stability and specificity. Once these properties are maximized, the enzymes can be immobilized in electrodes and packaged as various types of sensors. This work is being done in collaboration with several labs at KU, including Dr. Mark Richter's, with whom I have worked for many years. I am still involved in determining the mechanisms of the major energy producer, ATP synthase, also in collaboration with Dr. Richter.

How does your research affect your teaching?

My research influences my teaching indirectly and directly. First, this is my personal choice for professional development, and I feel much more connected to trends and innovations in my field when I work with other scientists and have access to the instrumentation and range of expertise at a major university. I hope this translates to more engaged and engaging classes. In the classroom, what I learn from my work translates as real-world examples of the principles I am teaching. In laboratory classes, my research has allowed me to create and update labs for beginning and advanced biochemistry students. The research I conduct at Ferris is meant to bring what I can of my experience to the students who do independent study with me. (Colvert has mentored more than 20 Ferris undergraduates.)

How did you first get interested in chemistry?

My road to biochemistry led through several sciences, but, as a child of the "Space Race," I think I always wanted to be a "scientist" and discover the secrets of the universe (and maybe write science fiction). Chemistry and physics fought over my soul in high school, until I met a biochemist who had worked on designing experiments that could test for extraterrestrial life for NASA and had been in on some of the first cloning experiments. That did it. I was hooked. The point is that I always wanted to know why something worked, and I found the answers provided in chemistry (especially biochemistry) were particularly satisfying.

What can we as a country do to promote interest in the sciences among young people — especially young women?

Have you got several pages? I could go on for a long time about why I think we have a performance problem in this country when it comes to math and science. There is not an easy fix, because it isn't just one thing. It isn't as much about interest as it is about perception. I think young children are naturally interested in science and math, but our cultural perception of these fields is skewed. How many times have you heard from parents, teachers and peers that they hated math and science? Or were afraid of it? This excuses children from becoming competent if they don't especially like or have an aptitude for the subject. It can happen in any field but seems an especially common response to math and science. It is somehow culturally acceptable to be weaker in these areas. Sometimes it is less socially acceptable to excel. It should be not only acceptable to be competent in science and math, but expected. Notice I said competent, not brilliant. Not everyone can be a brilliant dancer. Not everyone can be a brilliant scientist — brilliance is about individual aptitude and appetite. But why not competent? Start early. Craft a cultural image of a successful person that includes math and science abilities. And why should young women be held to any higher or any lower standards of competence? Stop expecting young women to be less capable. Build confidence in that competency. The numbers of women earning degrees in the sciences are increasing, and gradually, it is translating to the workplace. I'm running on, but I think you get the idea.