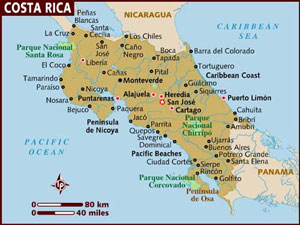 The tropics of Costa Rica, during spring break, is the destination for Ferris State University's Pre-Medicine Club.
This ambitious student organization, however, will be working on more than just tans and fun in the sun in Central America.
The group of nine pre-medicine students will volunteer abroad during spring break (March 5 to 13) in clinics and hospitals throughout Costa Rica to assist in, observe and learn more about medical care.
"I think it gives students a perspective about whether this is what they want to do for the rest of their lives," said Lauren Brissette, a junior pre-medicine student from Bay City. "I want to be a part of what a doctor does and put myself in their shoes."
Other students from around the United States will also be participating in the mission trip with peers from Ferris through the International Service Learning program. Students will be split into groups upon their arrival and will visit different clinics and hospitals throughout Costa Rica. The students will assist in providing traditional services such as taking someone's blood pressure and running scans. They also will have an opportunity to witness firsthand how doctors from a different country run a practice.
The trip provides an opportunity for service, but it also has a hands-on educational value for the Ferris students.
"It will give me an upper hand for admission into medical school because I'll have patient interaction and the experience of working in a different culture," said Jory Smith, a junior pre-medicine student from Hemlock.
Brissette and Smith are excited to be a part of the mission trip and to experience how medicine is practiced outside of the U.S. Ferris students on the trip will work in clinics and hospitals for five consecutive days, but will have opportunities to explore Costa Rica and have fun on a day off in Central America.