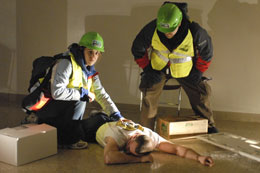 BIG RAPIDS – Would you know what to do if a tornado ripped through campus? There are 10 new members to a Citizen Corps at Ferris State University who will be prepared to deal with a tornado or any other crisis circumstance after completing Campus-Community Emergency Response Team (C-CERT) training.
The response team training was used to help prepare members of the Ferris and local communities to effectively respond in an emergency situation. Now trained, members of the Citizen Corps will be able to respond on a volunteer basis when the community needs them, said Mike McKay, Ferris' safety coordinator and Emergency Operations Center manager.
Capping off the training was the practical exercise that required corps members to put to use the skills they learned as part of the program, McKay said. Team training, under the leadership of Ferris police officer Aaron Humphreys and McKay, consisted of light search and rescue, and disaster first aid, among others.
According to McKay, the training already is paying off, with one of the team's members having used what she learned as part of the program to help a citizen in need. Marge Bledsoe used her first aid skills to help an individual who had fallen and was injured. Bledsoe was able to assist the individual until emergency personnel arrived, McKay said.
"This is a committed group of volunteers who have stepped up to help ensure that people in need have care at a time when it is critical," said Martin Bledsoe, director of Public Safety for Ferris. "We are particularly impressed that this team consists of Ferris students learning emergency services and a community member with a strong teaching and criminal justice association. They know the direct, positive effect they can have in the lives of others."
The Citizen Corps was developed to answer the call for an effective response in all types of hazards. A partner group to the Citizen Corps is the Community Emergency Response Team, or CERT. C-CERT is no different in design to CERT, only that it exists primarily to serve in a campus environment, Bledsoe said.