Banks are generally open from 9 a.m. to 5:00 p.m. Monday-Friday. Most banks are open later on Fridays and some are open on Saturdays for limited hours. It is necessary to check with each individual bank to see their hours of operation.
Area banks:
| Bank | Address | Web Site | Phone Number |
| --- | --- | --- | --- |
| Fifth Third Bank | 101 North Michigan Avenue, Big Rapids, MI 49307 | | (231) 592-4100 |
| Flagstar Bank | 21400 Perry Avenue, Big Rapids, MI 49307 | | (231) 796-7532 |
| Huntington Bank | 301 South State Street, Big Rapids, MI 49307 | | (231) 527-4200 |
| Independent Bank | 404 Perry Avenue, Big Rapids, MI 49307 | | (231) 796-5865 |
Banking terminology:
Balance- The amount of money remaining in an account after all checks and withdrawals have been accounted
Checks- A printed form used by the bank customer that allows the bank to take money from the check writer's account and pay it to the person or business the check is written to
Checkbook register- Part of a checkbook where one can record all the checks written, debits, and deposits made
Credit- A deposit of funds to a bank account
Debit- A withdrawal of funds from a bank account
Debit Card- A card that allows the cost of goods or services that are purchased to be deducted directly from the purchaser's checking account. Debit cards can also be used to obtain cash from ATMs.
Deposit- Money added to a bank account
Deposit Ticket- The form, in one's checkbook, on which one can list all cash/checks to be deposited in their account. Individuals can obtain more of these tickets from the employees at the bank.
Interest- Sum of money paid to a customer by the bank based on a percentage rate of the amount in their account
Minimum Balance- The smallest amount of money allowed in an account so the account holder will not have to pay a fine or fee and the account will not be closed
Monthly Bank Statement- A form sent by the bank, usually each month, to each bank customer that shows the account transactions during the last month. These transactions include: deposits, withdrawals, bank charges, and checks written.
Withdrawal- Money taken out of a bank account
Banking tips:
Automatic Teller Machine (ATM) cards are offered at all banks but their usage may be limited to the machines that are owned by the banks. In some cases, ATM cards can be used at machines not owned by the bank, but there may be a charge associated with this use. Details on charges can be obtained from each bank.
Writing checks when paying any bill, especially by mail, it is best to write a check for the amount due instead of paying with cash. Paying with a check is preferable because:
It avoids the possibility of cash being lost in route to its destination
The check provides the customer with receipt of payment if needed
Most companies will not accept cash by mail
It is important to be aware of how much money is in a checking account at all times. If the dollar amount becomes low, one should deposit additional funds into their account before writing more checks. Most banks have on-line checking. With this feature, it will be possible to check your balance on-line at anytime of the day.
If for some reason students do not have enough money in their checking account to cover the total amount of checks or debits, the bank will return that check to the company. Both the company and bank will then assess a charge for writing a "bad" check. Therefore it is important to keep an up-to-date record of all the checks written and the total amount of money in each account.
Writing a check:
Most people will only write checks when (a) they do not have enough cash and Debit cards are not accepted or (b) when they have to send money via mail. Most banks only provide a set of "starter checks" that will not have individual names on the checks, but will have the correct bank account number. Individuals can order more checks from the bank (at a more expensive rate) or on-line from various check companies. The following provides information on filling out a check.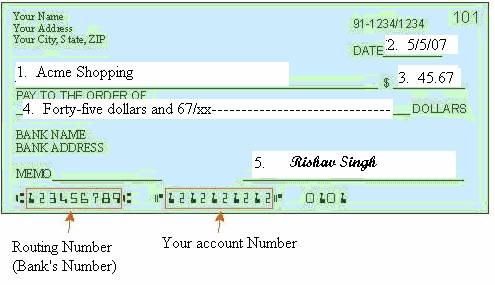 Name of company your are writing the check to
Date (remember Month/Date/Year format)
Dollar amount using numbers
Dollar amount using words
Your signature
Opening an account:
Banks require certain information before they will open an account for individuals. Each applicant will probably be asked to provide photo identification, some personal data, a mailing address, and money to deposit. Individuals can submit money in the form of a wire transfer, a check, traveler's checks, cash, etc. Banks might also ask individual's Social Security Number; however, international students cannot apply for a Social Security Number until they secure a job. International students will have to use other documentation such as a passport number or Ferris Identification Number. The staff at the Office of International Education will help you to open an account once you arrive.
Before you buy a car:
Because public transportation is not as well developed in the United States as in many other countries, students often consider buying a car so that they can travel around easier. While there are no restrictions on international students buying a car, there are multiple things to consider.
It is quite common in a community such as Ferris State University to live without owning a car. Owning a car is expensive and can be very troublesome because cars often need to be repaired and automobile repairs are costly and frequently unreliable. Cars require continuing expenditures for license plates, insurance, parking, maintenance, and fuel. Maintaining a car costs hundreds or sometimes thousands of dollars per year. Unless students have an ample supply of money it is advisable to be cautious about buying a car.
Driver's license:
Anyone living in the state of Michigan and driving a car here must have a valid driver's license. Students may drive legally in Michigan if you have a current International Driver's License (issued for one year only) and their home country driver's license in their possession while they drive. It is advisable, however, to obtain a Michigan license even if your international license is still valid.
To obtain a Michigan license, individuals must go to the Michigan Secretary of State Office. Big Rapids residents typically go to the office located at 206 North Michigan Avenue (near Big Rapids Furniture).
In order to take the knowledge test individuals must be able to provide necessary documents.
For more information about getting a driver's license and driving regulations go the Secretary of State office.
Driving Safety: School Buses
School buses are bright yellow/orange. School buses will stop in the road to pick up and drop off children. When they stop, their yellow lights flash and a red, 8-sided "Stop" sign swings out from the left side of the bus (the driver's side). Cars going in both directions MUST stop when the yellow lights are flashing and the "Stop" sign is out. That means that cars behind the bus CANNOT pass the bus, and cars coming towards the bus from the opposite direction MUST also stop. This is the law. The reason for this law is that small children are crossing the road at these bus stops. Do not start driving again until the bus starts to move.In short, NEVER drive past a stopped school bus with flashing yellow lights and "Stop" sign -- from either direction!
Copies of the State of Michigan driving manual, which has all traffic laws and rules, are available at the Secretary of State office.
Michigan Safety Belt Law
In a motor vehicle crash, safety belts keep people in their seats, avoiding more serious injury or even death. By law, everyone in the front seat of a motor vehicle must wear a safety belt. Children under age 16 must be buckled up regardless of where they sit. Parents of children should read "What Every Driver Must Know" concerning safety seats from the Secretary of State's Office. Special laws are in place to protect young children. The requirements vary depend upon the age of the child. Individuals can obtain a copy at the Secretary of State office or visit www.sos.state.mi.us . Child safety seats can be purchased at K-mart, Wal-Mart, and other large department stores for prices starting around $25.00. Failure to comply with seat belt and safety seat regulations may result in fines, or serious injury or death.
Buying a Car
Students have the option of buying a new or used car. Those with less money prefer to buy used cars, either from a car dealer or from a private individual who has advertised a car for sale. In any case students should have with you an American acquaintance who is both knowledgeable about cars and skeptical by nature. Such a person could help you evaluate both the condition of the car and the claims made by the person who is trying to sell it. These evaluations are essential, because buying a car, especially a used one, is sometimes risky.
There are many sources – web sites, books, magazines -- to assist individuals with their decision to buy a car. The Secretary of State publishes "Consumer's Guide to Private Vehicle Sales" available for free at their office or at www.sos.state.mi.us.When buying a car the "certificate of ownership" or "certificate of title" must be transferred to the new owner from the previous owner.
Automobile Registration
If buying a car, individuals must register it and obtain license plates for it. This is done at the Secretary of State Office at 206 North Michigan Avenue in Big Rapids. Requirements for registering a car vary depending on whether the car is new or used and, if it is used, how old it is.
If students want to park on the FSU campus they must have a parking permit. Students can obtain a permit from the Department of Public Safety at 800 Ferris Drive. The fee is $95 per year. Individuals will receive an automobile regulations handbook and campus map. Students should follow the regulations closely as parking fines can be very expensive.
Automobile Insurance
In Michigan, it is essential to have at least liability insurance for a car, since the driver is financially responsible if he or she causes injury to another person or damage someone else's property. Drivers without auto insurance can be fined in addition to any damage costs. Drivers must have proof of insurance with them in the car at all times--failure to carry proof of insurance can result in fines.
There are several types of automobile insurance:
Liability insurance is the most basic type. It protects the driver if his or her car kills or injures someone else, or damages someone else's property. Drivers are considered legally liable if their car (whether the individual or someone else is driving it) causes injury or death to another person or damages someone else's property, unless the accident is clearly not the fault of the person driving the car. If the owner is legally liable for injuries, death, or damages resulting from an automobile accident, they could face payments of tens of thousands of dollars. Without liability insurance, the owner would have to pay a large amount of money themselves. This is why car owners need liability insurance, even if their cars are not very valuable.
Collision insurance protects a car in case of collision with another car. This insurance may entitle the owner to benefits with car repairs, in addition to the damages that might be paid by the other driver. Collisions are the most common type of auto accident and it is advisable for individuals to be covered by collision insurance.
Comprehensive insurance covers losses caused by storms, thieves, and vandals. This type of insurance is not as crucial as the others, but there are incidents of car theft and vandalism in the Big Rapids area. It is wise to consider this type of coverage when living in a large city.
Buying Car Insurance
In the telephone directory is a long list of insurance agents under the heading "Insurance." Unless a friend can recommend a reliable agent, students should talk to at least two agents about their insurance needs. The amount of insurance individuals buy for their car should depend on its value. Insurance rates vary from company to company, and they depend also on the value of the car, the amount it is driven, the age of the drivers, and the past driving records of the drivers.
Driving in Winter
Winter often brings dangerous driving conditions to the Big Rapids area. If students plan to operate a car during the winter, there are some things to remember:
Have all cars "winterized." This means making sure tires are not worn smooth; adding anti-freeze into the car's radiator, unless your car's engine is air-cooled; changing to a lighter weight oil; and making certain the car's brakes, windshield wipers, turn signals, and headlights are in good operating condition.
Drive carefully. There are times in Big Rapids (radio and television reports might tell when they are) that roads are so slippery and/or visibility is so limited that automobile driving should be undertaken only if it is absolutely necessary.
Snow Removal
Be advised that, when heavy snowfalls occur in Big Rapids, the city sends out trucks and snowplows to clear the streets. Parking on Big Rapids streets may be restricted immediately following a heavy snowfall, so be sure to look for street signs that detail "snow emergency" procedures.
Emergencies can happen to any student at any time. Students should be aware of what to do in the event of an emergency. Students should contact the Ferris State University Department of Public Safety. Students can contact the Department of Public Safety by calling:
In Emergency situations: dial 911
Non-Emergency situations: 231-591-5000 or EX 5000 (if on campus)
The Department of Public Safety will contact the International Student Advisor in situations that warrant contact. Students can also contact the International Student Advisor (during office hours). If a situation occurs after office hours, the Department of Public Safety will notify the International Student Advisor.
Public Safety is located in West Commons (beside Cramer Hall). When individuals are in the United States, police stations are available if they are concerned with their circumstances or safety. Please notify the International Student Advisor if when seeking police assistance.
Yellow Call Boxes- These phone systems are used for emergency situations and are located throughout campus. Once students pick up the phones, they will be directly connected to a police dispatcher. These phones should not be used in any circumstance other than an emergency.
There are many differences in the health care system in the U.S. versus health care in other countries. The primary differences include the type of assistance and the cost of the assistance. Health care in the U.S. focuses on the physical and psychological nature of the illness. It is uncommon for U.S. based doctors to look at the holistic approach to medicine that is common in some countries. The second major difference is the cost of medical assistance in the U.S. Hospital stays, doctor visits, and emergency room visits can be very expensive and is often impossible for individuals to pay. Thus individuals buy medical insurance that covers many of these expenses.
Health care and health insurance can be a very confusing matter if students are unaware of the policies and procedures for seeking health care and health insurance. Unlike many countries, the United States does not have a system of universal health care; instead, individuals and health insurance companies pay for health care. International students are limited in the type of assistance they receive from the federal government in regards to health care. See Public Charge for more information.
On-Campus Health Care:
It is best for students to go to the Birkam Health Center located on campus before going off campus for medical assistance. Many times the health center staff can resolve many issues at a less expensive cost. The Birkam Health center is open from Monday through Friday at various times. See Birkam Health Center for more information about the health center and costs of services provided. Spouses and children can also use the services provided by the health center at a cost.
If the health center is not open at the time of a health problem, students should go to the Emergency room just northeast of campus at Mecosta County Medical Center. This option should only be utilized if it is a true emergency because of the high cost associated with the Emergency Room. The hospital, where the Emergency Room is located, is at 605 Oak Street in Big Rapids.
It is wise for all students to have health insurance once they reach the U.S. Health insurance for international students (F-1 students) is not mandatory; however exchange students (J-1 students) are required to have health insurance. Health insurance is encouraged and can be seen as an essential part of a financially secure stay in America. When students purchase health insurance, they pay the insurance company a "premium." This premium is a payment for health insurance coverage for a pre-determined time. For example, the health coverage may extend for 3 months, 6 months, etc.
Once students pay the premium they are able to defer some costs of health care to the insurance company. The costs that insurance companies pay for vary from company to company and from individual to individual. In some cases, insurance companies will cover the entire cost of the medical treatment. In other cases the insurance companies will only pay for part of the cost. It is important for students to fully understand the terms of their insurance plans. The International Student Advisor can recommend insurance companies and plans specifically made for international students. Students interested should contact the International Student Advisor.
Health Insurance Terms:
Insurance companies have frequently used terms that may be unfamiliar to international students. The following are a few important lists of terms that students should be familiar with before they commit to a plan.
Claim- a request submitted to the insurance company for payment for medical services received. This is generally an itemized list of services that doctor's offices, hospitals, etc. provided to the insured individual
Co-payment- the cost the member must pay for a service at the time the service is given
Covered Expense- an expense in which the insurance company completely or partially pays
Deductible- an amount that the insurance holder must contribute to his or her health care costs before the health insurance company will begin paying for any services
Exclusion- any expense that the insurance company will not provide coverage for
Insurance Identification Card- the card the insurance company provides each covered insurance holder. The card will have the identification number associated with the member also known as the policy number. The card holder should present the card to the service provider before any assistance is given.
Insurance Policy- a contract including the specific details of insurance coverage
Insurance Premium- cost required for insurance coverage, this cost varies
Lapse in Coverage- a period in which the individual has a break in insurance coverage usually due to a non-payment
Preexisting Condition- a medical issue that existed before the individual was covered by insurance
Preventive Care- actions taken to prevent illness or injury, this can include regular visits to the doctor
Renewal- payment which will extend insurance cover for a specific duration of time, the time will vary from policy to policy
There are many housing options for students. Some of these housing options include: living on campus in residence halls or apartments, renting an apartment or house. Refer to ferris.edu/HTMLS/studentlife/reslife/ for more information for living on campus. If you are under 20 on the first day of classes, Ferris requires that you live on campus.
If you decide to live off campus you may first want to contact local apartment complexes. You can also find advertisements for apartments in the local paper. The phone numbers of apartment complexes will be in the phone book.
To find options available for renting you will want to ask the following questions:
Location: Where is the house? How close is it to campus? If I had to walk to campus could I do it? How close is it to a Laundromat (if not available in the house?) How close is it to downtown or to a shopping area? What is the access to the room? Will I disturb anyone if I come late at night?
Rental: How much is the monthly rent? Where and when must this be paid? If paid late, is there a late fee? How many people may share the house? Who are they: family, students, professionals, male, female? Do they offer a nine-month or twelve month lease? Could my rent increase during the lease period? Do I have to perform chores to live in the room, and if so, what are they? How much notice is needed either to renew or terminate the lease?
Do I pay extra for: Heat? Garbage collection? Hot water? Electricity? Pest control? Water? Repairs and maintenance? Snow removal?
Security Deposit: How much is the security deposit? When must this be paid? What must be done to have my security deposit returned in full? Can I pay with a personal check? When is it returned, or may it be used as my last month's rent? What must I do to have my security deposit returned in full?
Subletting: Are sublets allowed? May I find someone who is willing to make a new lease and end my responsibility? Does it cost extra to sublet?
Facilities: Is there a washing machine or laundry services available on the premises? Do I get a parking space? If so, do I pay extra? Do I have access to a lounge with a TV? What are the kitchen arrangements, room in cupboards, refrigerator access?
Once students have found a suitable apartment or house to rent they will have to sign a lease (see information below). This is a binding legal agreement stating the details of the rental. Some owners will try to take advantage of students. Thus it is important for students to compare many renting options before they agree to a living arrangement.
Most international students in the United States sign leases when they rent a room, apartment or on-campus housing of any kind. A lease is a written agreement between a tenant and landlord, describing each one's rights and responsibilities. It is a binding legal document. Among other things, a lease makes the tenant responsible for:Minimal care of the rented property, Paying monthly rent for a specified period of time a lease may or may not contain provisions concerning its early termination. Students should avoid signing any lease, even a lease for college or university housing, which binds them to conditions that might not be acceptable. In general, any "contract" or other document signed in relation to a purchase, rental or other business transaction is binding and can be enforced through the court system. Before students sign any contract or other written agreement, be sure to understand what it says and be sure to fulfill any obligation. New students may want to have an experienced friend or acquaintance look over any lease or contract before signing.
International students should never accept public benefits from federal, state, county, or local government agencies because doing so jeopardizes their nonimmigrant status. "Public benefits" include Medicaid, Aid to Families with Dependent Children, food stamps, subsidized housing, and all other aid programs funded in whole or in part with government funds.
Accepting such benefits can result in the loss of student status and a bar to re-enter the United States.
Cooperation between state social service agencies and the United States Citizenship and Immigration Services(USCIS) makes it possible for the USCIS and the United States Department of State to identify non-immigrants who accept public benefits. International students may be denied visas at consulates abroad or may be denied entry to the United States at the U.S. port of entry. U.S. law prohibits non-immigrants from becoming a public charge, i.e., someone who is financially dependent on government funds, in the United States. When non-immigrants apply for visas, they are required to show documentation of sufficient funds to cover all of their living expenses, and those of their dependents, during their stay in the United States. The ability to cover all of one's personal and family expenses is a condition of obtaining and maintaining F-1 or J-1 status. In accepting public benefits international students declare themselves unable to meet their financial obligations and thereby render themselves ineligible for F-1 or J-1status.
Occasionally, social service agencies, hospitals, or public housing administrators unwittingly encourage international students to apply for public benefits because they are unaware of the regulations governing nonimmigrant status or they do not know the immigration status of the individuals they are advising. Further, although the U.S. citizen children of non-immigrants may be eligible for public benefits, by accepting those funds the children's parents acknowledge their inability to support their dependents and thus risk being judged to have violated the conditions of their F-1 or J-1status.
All individuals in F-1 or J-1 status should have adequate health insurance for themselves and their dependents to cover medical costs. All international students must be able to provide shelter, food, and clothing for themselves and their dependents as a condition of maintaining their nonimmigrant status.
If students have any questions or have problems with funds please see the International Student Advisor.
The U.S. government assigns a nine digit identification number to citizens born in the United States. This number is used for income tax purposes. Banks, apartment companies, and credit card companies may ask for this number so that they can check an individual's credit history. International students do not automatically receive a Social Security Number; they must apply for one. International students can only apply for Social Security Numbers once they have secured a job. Students will have to go to the Social Security Administration Office to apply.
Before going to the Social Security Administration Office students should:
The International Student Advisor will write a letter confirming that the student is maintaining their immigration status and is a Ferris student. Students should bring the following to the Social Security Administration Office:
F-1 students:
F-1 On-Campus Employment
I-20
Passport, visa stamp and Form I-94 Arrival/Departure Record
Social Security On-Campus Work Authorization Letter (from the International Student Advisor)
F-1 Curricular Practical Training (CPT)
I-20, endorse for CPT
Passport, visa stamp, and Form I-94 Arrival/Departure Record
Social Security Work Authorization letter from International Student Advisor
Offer of Employment
F-1 Optional Practical Training (OPT)
I-20 endorsed for OPT
Employment Authorization Document (EAD)
Passport, visa stamp and Form I-94 Arrival/Departure Record
J-1 students:
J-1 student or J-1 International Visitor
DS-2019
Passport, visa stamp and Form I-94 Arrival/Departure Record
Social Security Work Authorization Letter from International Student Advisor
J-2 Dependent
**Contact the International Student Advisor for information regarding the Employment Authorization Document application procedure
DS-2019
Employment Authorization Document
Passport, visa stamp, and Form I-94 Arrival/Departure Record
The Social Security Office is open from 9 a.m. – 4 p.m. Monday through Friday. It is located at:
730 Watertower Road
Big Rapids, MI 49307
Phone: 231.796.6977
US Taxes and the International Student
Social Security: In general, F-1 students who have been in the United States less than five years are exempt from Social Security (FICA) withholding. More information may be found in a booklet entitled "Social Security Coverage for Foreign Students & Exchange Visitors" available from the local Social Security Administration Office.
Federal, State and Local Taxes: The earnings of F-1 students are subject to applicable federal, state and local taxes. These amounts will be held back from paychecks, students must file an income tax return before the 15th of April each year. This return will determine if any of the withheld taxes can be refunded to students.
Each year the media gives much attention and discussion to the subject of taxes. At this time many international students ask the question "Do I have to pay taxes?" If students had a job, they probably already paid taxes. The actual question really should be, "Do I have to send in any papers about taxes?" This is called filing a tax return.
The answer is YES, international students must send in papers regarding taxes if they were in the USA for any part of the calendar year as an international student. Everyone in F/J status, students and dependents, must submit IRS Form 8843.
If students had no income from U.S. sources, then they need only file the form 8843 by June 15. The title of the form, "Statement for Exempt Individuals and Individuals With a Medical Condition " may sound like it does not apply to each international student, but it does, as international students are establishing their status as "exempt from resident taxes" with the form. IRS Form 8843 must be filed for all F-1, F-2, J-1, and J-2 visa holders.
If students had U.S. income, they need to also file a form 1040NR. This applies to those who earned money through an assistantship, campus employment, scholarship or internship. Students can obtain the forms from the IRS web site at www.irs.gov or the FLITE Library. The State of Michigan form 1040 can be found at www.michigan.gov/treasuryor at FLITE Library. The City of Big Rapids Forms are not on-line, but you can pick them up at the Post Office. All forms need to be filed before April 15 to addresses on the forms.
Publications that are useful resources:
Besides being a legal requirement, it is often to a monetary advantage to file taxes, as international student may have some of their pay withheld for tax purposes. After filing taxes, students may receive money refunded. A few people may find that they owe more money.
The forms may look daunting, and the instructions may appear complicated, but students can read through the instructions step by step and do the best they can to fill out the forms. The Office of International Education does not provide detailed tax advising. However, the Office of International Education offers a tax workshop every spring. Contact the International Student Advisor for the time and date of the tax workshop.
Americans are generally very punctual. Meetings, social functions, classes, etc. generally begin within a few minutes of the set time. For example if a club announces its meeting at 7 p.m., the meeting will generally start at 7:00 or 7:05. If individuals have a business appointment, for example with a professor or at a bank, they should arrive on-time or at most 5 minutes late. In America, it is considered very rude to arrive late because many Americans plan appointments close to one another. Thus if international students arrive 20 minutes late, they might have another appointment to meet with. In America, it is better to be early than to be late.
The United States Post Office is the most common way of mailing letters and packages. The U.S. Post Office is located on 301 Michigan Street in Big Rapids. The office is open from Monday – Friday from 9 a.m. to 5 p.m. and on Saturday at 9 a.m. to noon. The post office provides many services. These services include buying stamps, sending packages, purchasing money orders, receiving mail, buying shipping supplies, etc.
Once students have a mailing address, they may receive many advertisements. In the U.S., this mail is called "junk mail." Companies send this junk mail in hopes that the recipients will purchase something from their company. There are no obligations to purchase or pay for anything sent via junk mail.
If students receive a package from home, they may be required to pay a duty (tax) on the package. This duty is charged by the U.S. Customs Service. For more information about duties refer to www.customs.ustreas.gov