Women's Basketball Head Coach
by John Smith - March 29, 2021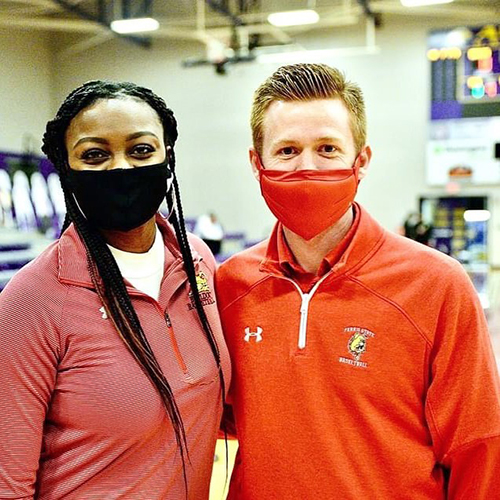 The advancement of the women's basketball program at Ferris State University, from its formation in the mid-1970s, includes several seasons above .500 as peak performance in its first two decades, with a rise to NCAA tournament berths, in the early years of the 21st century.
Another high point occurred during the 2019-20 campaign. A mix of veteran players and young talent claimed the Great Lakes Intercollegiate Athletic Conference North Division title. The Bulldogs earned an NCAA Division II tournament spot under the leadership of fifth-year coach Kendra Faustin.
COVID-19 stalled the season as the Bulldogs sought higher honors, and Faustin moved to a role as an athletic administrator. Kurt Westendorp, who for two years (2010-12) was an associate head coach for Ferris' women, returned to Big Rapids amid high expectations and results while navigating significant obstacles, namely COVID-19's implications for standard operating procedure.
"It was important, first off, to learn how my players learned," Westendorp said. "Coaching styles are often unique to a particular program. As I was able to bring on my assistant, Jasmyn Walker, we went about being as hands-on as the situation allowed. A key component of that communication is the implementation of a new video system. It was our goal to build a good connection with our players, talking about and showing our methods and goals, before being able to take that to the court."
While learning what the players could offer on the floor, Westendorp said it was a comfort to add Walker as his assistant coach.
"I am so fortunate to have Jasmyn here," Westendorp said. "I coached her at Valparaiso for two years, having recruited her to join the Crusaders. She knew me, knew my coaching style. Our pattern of play has had to change a bit, but she is a ready ear to answer player's questions, and her being just two years past the end of her playing career is an asset."
Walker's lineage screams crimson and gold, as her father, Jarvis, and her mother, Danielle, are both enshrined in the Bulldog Athletics Hall of Fame from their playing days in Big Rapids.
"Her Ferris connection is a wonderful and excellent attribute," Westendorp said. "To point at our banner in Wink Arena or their Hall of Fame plaques and explain her connection is so meaningful and significant to our players and recruits. I am relieved I do not have to coach a coach in presenting our system and have the same strong feelings about Ferris that Jasmyn has. We intend to keep working together very well, to pursue excellence and success for our program."
Normal season schedules allow standard conditioning and other regulated workouts beginning in the early fall. That precedes non-conference competition. Westendorp brought the Bulldogs into practice in mid-October, which continued through December, with the first games of their GLIAC schedule following the New Year.
"Setting our terminology and patterns was the foundation we were able to lay in those first two months, because by the time we get to January, and our schedule, we are hoping to advance our level of play and present problems for the coming opponent," Westendorp said. "I was excited by the level of effort our women were putting into our style of play, but there were some unforeseen developments that meant fresh faces would be seeing significant court time."
Adrienne Anderson, a senior defensive star and All-GLIAC performer; Shaniya Huggins, a senior playmaker who was hurt halfway through the 2019-20 season; and sophomore Chloe Idoni, who contributed significantly to the Bulldogs' recent North Division championship run, were injured or unable to assume roles in Ferris' 2020-21 player rotation.
"We certainly had expectations that these three would be frequent starters and important facets of our program," Westendorp said. "Their absences meant five freshmen from a strong recruiting class and a transfer were going to be part of the on-court mix for us. Adrienne and 'Shi,' especially, could not be on the floor to show these new players the way. Try as they might to lead with their voices; it is different than what they can offer by being active in practice and game action."
Post players Amaka Unobagha and Ariel Jenkins, wing specialist DeShonna Day and guards Kadyn Blanchard and Madelyn Koski had varying amounts of playing time. Still, the Great Lakes Conference schedule places equal demands on these new arrivals, just as it has for veteran members of the Bulldogs' program.
"The experience our young women received this season will be an eventual positive, though we found the veteran-filled programs in the conference quite a challenge at times," Westendorp said. "I believe we will be better next season with the ability to use our returning players alongside our newer recruits to accomplish more of the goals we have as a program."
Kadyn Blanchard, an All-State Division 2 player and former state finalist in her days at Freeland High School, had impressive offensive results early in the GLIAC schedule. Westendorp said Day, a slashing wing player from Muskegon High School, accepted more of an on-court role than she may have seen if the team had more veterans in the lineup.
"Our freshmen may have come to find these opportunities were even larger than they expected," Westendorp said. "DeShonna, and to an extent other young teammates have found a need to develop their games in practice. Being part of a 10-player rotation in this conference means capably filling your assignment, and I need their contributions every game. These young women have come to practice and play with a great attitude, trying to learn and understand the college game. They came here with success on the court in high school, now that experience has to mesh with the demands of college life, academics and this heightened level of competition."
The GLIAC hierarchy in women's basketball in recent years includes Ashland. This program has managed national championships while dominating the South division, while Grand Valley State and Michigan Tech have been in Division II Top 25 this season. Westendorp said a four-game stretch in the middle of the season facing the Huskies at home and visiting the rival Lakers in Allendale was a learning experience for his team.
"These teams were in the area of 10-1 at the time, and we were able to complete at the highest level, which made me very proud," Westendorp said. "We were able to get past our being a young team and go about establishing our program. We now see that when we are at our best, we can give elite programs everything they could ask for. The goal is to move from these efforts and learn how to execute better, so that we can succeed against the top teams in the conference, and in our region."
Ferris headed to the GLIAC tournament in northwest Indiana with high hopes. Westendorp said while the focus is on the next game and persisting in the conference tournament, he can occasionally consider what will be in his second year as head coach.
"We have three verbal commitments for the 2021-22 season," Westendorp said. "The NCAA's reaction to the continuing pandemic has been making the situation interesting. All the players on our current roster have eligibility extended, and we will welcome the three recruits. A roster of sixteen players will be a large team, though we will still find ourselves in a good place. It is certainly possible that seniors or others may not take all of their potential eligibility.
"It will take some real consideration on how we arrange our scholarship resources a season or two from now," he continued. "In the meantime, we continue to monitor those in amateur leagues and high school players working on completing their senior seasons. Even with those obstacles, it is a much better situation than last summer, as players decided whether they would be in Division I or II. The 'dead period' for recruiting at the Division I level has certainly impacted the process."
Long days in the gym and office are second nature to Westendorp, who grew up in Dowagiac with his father, Al, as his coach.
"I can draw from my days as a high school player and building a program as head coach at New Buffalo High School," Westerndorp said. "As a college student, I was a team manager at Valparaiso, which allowed me to observe great coaches in Homer and Scott Drew, (Scott is now head coach at Baylor, who are a top-five Division I men's program) which was an incredible experience. I have been an assistant or head coach at the NAIA, D-I, D-II and D-III levels, which gave me great exposure in developing my coaching style and philosophy."
Westendorp came to Ferris after four years as head coach at William Jessup University in Rocklin, California. He left with the most coaching victories in program history, having earned an NAIA tournament selection in 2019, followed by a second 20-win season last year.
"The formations and plays are steady elements of coaching, it is the interactions with my players that are most important for me," Westendorp said. "I want them to be well-rounded in their campus and court experience, which worked very well at William Jessup. Our talent level and results grew steadily, which was key to our reaching program goals. I feel very comfortable with the program I will establish at Ferris. It allowed us to deal with the internal and external forces we have encountered this season."
Returning to Michigan was a significant consideration and reason for celebration for Westendorp, his wife, Brittany, and their toddler son, Kameron.
"All of this has been a journey for the family, as Kameron was eight or nine months old when it began," Westendorp said. "It's a true homecoming, as my parents are in southwest Michigan and Brittany's folks are in Grand Rapids. With COVID, we have had to temper our desire to bring the family together and be deliberate about protecting our team's season. Keeping ourselves going on the schedule had to prioritize."
Brittany is a teacher and hopes to secure a position in the area after opting out of the academic year. We look forward to getting out in the community and all the sports experiences available here when the societal and social climate changes. I have great memories of my experiences here and look forward to showing my family all that we will be able to enjoy here."

(Editor's note-The coach's family will have grown by the time 2021-22 practices begin, as Brittany, Kurt and Kameron recently acknowledged a baby girl is expected this summer)

John Smith is the communications specialist in the News Services and Social Media department of University Advancement and Marketing.

For others featured in the Faces of Ferris series, visit:
https://ferris.edu/HTMLS/news/faces/