FSU Graduate
by Sandy Gholston - October 27, 2009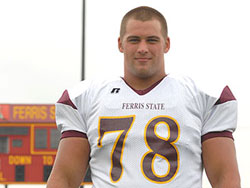 Jake Visser, a former All-American football student-athlete at Ferris State University, always will reflect fondly upon his college playing days as a Bulldog
During his Ferris tenure, prior to and after, Visser and excellence became virtually synonymous. On the football gridiron, the 6-foot-2, 275-pound defensive tackle was nearly unstoppable. As a junior and senior, when he was named All-America for his exceptional play, Visser was more than just the typical student-athlete. Moreover, he shattered tired stereotypes of student-athletes as "dumb jocks" – stereotypes that don't sit well with hard workers like Visser who evolved into a true Academic All-American.
Visser's Ferris experience has catapulted him into exclusive company. The Coopersville native became the premier scholar-athlete in the nation at the NCAA Division II level by the time everything was said, done and written. He was recently named the men's National "Scholar-Athlete of the Year" by the Division II conference commissioners.
"This is an extraordinary accomplishment for Jake, Ferris State University and the entire Great Lakes Intercollegiate Athletic Conference," noted GLIAC Commissioner Dell Robinson.
The GLIAC also named Visser as its 2008-09 male "Scholar-Athlete of the Year" based on his top-notch athletic performance and his unyielding dedication to academics in the classroom. Whether in Big Rapids or on the road, traveling for games in Ohio or the Upper Peninsula, keeping up with his studies remained a high priority.
"It has been a real honor and a real blessing for me to have had the opportunity to play college football at Ferris State University," said Visser, a secondary education graduate (History Education) who hopes to teach history and coach high-school football in his future. "I know I made the right decision coming here to play college football and if I had that decision to make over again I would pick Ferris."
Ferris State football has a tradition of producing outstanding scholar-athletes as Visser became the second Bulldog to win the award in three years, joining linebacker Mike Klobucher, who won it in 2006-07.
This coveted award not only recognizes a combination of academic and athletic excellence from student-athletes around the country, it also illustrates a positive image of intercollegiate athletics at FSU.
"This is a wonderful honor for Jake, our program and the university as he was selected over regional winners, from all sports, from throughout the entire country," said Ferris Athletics Director Tom Kirinovic. "He is a very deserving individual of this prestigious recognition."