2010-11 Student Government President
by Sandy Gholston - June 1, 2011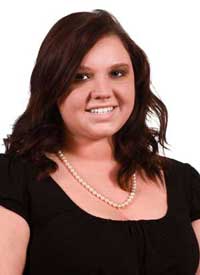 Morgan Toms, as she prepared for her May 2011 graduation from Ferris State University with a degree in Business Administration with Legal Studies, could hardly contain her smile.
While Toms does smile quite frequently, graduation is a time to smile and reflect on years of hard work and academic successes that culminate in a short walk across a stage to become an official graduate of Ferris State University.
Toms, like so many of her fellow graduates this spring, started to reflect on memories from her years at Ferris. The Frankfort native is perhaps most popularly known for her role as Student Government president during the 2010-11 academic year. That prestigious and influential position on campus provided Toms a platform to step forward as a student leader – indeed THE student leader in many ways – to spark positive change. Being Student Government president, as Toms and others before her have and others after her will discover, is far more than a popularity contest. The role of president is a critical opportunity to speak on behalf of Ferris' students before faculty, staff, administration, alumni, the Big Rapids community and others.
The position of Student Government president requires a special student with plenty of ambition, energy, ideas, preparation and more. It requires the willingness and ability to work with people from all corners of campus – and beyond. Toms experienced these challenges and opportunities as she worked with Ferris President David Eisler, the Department of Public Safety, addressed the Board of Trustees and spoke on behalf of her fellow students at key campus events.
Toms never shied away from the work necessary to serve as Student Government president – even as she shared responsibilities with others to allow future leaders, like new Student Government President Danielle Balmer, to learn and grow. A big part of leadership on campus is both understanding and embracing the university's Core Values – values that help define Ferris State University. As Student Government president Toms had opportunities to indirectly and directly experience the university's Core Values of collaboration, diversity, ethical community, excellence, learning and opportunity.
In the Spring 2011 issue of Ferris' Points of Pride newsletter, Toms noted that among the things she is most proud of, from her time at Ferris, has been the collaboration she has been involved in with other campus leaders.
"My proudest accomplishments are my efforts to collaborate this year. I have tried to encourage other organizations, along with Student Government, to work with every department and organization possible," Toms said. We have been very successful in Student Government with our collaborations, including working with You Beautiful Black Woman to sponsor the Women Investing in Leadership and Learning (W.I.L.L.) Conference."
Toms, like so many student leaders on campus, paid her dues as she worked her way up to one of the top student leadership positions on campus – all as she maintained focus on her academic mission that led to her May 2011 graduation. But, even as she looked ahead to what promises to be a bright future – including, perhaps, a career in law – Toms did take time to offer advice to incoming students as they make the transition to life at Ferris.
"The key thing is for students to get involved. We have more than 200 student organizations, so there is something for everyone," she said. "I urge new students to get involved in anything and everything. The students, faculty and staff you meet are some of the most supportive people you can find."
The foundation has been established for future leaders to emerge from Student Government.
Toms passed the gavel of Student Government leadership to Balmer, who will be the organization's president during the 2011-12 school year. Balmer, who served as Student Government vice president under Toms, appears prepared to follow in the footsteps of her predecessor to strengthen Student Government as a voice for students on campus.
As Toms learned, from those before her, and, as others after her will learn, good leaders build coalitions that bring people together as they empower those around them.
That's part of the reason Student Government should be in good hands next year and into the future.
The foundation has been strengthened by prior leaders like Morgan Toms.