Associate Director of Admissions and Records
by Sandy Gholston - March 26, 2010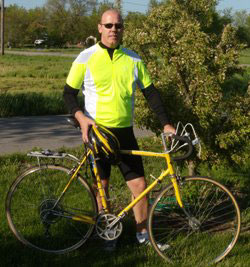 On a daily basis, Troy Tissue works in an office whose mission is to create opportunities and open doors for students to pursue a college education at Ferris State University.
Serving as associate director of Admissions and Records, Tissue is distinguished by an energetic and engaging personality that's ideal when connecting with students from all walks of life who visit campus. Dawg Days, a popular weekend visit program for prospective students, provides an opportunity for Tissue, the Admissions staff, deans and other University officials to distribute critical information to interested students. It's a time for the University to give potential students the VIP treatment and close the deal on a bright future at Ferris.
Dawg Days is an up-close-and-personal introduction to Ferris State University for many students and family members.
In the interest of keeping access to education available to all students, Tissue went above and beyond the call of duty last summer. The former Navy man participated in a bicycling event as a personal challenge, but more importantly he did it for a great cause: scholarships to assist students in need. He participated in the National 24-Hour Challenge in Middleville. It wasn't Tissue's first go-around with the Challenge. He participated in 1990 and biked 115 miles. This time, however, his goals were higher. He wanted to beat that previous mark, reach 200 and use the event to raise money for student scholarships. It was mission accomplished on all fronts. He beat his goal of 200 as he biked 205 miles while raising a good chunk of money for student scholarships.
Tissue biked in the name of Ferris Cares, a scholarship designed to financially assist students faced with the possibility of not attending college, or not returning to school due to unforeseen financial challenges. The Ferris Cares scholarship is part of a broader initiative, The Ferris Foundation's [email protected], which was designed to distribute scholarship dollars to students during the 2009-10 academic school year.
"Ferris Cares is a great cause when you consider the way our economy is right now, and this is a great way of doing something to help students continue to pursue their dreams of a college education," said Tissue, whose participation in the National 24-Hour Challenge helped raise approximately of $2,000 through 40-plus pledges to benefit Ferris Cares. "Ferris has an awesome heritage and a big part of that heritage is working to make education possible for people. Ferris Cares is part of that mission that continues as we celebrate the 125th anniversary of Ferris."
The lifeblood of Ferris is not classrooms, residence halls or apartments. The lifeblood of Ferris is the people – men and women who unselfishly strive to go above and beyond to do positive things that are in the best interest of the University's most prized assets: its students.
"It was personally gratifying for me, but it was even more enjoyable for me knowing that this is something that's going to benefit students at Ferris," Tissue said. "I know there were a lot of people out there who felt good about making pledges to benefit students. This was one of those ways where the Ferris family came together. There were contributions from all over campus, including faculty, administration and staff."
The work being done by Troy Tissue and countless others started before the 125th anniversary of Ferris, revved up during the celebration of 125 years, and will continue into the next 125 years of Ferris State University.