Volleyball Student-Athlete, Graphic Design Major
by Sandy Gholston - Nov. 17, 2010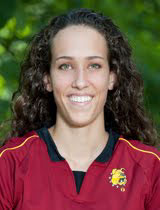 Anne Sutton, from a very early age, developed her passion for art – a powerful passion that has stood the test of time – as a young adult and college student.
Sutton, a Grand Rapids native and graduate of Northview High School, is not exactly your typical artist. The 6-foot-2 Ferris State University student-athlete has something else for which her passion burns just as hot – college volleyball. Sutton's talents in both arenas produced local and regional headlines through her participation in a prestigious annual art competition in her hometown. ArtPrize, which presents the world's largest cash award of $250,000 to its first-place winner, welcomed the art work of Sutton earlier this fall.
"When I was younger, I was really interested in art, and every other Sunday I would go down to the Grand Rapids Art Museum to take part in classes," Sutton said to the Grand Rapids Press. "When I got into high school, I took a lot of math and science courses because I thought career choices like medicine were safe bets, but right before I started college, I decided to pick what made me happy."
Dreams do come true for Sutton, who today is a Graphic Design major at Ferris and a member of head coach Tia Brandel-Wilhelm's Bulldog volleyball team.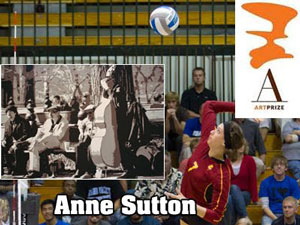 Sutton's work, titled "Central Park", caught the eye of art patrons while on display at San Chez Bistro & Café on 38 Fulton Street in Grand Rapids. A cut paper portrait, she crafted an image that simplified a photograph taken in New York City's Central Park. The image, a four-person band consisting of a singer, guitarist, bass fiddler and trumpeter, is cut in layers from darkest to lightest out of various Canson and Strathford papers. The use of the different layers and values gives the piece a sense of depth.
Most student-athletes at the college level are competitively driven and eager to be challenged by any perceived boundaries. Sutton, motivated to push her creativity and artistic talents, brought that kind of passion to her artwork.
"The greatest reason I decided to try this out is to challenge myself," she said. "We've done a lot of this kind of work, which is cut paper, throughout our curriculum, but I've never done anything very large scale."
As Sutton's work illustrates, art is a major part of her life. Through her training as a Graphic Design major on the Big Rapids campus, she has brought that passion to Ferris and strengthened her love of art.
"I love what I'm studying," Sutton said. "I wanted to use a skill which I developed and make something great. There was no grade or rubric to motivate me, just passion."