Skyler Stoker, Football Student-Athlete
by Kayla Konway - October 19, 2012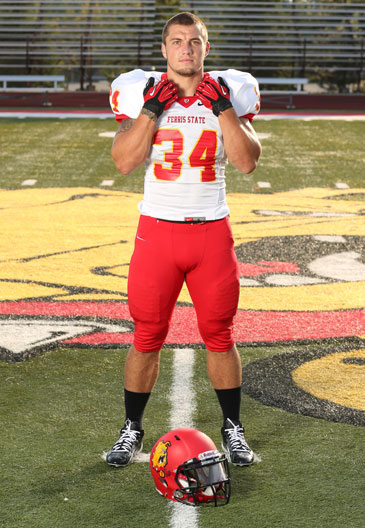 Despite suffering a season-ending injury in 2011, senior Skyler Stoker is back on the field this year as a member of Ferris State University's Bulldog football team.
The 5-foot-11-inch, 204-pound running back started the first six games last season, leading the team with 586 rushing yards on 94 carries for five touchdowns. But during the Bulldogs' game against Findlay, Stoker was taken down during a routine tackle that left him with a spiral ankle fracture, ending No. 34's junior season and putting a halt to building on any statistical glory or any on-field contribution to team goals.
Despite the injury, Stoker's success during the first half of the season earned him Honorable Mention honors in the Great Lakes Intercollegiate Athletic Conference and a stronger appreciation for the joy of playing the game.
"Not being able to perform on the field made me realize how important it was to buckle down on my studies and focus more on spending time with family and friends," said the 2009 Grass Lake High School graduate said. "Getting hurt made me see how much of a privilege it is to play college football."
Unable to walk for six weeks, Stoker worked hard to regain his strength and balance. With time spent focused on rehabilitation and with the help of head Ferris athletics trainer Dave Lucey, he returned to the field more quickly than expected.
Stoker started the 2012 season in good form, quickly building on last season's effort. He is ranked 15th on Ferris' all-time rushing list following the Bulldogs' Oct. 13 game, amassing 1,612 yards. He also is ranked ninth in the GLIAC in all-purpose yardage (121 yards per game), which includes rushing and receiving statistics.
"It's cool to be ranked, but none of it means anything if your team isn't successful," Stoker said. "In the end, the wins and losses are more important than one's individual accolades.
"My goals for this season are simply to have fun playing the game I love. As a team, we have our eyes set on a conference championship."
Although practices begin at 5:30 a.m., Stoker said he enjoys starting the day doing what he loves with 120 brothers at his side.
For student-athletes working to create a name for themselves, Stoker recommends turning that focus in the right direction.
"Your focus as a student-athlete should be to become the best teammate and student you can be," he said. "If your goal on the field is to achieve notoriety, you are ultimately going to fail."
Stoker, a Secondary Education major focusing on Social Studies, plans to continue his education after graduation and earn a master's degree in Education Administration. He hopes to become a principal or athletic director.
But, he also has his sights set on giving a professional football career a shot.
And, Ferris is happy to have turned Grass Lake's former Warrior into a forever Bulldog.
Kayla Konway is a News Services student writer in University Advancement and Marketing.

For others featured in the Faces of Ferris series, visit:
https://ferris.edu/HTMLS/news/faces/