School of Education Director
by Stephanie Dallman - January 3, 2013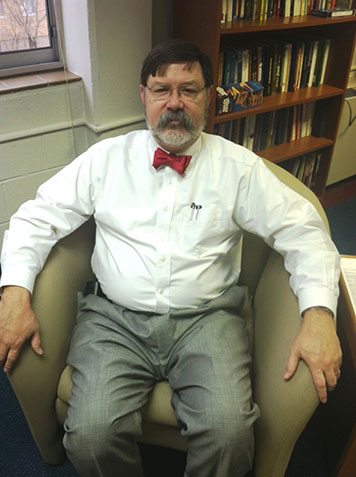 James Powell says his position as director of the School of Education is a "natural fit."
"Ferris is a place where everyone is centered on student progress and success. The conversation always focuses on what is best for our students rather than what the bottom line is or where we are going with this as PR, and I really enjoy that aspect," said Powell, who became a Bulldog in March.
Powell came to Ferris from the University of Alaska Anchorage, where he had been an associate professor since 2006. He and his wife, Karla, decided they were ready for a change and made the trek to Big Rapids to visit Ferris.
"We loved Alaska, and it was really a lot of fun, but the dark started to get a little old," Powell said of the state's limited daylight hours during winter months. "When my wife and I came to Ferris for my interview, we were so struck by the number of students on campus wearing Ferris gear–you walk around campus and see Ferris sweatshirts, hats and shirts, which is really different, because I didn't see much of that at the universities I taught at previously.
"There is truly a sense of Ferris pride and loyalty attached to the institution."
Prior to his work at the UAA, the Indiana native was an assistant professor from 1993 to 2006 at Ball State University in Muncie. From 1989 through 1993, Powell was a graduate assistant at Arizona State University in Tempe, Ariz. His educational content areas of instruction include Qualitative and Advanced Qualitative Research, Introduction to Educational Research, Curriculum History and Theory, Secondary English/Language Arts Methods, Secondary ESL Methods, Middle School Methods and Student Teaching/Internships Supervision.
His administrative experience includes serving as assistant department chair at Ball State and as department co-chair and department chair at UAA.
Powell earned a Bachelor of Science degree in English and Secondary Education in 1975 and a Master of Arts in Linguistics in 1980, both from Ball State. He earned a Ph.D. in Curriculum and Instruction from Arizona State in 1993.
"I love English – absolutely adore literature – and later in life I became interested in theoretical linguistics," Powell said. "But what I really enjoy the most is working with students and seeing the bulb come on."
In addition to his duties as the College of Education and Human Services' School of Education director, which include working with faculty to ensure programs are up to date and that mandated requirements are met, Powell also has been given the opportunity to teach. He taught a graduate course during the Fall 2012 semester and will be teaching an introductory course for freshmen during the Spring 2013 semester.
"I'm glad to be teaching still," he said. "During the fall semester, I taught a course students take at the end of their masters (program), which is neat to see the tail end of things, while (spring) semester I'll be teaching students as they are just entering the university."
Powell is a member of several national and international professional and academic associations, and has authored many education-related publications and presentations which have a heavy emphasis on assessment, learning and instruction.


To learn more about the School of Education, visit:
https://ferris.edu/HTMLS/colleges/educatio/education/homepage.htm
Stephanie Dallman is a News Services student writer in University Advancement and Marketing.
For others featured in the Faces of Ferris series, visit:
https://ferris.edu/HTMLS/news/faces/