Assistant Professor, Television and Digital Media Production
by Sandy Gholston - August 5, 2009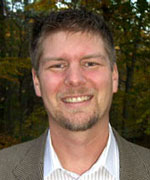 Glen Okonoski has always had a collaborative nature as demonstrated by working relationships he has established with people around Ferris State University's campus and beyond.
Okonoski, a member of Ferris' Television and Digital Media Production program faculty, taught in the Media Production department at Grand Rapids Community College prior to his return to his alma mater, Ferris, where he graduated with a bachelor's degree in Television Production and a master's degree in Career and Technical Education.
Among Okonoski's proudest collaborations is one with Angus Campbell, a Scottish chef who heads GRCC's culinary arts program, to create a television show, "Cooking with Angus." This unique partnership was all too obvious to ignore as the master chef and television production ace first joined forces while Okonoski taught at GRCC. The two hit the ground running and started a series that has endured through seven seasons and more than 70 shows.
"Cooking with Angus" is proof of a Ferris faculty member putting to use his experiences and expertise in a real-world setting.
"The upside for me is I can continue to be relevant for my classes. Working on the 'Cooking with Angus' series keeps me editing and producing," said Okonoski, who was profiled for his work in the Spring 2009 issue of Points of Pride. "I feel fortunate to have the opportunity to do this. Angus and the quality of his work are incredible."
The show introduces viewers to a variety of culinary selections from traditional Scottish fare to sushi by a highly-skilled and talented chef, Okonoski said. Celebrating Campbell's roots, the duo even took the show on the road by taping an episode in Scotland. So, this is not just a studio show for Okonoski and Campbell.
That's a true real-world experience.
The show's goal is to spark interest in food.
"Cooking with Angus," which airs locally on Ferris Cable 22, is more than a cooking show. Indeed, it's an educational experience for Okonoski's students – students he wants to see move on to careers in television and digital media.
In fact, this collaboration brings together Ferris State University and Grand Rapids Community College. The show is a platform for students from Ferris' TDMP program and GRCC's Culinary Arts program to strengthen their skills. Okonoski also has worked with University Advancement and Marketing and Bulldog Athletics to produce a Ferris sports show in past years. Additionally, he has collaborated with the Grand Rapids Area Chamber of Commerce, YWCA, Meijer Corporation, Van Andel Institute, River Bank Run and others.
For Okonoski, it's all about bringing people together through education.
Indeed, the ability to provide students practical experience is gratifying for Okonoski.
"I am passionate about teaching and my goal is to help students prepare for successful careers in the television and digital media field," said Okonoski, who also was a video producer for more than 12 years working at WOTV in Battle Creek, in the Television Production Department at Amway and his work at GRCC and Ferris.
That passion is strengthened by a willingness and skill at building bridges that bring people together for common good.