Varsity Soccer Player
by Sandy Gholston - March 2, 2011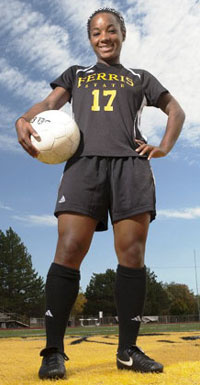 Whether it's on or off the soccer field, Mekyla Spraggins is a picture-perfect symbol for Ferris State University's "I'm a Bulldog" campaign.
The standout women's soccer student-athlete has always had that inner competitor pushing her to never settle for anything less than her best. And, to a large extent, it was her inner competitor that put that first taste of the sport in her mouth back in the day when she first started to compete – as she explained in her Ferris Magazine portrait from the Fall 2010 issue. The young lady with the nickname "Meeks," one that has stuck to her since she was an eighth grader, has never been prone to back down from a challenge. All she needs is an opportunity to roll up her proverbial sleeves and go to work.
"I wanted to play what the boys were playing. I had a couple of neighbor friends who played, so I started off competing co-ed. I really liked it. My mom couldn't keep me away," she explained of the roots of her love affair with soccer – a burning passion that has carried her to become one of the rare student-athletes to earn the privilege of playing at the college level.
The 5-foot-2 Spraggins, a Grand Rapids native who prepped at Forest Hills Central High School, could hardly be more proud to have become a Bulldog as a college student-athlete.
"Meeks" handles her business when she is in the classroom, too.
"Being a Bulldog means representing Ferris as a student-athlete on the field and in the classroom. You have to get your work done so you can concentrate on performing on the field. I also receive support from my teammates. There's a lot of understanding from professors, too," said Spraggins, a Business Administration (Legal Studies) major.
That inner competitor pushes her to excel in the classroom as well as on the field. That challenges Spraggins, like her fellow student-athletes, to find that balance between academics and athletics. A big part of understanding professors and understanding what it means to be a student-athlete is taking the initiative to work out potential conflicts.
"Our games are on Friday and Sunday, which means if we have an away game we normally leave on Thursday. I had one class I missed every Friday, because even for home games the class was just an hour before. We worked through e-mail and I went to his office hours to get extra help. So even though I had to turn some things in earlier than everyone else, I still got an 'A' in the class," she said.
One aspect of being a student-athlete that oftentimes is overlooked is service. Spraggins, and her peers, enjoy giving back to the community. As a student-athlete, whether she wants to be or not, she knows she is a role model. Fortunately, she is comfortable as a role model who appreciates every moment of community service.
"The team does community service with Special Olympics in Grand Rapids, which is always a lot of fun. We work with a local girls' soccer team as well. They like to come out and watch games and even serve as our ball girls occasionally. Receiving that support is always great and we enjoy working with them," Spraggins said.
For Mekyla Spraggins, it's just a small part of why she is proud to say, "I'm a Bulldog."