Office of Housing and Residence Life, Director
by John Smith - Oct. 20, 2016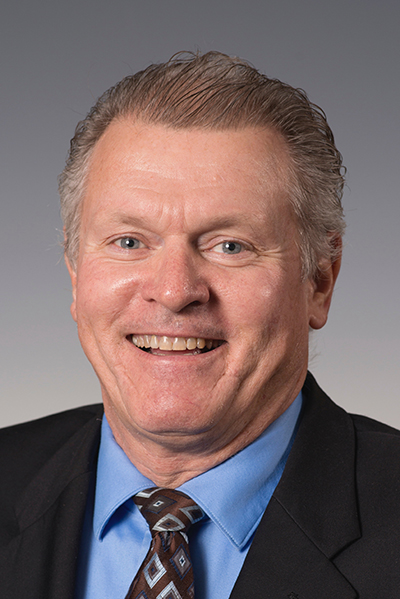 Through nearly 30 years of experiences, on the Ferris State University campus, Bryan Marquardt has prided himself on working well with other departments. That level of collaboration will only increase in the months to come, as Marquardt, the director of Housing and Residence Life, adds responsibilities following the departure of the associate vice president of Auxiliary Enterprises.
The level of activity related to Marquardt's main duties are in full measure, with residence halls and other university housing serving students system-wide. Marquardt assumed his leadership role with Housing and Residence Life in Fall 2013, and said that working with students, and other elements of the university means striving for excellence in customer service.
"We are involved with every department on campus, with Admissions and Dining Services being key contributors," Marquardt said. "We all work together to retain these students, and give them a quality education. We want them to stay engaged at Ferris, as there are a number of universities in the region who are after the same students. With fewer high school graduates, and fewer students in the state, those who have chosen Ferris require the best in customer service."
Another department that Marquardt and his staff work with, regularly, is the university's Public Safety operation.
"With more than 3,500 residents, we don't have interactions on the order of a campus the size of Michigan State, but circumstances can bring us together each day, if not hour by hour," Marquardt said. "We need to understand, particularly with freshmen, they can make mistakes as they advance in the learning process."
Ferris is offering new units in the South Campus Apartments complex, and Marquardt is impressed by the swirl of activity as the university builds a North Campus Residence Hall. The area near the University Center and Campus Quad will see a $28 million, 402-bed, four story facility developed, with a wing of the ground floor providing classrooms, study rooms and other activity space.
"President Eisler and our vice presidents are excited to be taking this step," Marquardt said. "With three classrooms in the Learning Center, that brings Housing and Residence Life closer to the instructional arm of the university. We're looking forward to working closely with academics."
Marquardt said that the design of the new North Campus Residence Hall means there will be a ground floor concourse between the Living Center and Learning Center wings, with vending, a resident lounge, a lobby and game area. Residents will enter their living areas with a swipe of their ID card, and he's pleased by other elements of the construction.
"There will be a model unit on the ground floor, so we can provide tours on Dawg Days, or during a tour during an individual's day visit," Marquardt said. "The hall director's residence is spacious, and is conveniently located near the model unit, office and lobby."
Marquardt came to Ferris, as a Dining Services employee, in 1987, following graduation from the University of Wisconsin-Stout. He began a 10-year stint as coach of the club hockey program, leading Ferris to a national championship, in 1994, after a third-place finish the year before. Bryan said that coaching gave him a perspective that serves him well in his current responsibilities.
"It helped me to learn patience, as while student-athletes may make mistakes, they really want to succeed," Marquardt said. "The pursuit of excellence means going behind a club team's practice schedule, our players committed to lifting weights, and we all put in the extra time that brought a desired result. We traveled to Albany, N.Y. and won the American Collegiate Hockey Association, to become champions in a division with 110 teams. That helps them become better people."
Marquardt's current administrative responsibilities increased, this summer, as he joined Lori Helmer in accepting responsibilities related to the university's Auxiliary Enterprises. For Marquardt, that means working with the Copy/Print Center, Tot's Place, Dial-A-Ride Transit shuttle, and bus service to Grand Rapids contracted to The Rapid.
"Summer time allowed for a full focus on these responsibilities, and as the process continues into the fall, we will make it work," Marquardt said. "Those who report to me, regularly, and on an interim basis, are experienced staff on campus, and they are all effective, and efficient supervisors. My housing staff understand what is required of them, so I can direct day-to-day operations. We all work to put the students out front and strive for excellence."


PHOTO CAPTION: Bryan Marquardt is Ferris State University's director of Housing and Residence Life.


John Smith is the communications specialist for News Services and Social Media in University Advancement and Marketing.

For others featured in the Faces of Ferris series, visit:
https://ferris.edu/HTMLS/news/faces/