Professor of Chemistry
by Sandy Gholston - September 2, 2009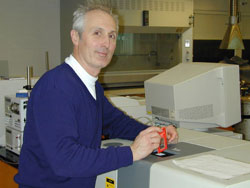 Patricia Neal once said, "A master can tell you what he expects of you. A teacher, though, awakens your own expectations."
In so many ways, that quote embodies much of Bill Killian's work for a good part of the last 22 years since he arrived at Ferris State University. He wears a number of different hats. Killian is in the classroom, as a chemistry professor; he is on the basketball court sidelines, as a coach; and he has done it on the diamond, as a coach and as a Major League Baseball scout. Through it all, the long-time Ferris chemistry professor continues to swell with pride as he watches the light bulb pop on in the heads of young people — a signal of enlightenment and of newly-acquired knowledge.
He inspires and awakens confidence and success in those he encounters.
"I got into this because I really like working with young people...I really like the students," said Killian, who works in Ferris' Physical Sciences department.
Killian works as a teacher of both general and industrial chemistry courses and serves as coordinator of the Industrial Chemistry Technology program.
"I think it started for me as I was attending graduate school working as a teacher's assistant. It was then I started to really get that feeling that teaching was something I wanted to do for my career, and I have pretty much been doing it ever since then."
Many students have a challenging time with lab-heavy science classes — especially when the subject is chemistry. Like a lot of his peers, sometimes, Killian sees the uneasiness in the eyes of students before a word is even spoken. He works to inspire confidence in students in ways that are similar to how he works with student-athletes he coaches in basketball. Success begins with self confidence and a focus on fundamentals. That is the mark of great teachers — teachers students remember long after their college days are little more than a dot in the rear view mirror of life.
Behind The Scenes Work
Meanwhile, inside Jim Wink Arena, Killian is not a man who seeks out attention. Instead, the decades of basketball knowledge he has acquired is put to use outside of the glare of the spotlight. Bulldog basketball practice is yet another lab where Killian spends ample time helping student-athletes learn the basics: fundamentals of a good jump shot, movement without the ball, proper footwork and more.
Killian has a long history of dedicating large chunks of his free time back to Ferris in the form of work outside of the classroom — work related to intercollegiate athletics.
Killian's dedication to teaching and learning is not limited to basketball. He worked with Bulldog Hall of Fame baseball coach Judd Folske from 1988-92. Back on the hardwood, Killian worked with another Bulldog Athletics Hall of Fame coach, Tom Ludwig. Killian served for seven seasons under Ludwig, one of most successful coaches in NCAA Division II history. As Ludwig's tenure ended, so too did Killian's time as an assistant. As it turns out, however, it was not the end. When Bill Sall returned to Ferris in 2002, as head men's basketball coach, one of the first people he looked up was Bill Killian.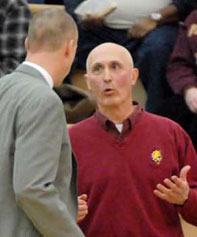 Welcome Back to Bulldog Basketball
The call brought a smile to the face of Ferris' "Coach K".
"I was really honored when Bill asked me to come back to be on the basketball coaching staff. I knew it was going to be a great opportunity for me," said Killian, who was hired by Ferris in 1987. "I love being out there teaching the game of basketball. Coaching basketball is something that has always been special for me and it's always been something I've loved to do."
So, whether it's on the basketball court, the baseball diamond or in the chemistry lab, Bill Killian has made a history of inspiring young people to believe in themselves, to challenge themselves and to strive to be the best they can be.