Manager, Early Learning Center
by Sandy Gholston - September 10, 2010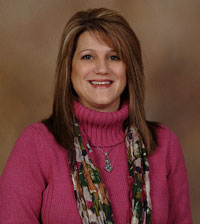 Since 1991, Lori Johnson has been a part of a family of dedicated people at Ferris State University who make Early Learning Center a special home for young children.
Johnson serves as manager of Early Learning Center after beginning her affiliation with the Center 18 years ago as a parent who enrolled as a Ferris student in 1992. Since she first came to know Early Learning Center, Johnson has earned a degree in Early Childhood Education and served as an assistant teacher, lead teacher, early childhood specialist, assistant manager and, today, as manager of the facility.
After being initially drawn to Early Learning Center out of necessity, Johnson has developed quite a passion for the Center that endures today.
"I love that I have an opportunity to impact learning for small children and college students at the same time," Johnson said. "That represents a lot of lives and a lot of families we are able to impact in such a positive manner. Recently, Ferris hosted the Students with Children program. I attended, looked around and remembered how I was one of these students with children when I first came to Ferris. Through education, we're making a positive impact on the lives of young people from one month old to college students."
Johnson fondly reflects on the nearly two decades that she has called Ferris home. And, almost from the start, she has been involved with Early Learning Center -- a place that has meant so much to her and so many other working parents and student parents at Ferris and in Big Rapids.
"I started at Early Learning Center as a student worker in 1992, and I've never left," recalled Johnson, who started part-time in 1993, became a full-time employee in 1994 and was elevated to the director position by 1997.
As a testament to the work of Johnson and the entire staff of Early Learning Center, earlier this year the Center was re-accredited through the National Association of the Education of Young Children. This NAEYC re-approval runs through Dec. 1, 2014. NAEYC is the largest and most widely recognized accreditation system in the early childhood education field, according to Johnson.
"This accreditation demonstrates Ferris State University's continued commitment to educational excellence by ensuring that our youngest citizens are provided with high-quality educational experiences which promote future learning opportunities," said Johnson, who works with a dedicated support staff that includes Debbie Roberts, assistant manager; Janet Schmidt, account clerk; Patricia Werner, cook; and Christina Ward, kitchen assistant.
The Early Learning Center team enjoys its daily interactions with children and parents -- work that continues throughout the calendar year.
One particular initiative Johnson and her staff championed this summer was a community service program that allowed children to organize and run a local Big Rapids effort to raise funds in support of the Charles E. Fairman Community Pool.
Activism is a part of education and development at Early Learning Center.
"I was very impressed with the enthusiasm shown by the children in taking on this service project," she said. "They were very eager in all the responsibilities which went along with carrying out their goal; whether it was preparing the baked goods, designing the advertisements, or soliciting potential customers."
Efforts like this, along with helping children learn about the importance and value of re-investing in a local community, are part of the mission of Early Learning Center under Johnson's leadership.