Assistant Professor, College of Health Professions
by John Smith - March 1, 2022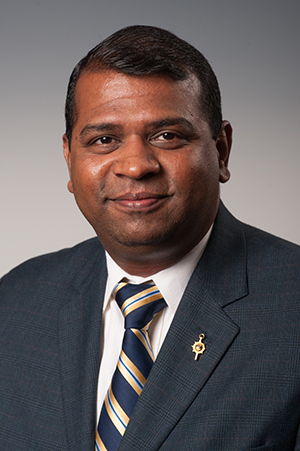 Emmanuel Jadhav
Facts matter, or more specifically, the presentation and use of credible information is of great importance to Associate Professor of Public Health Emmanuel Jadhav. That focus joins with a keen desire to see that Ferris State University students receive a vivid and valid collegiate experience, so he offers the gift of his time and talents in several ways to advance that cause, the institution and the greater community.
"My family background served me well, first to learn and succeed as a student, then to gain experience and responsibilities as a health care administrator," Jadhav said. "The preachers, educators, and farmers in my family instilled in me a learning quest that went from Mumbai India to Lexington, Kentucky, then on to Big Rapids."
The professor said that mentorship is one method he uses to help students of any background to succeed.
"I believe students should have an active role in the development of programs that offer them excellence in learning, so they can become the best possible professionals and community members, where they choose to take their careers," Jadhav said. "The goal is to maximize accentuation of their learning experience.
Since I came to Ferris, I have been intentional to include students in my research activities. I get to know these student research fellows, paying attention to their stories and considering how their experiences can help benefit each student who comes here to learn. I try always to be mindful that students are very engaged in their educational experience at Ferris, so I should strive to make that opportunity as valuable as possible for them. In 2015-16 I collaborated with Amy Ottesen, from Institutional Testing, and Kristen Salomonson, in Enrollment Services, on a Student Research Fellowship on vaccine perceptions."
He added, "My interest in ensuring that students have the information they need to excel and become professionals grew from an experience with one of my student research fellows. The student possibly did not have the experiences that I had related to travel, presentations, etc. It so happened that when we went to a conference to present our findings, I did not know that the student did not know how to reserve travel with an airline, tie a tie-knot, etc. I encouraged him to go on ahead and that I would meet him later at the conference. While unfortunate, the student did a great job of overcoming the struggles leading up to the podium presentation. In later conversations, I found out that the travel was rough, and it took quite a while for him to figure out how to knot the tie. He had just bought his first tie-shirt from the First Lady's Attic at the University Center. Alas, a little too late for me to help him, but it affirmed my interest in mentoring our students. The experience with the student pointed me to join with the efforts that Jason Bentley, in Retention and Student Success, was making on behalf of first-generation student success. This allowed me to learn about the resources the university offers that could benefit our first-generation students."
Among the early endeavors, Jadhav and members of Bentley's department conducted a research study on identity transition among first-generation students. The study led to other collaborations such as working with the first-generation student workgroup to revive the registered student organization that supports Ferris' first-generation students.
"I believe we are in a better place, in terms of the efforts made to support first-generation students, encouraging them in every way possible to be successful," Jadhav said.
These student advocacy efforts came about intentionally for Jadhav, who brought professional experience in corporate health care leadership roles and administrative service in health care governance.
"I grew into my interest in student attainment and fulfillment," said Jadhav, who serves as the current vice president of the Academic Senate and is one of four members of the College of Health Professions serving on the Academic Senate.
"I have been a member of the Senate for several years, with another two-year term just underway," Jadhav said. "I feel it is important to be part of the body capable of defending program quality and assuring our academic offerings are beneficial to our students. We work closely with Academic Affairs to reach the best result and offerings. Through this collaborative effort, we can benefit our students and the communities they serve as professionals."
An example of this work was Olukemi Fadayomi drafting the data-driven decision-making report to the Academic Senate. From that report came the recommendation for creating the University Assessment Committee.
"Professor Fadayomi and I felt, rather than going through an unstructured process of inquiry for data sources, there should be a repository for those data sources," Jadhav said. "We started up a Data-Driven Decision-Making Task Force, which, for my sake, evolved into serving again in the Higher Learning Commission process."
Jadhav works with Academic Senate President Sandy Alspach to promote shared governance.
"I base my work on how what I do can benefit students and their experience," Jadhav said. "We already do a good job in shared governance, and I intend to continue to have a hand in improving our efforts and response, along with all other campus contributors."
Jadhav's experience in Public Health administration was in demand, as COVID-19 presented implications for everyday living and had a significant impact on university operations. He was also proud that Public Health students produced a 2020 PowerPoint presentation on COVID-19 that was available to the entire university.
"There were a variety of avenues where I volunteered my services and get involved, since knowledge about the disease was in its infancy, in early 2020," Jadhav said. "One of my peers in the Strategic Planning and Resource Council (SPARC) reached out to ask what the appropriate institutional response should be. The dean of Health Professions, Lincoln Gibbs, invited me to take part on the work group for institutional testing. The dean of Pharmacy, Steven Durst, invited me to collaborate in our systematic surveillance model, an effort where I was already keen to offer my time and talents. We continue to meet every week, with sessions that are not as lengthy as needed at the onset of the pandemic. This is yet another situation where I go back to data, seeking information that is trustworthy and accessible, relying on my professional and instructional experiences in public health."
At the pandemic's onset, Jadhav joined the COVID-19 Community Response Team to see that faculty, staff and community members had the personal protective equipment they needed.
"I was already actively involved with the District Health Department #10, which serves Ferris' home county of Mecosta, and many neighboring areas to the north and west, "Jadhav said. "The need for PPE (personal protective equipment) items was immense, with responses quickly following, such as face shield manufacture in the university's Maker Space, along with cloth masks, hand-sewn by volunteers. Production of these items scaled up quickly, materials were donated to support this work and distribution of the items benefited Ferris and Kendall College of Art and Design staff and members of the community."
Jadhav hopes that collaboration can reduce the many implications of a pandemic, which is now in year three.
"As with many issues, decision making comes down to whether there is credible information, from which individuals can decide," Jadhav said. "We are a society where choice remains the prerogative of the individual. I support the concept of enabling people to make those choices by providing factual and balanced messaging. When there is an intended or obvious slant to the information, some recipients will reject them and might then gain their information from the margins, rather than the peak of the 'bell curve.' The concern is real that as the pandemic persists, fatigue with prevention methods and calls to vaccinate may result. I fear that could place us in uncomfortable or dangerous straits, whether it is COVID-19 or another health crisis."
Jadhav's abilities to manage his time and offer his skills in service also extended to the HLC Criterion Committees. He was also a part of the group that virtually met with the peer-review team during their two-day visit.
"I also contributed to subcommittees that addressed the rigor of Ferris' academic programs," Jadhav said.
Finally, Jadhav's role in the College of Health Professions finds him lending his skills to collaborative efforts that support improved public health outcomes in the region, beyond encouraging students to consider choosing roles as practitioners or administrators in the health care industry.
"For more than eight years, I have sought connections and working relationships with local and regional entities to bring out the best practices and results in all areas related to public health," Jadhav said. "That extends beyond support for District Health Department #10, to the Central Michigan District Health Department, and the Michigan Public Health Practice-Based Research Network, which includes our institution, Western Michigan and other regional agencies. We are excited about an articulation agreement with Grand Rapids Community College, which will allow more students to pursue exciting learning and personal attainment opportunities."
He added, "Offering our time and service to these educational and community partnerships means that the Public Health program, as well as other degree programs at Ferris, can be important players in helping students achieve their dreams while providing great value and support to the community and region."


John Smith is a communications specialist for News Services and Social Media in University Advancement and Marketing.