Student, President of Ferris NAACP Chapter
by Alexa Torres - Nov. 11, 2015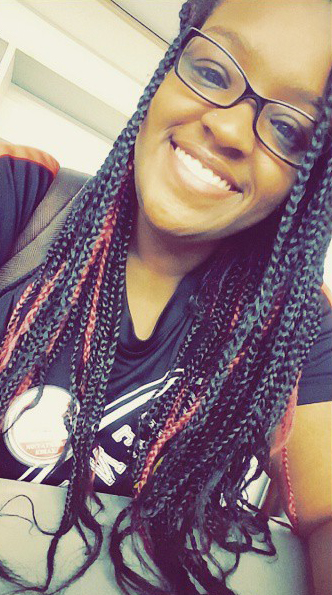 Breia Harris, a senior from Chicago, Ill., reflects on her Ferris State University experience as she approaches the end of her undergraduate experience. Upon reflection, the word "opportunity" rings loudly for the Sports Communication major.
"Opportunity, to me, is very broad because it extends to different aspects of life – whether we're talking about school, jobs, friends or hobbies," Harris said. "Opportunity is something that a person should seek to obtain, instead of waiting for the opportunity to find that person. It should be a benefit to the person."
At Ferris, Harris has taken advantage of her opportunities. Whether it is through on-campus jobs, involvement in student organizations or volunteering, Harris has gained experience with each opportunity. She has changed her academic major three times, but those experiences have helped her to take positives from each major and learn more about herself. Her experiences have helped her identify and pursue the major that fit her best: Sports Communication.
Harris is also active outside of the classroom. Her on-campus affiliations include: the Sports Careers student organization, the Ferris student chapter of the National Association for the Advancement of Colored People, for which she serves as president, and as part of the Scholar Peer Mentor program. These affiliations have given Harris opportunities to meet people and to network with people. She is hopeful that these outside-the-classroom opportunities will benefit her as she enters the job market after graduation in May 2016.
"Opportunity is important in college because, in a sense, it makes or breaks your future," Harris said. "For example, I work in the Athletics Department and my major is Sports Communication. Taking an internship opportunity, with the Athletics Department, turned into a job opportunity. Had I not taken that chance, it really would have hurt me. Opportunity is vital."
Maximizing the Ferris experience has been an important emphasis for Harris.
"On average, you have 50-minute or 75-minute classes. There's only so much you can be taught in a semester," she said. "You learn so many skills when you take opportunities, and it's so important to get involved."
Harris would encourage students to get involved beyond what happens inside the classroom. Her desire to go beyond the classroom gave her an opportunity to become a summer student orientation leader in 2015. Harris said that her time as a student orientation leader was perhaps her favorite opportunity at Ferris. Student orientation leaders are sophomores, juniors and seniors who help facilitate Ferris' new student orientation activities.
"There are a lot of opportunities here at Ferris. We have 180 majors to choose from and so many organizations," she said. "How many colleges can say that?"
Alexa Torres is a student writer for News Services and Social Media in University Advancement and Marketing.

For others featured in the Faces of Ferris series, visit:
https://ferris.edu/HTMLS/news/faces/