Director, University Recreation and Wellness Programs
by John Smith - Dec. 20, 2022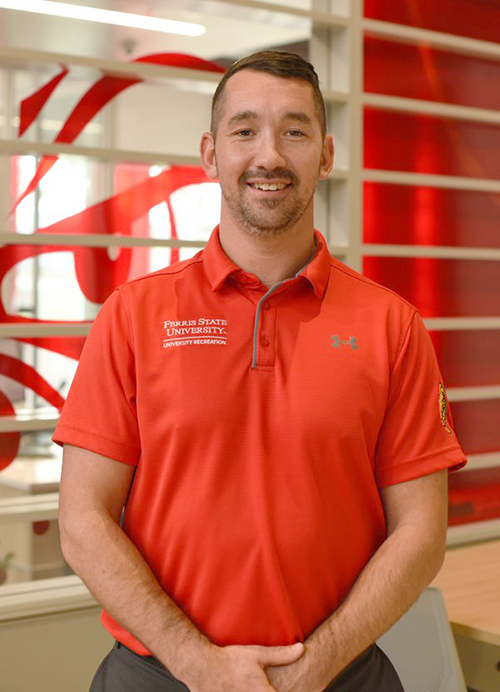 Justin Harden

Now in his seventh year on Ferris State University's staff, Director of University Recreation and Wellness Programs Justin Harden reflects on his first assignments as an assistant in that department. It was a departure from his first professional experience at Wayne State University.
"I began as the departmental liaison to Ferris' Family and Friends Weekend, as a member of the Alcohol and Drug Awareness Committee, which were initiatives sponsored by the Office of Student Life," Harden said. "My previous position at Wayne State was tied to athletics and intramural facilities. We were not involved in cross-campus initiatives based on the institution's size. It was a refreshing change to my career experience."
Harden saw an immediate benefit from these collaborative efforts in his role supervising student workers at the Student Recreation Center and heading up the intramural program.
"I found myself better able to meet the needs of student workers because I was making connections across campus," Harden said. "These students could be sent along for assistance with confidence, thanks to my relationship with the other staff members and campus leaders."
Harden successfully advanced his position to become the director in late 2019, when that job became available. After his title change, Harden set out to make the renovated Student Recreation Center a facility that would serve the campus community in areas beyond their physical well-being.
"When I took over as director, I made a conscious decision to have the SRC open to considering all usage requests, feeling the more people who come here, the better their exposure to our assets and programs," Harden said. "With that philosophy, there is a better understanding among our students, faculty and staff about what is possible, thanks to the center."
The Student Recreation Center was teeming with activity on Thursday, Oct. 27, as the Fall 2022 Career and Internship Fair was held on the court area of the center. Harden said with the renovation of the Ewigleben Sports Complex wrapping up. He was happy to give Career and Professional Services full access to the facility.
"There was a time when the center was seen strictly as a space for recreation, but I am happy to encourage other uses," Harden said. "This was one of the largest Career and Internship Fair events in recent years, and it was a pleasure to be part of its success."
The onset of the COVID-19 pandemic put recreation programs and the use of facilities like the SRC in complex positions, which Harden said called for consultation and adherence to the decisions of the Ferris Re-entry Committee.
"This year, we operate without the restrictions of spacing and contact requirements of our users," Harden said. "We believe that our registered student organizations, whether club sports or other groups, will take part in their activities safely, mindful that we have learned a lot about health and safety in the last two-and-a-half years, as it relates to ourselves and those around us. We now see 700 to 800 visitors daily in the SRC, whether in our workout areas, on the courts, or in the recently reopened pool area."
Harden expressed pride in what the Student Recreation Center now offers students, faculty, staff and the community.
"We have a great deal to offer our students and the larger community, so I arrange our programming and facility schedules with a focus on being welcoming and accessible for those groups," he said.
The Student Recreation Center was the home for Ferris' basketball, volleyball and other sports programs when it opened in 1963 as the Health and Physical Education Building. Harden said with the Ewigleben Sports Complex now serving as Athletics' home, requests for support are infrequent, but he is happy to make space available, especially in the spring and summer months.
"Ferris Athletics has been a very good partner," Harden said. "The recent construction at the sports complex saw them needing court space during sports camps. The soccer program will turn to us when there's significant rainfall, and we have had the football team practice inside on rare occasions. So it is no obstacle to accommodate them and our regular users. It is kind of a treat for everyone in our facility."
Finally, space is available for hundreds of visitors with one focus each June, as Ferris has hosted the Michigan Football Showcase in 2021 and 2022. Harden said this is a high-profile way to put his facility and Ferris in front of elite athletes and others as a potential destination through this one-day event.
"We are so happy to get that kind of exposure and have involvement with some of the leading college coaches in the state and region," Harden said. "The exposure it brings in terms of media interest and student contact is full of positives for our campus and the university."
University Recreation also makes its space available to the Area 5 Special Olympics program for team practices and competition, along with charitable events like an annual Poly Hockey game for the Special Olympics athletes against Ferris' team members.
"Working with the Area 5 organizers and coaches, along with our Sports Careers registered student organization, is an important part of our service to the community and a great learning opportunity for many students," Harden said. "Special Olympians are certainly some of Ferris' biggest fans, and they are always excited to be on campus."
Another aspect of Harden's duties is heading up Elevate U, a program established in Spring 2021, to help students succeed, thrive and feel that they matter. It is a collaborative effort with partners from across campus.
"We wanted to promote this initiative, so that students understood that help was available when they needed it, with the resources to support them identified," Harden said. "This was especially important to establish in the months after the pandemic had its greatest effect on our facility and the campus."
Harden was a fixture at orientation sessions through the summer months to make new students and their parents aware that Elevate U was in place and interested in serving every Ferris student.
"Parents were especially grateful to know this kind of emphasis on their student's wellness was in place," Harden said. "It is very worthwhile to invest my time in having students know from their first experiences on campus that we want them to be successful and confident through their experience here."
One of Elevate U's early initiatives in the 2022-23 academic year was outreach and programming during September, which is Suicide Awareness Month.
"Our collaborative partners go beyond professionals in the Birkam Health Center and Personal Counseling Office to the local and regional nonprofits and government agencies so we can achieve our goals," Harden said. "Students seem to take to our informational tables in campus buildings rather than attending a program in the evening. We have been studying the response patterns to our offerings and the structure that we offer. Finally, we make sure that new students know we will be reaching out to them throughout the year, so they understand the level of effort and concern we have for each one of them, as students and individuals."


John Smith is a communications specialist for News Services and Social Media in University Advancement and Marketing.