Professor of Biology
by Sandy Gholston - September 21, 2009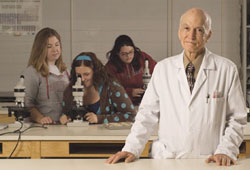 Born and raised on an Indiana dairy farm, in a country recovering from the devastating economic impacts of the Great Depression and World War II, opportunities were quite scarce. Somehow, Robert Friar discovered his inner drive to beat the odds. The foundation of his inner drive was built on strong support from his father — a man who appreciated the value of a college education. Dr. Friar's path to college, however, was hardly a yellow-brick road to great things. Financially, there were challenges. Friar recalled his two older sisters already were in college. So, the path to excellence required him to roll up his proverbial sleeves and get to work.
"My parents really couldn't afford three kids in college," said Friar, who was earned a scholarship to Purdue University and began part-time work from 2 to 7 a.m. milking 120 cows on the university's research dairy farm each morning — then he was off to his 8 a.m. class. "For three years, I went to class, studied and worked. . .that was all that I did. . .I didn't have much time for a social life or anything else. During my senior year, I was offered a job in a research lab with a better work schedule, fewer hours and better pay; and it opened new doors of opportunity."
Hard work and opportunity, a combination that goes hand in hand, has led to excellence for Friar as a student, a husband, a family man, a teacher, a lecturer and more.
Friar went on, thanks to hard work and some sacrifices, to earn bachelor's, master's and doctoral degrees from Purdue.
Ultimately, destiny led him north of the Indiana-Michigan border to the small community of Big Rapids. In 1967, Friar first planted roots at an institution of higher learning — what today is known as Ferris State University. He arrived at Ferris with enthusiasm and the desire to make a positive impact on the lives of young people seeking a college education.
Back then, Friar likely could not have dreamed of the number of lives he ultimately would impact at Ferris.
Today, more than 40 years later, he still teaches and lectures on important and thought-provoking topics — most notably related to the ever-popular topic of human sexuality. His lectures on human sexuality produced venues jammed with interested students. He has become a national authority on the subject. He has been quoted as an expert by media sources as diverse as Time, Readers Digest, the Canadian Discovery Channel and Fox News.
"The (Sex and the College Student) series has become so popular that during one of the recent lectures I had 200 people in (a classroom)," Friar said. "We've had such a positive response from students that there has been some talk of moving the series to Williams Auditorium to accommodate everyone."
Still, for Friar, it all begins with teaching. The fire that fuels his zest for teaching is aided by the gratification he enjoys as students learn and the light bulb pops on. Four decades since his arrival, he continues to see the best in his students as a professor of human anatomy and physiology and human sexuality.
Friar sees what he sees because he looks a little deeper when he interacts with students. In many of the young people he encounters, Friar sees the young man he was at that age: a hard worker who battles to achieve excellence in the face of life's challenges.
Like so many others, Friar works to do everything he can to ensure that disadvantaged students are not derailed in their pursuit of excellence.
On the foundation of his desire to assist hard-working, though disadvantaged students and to do something for the memory of his late wife, Frances Friar, Robert and their three children, Kenneth, David and Debra — who attended Ferris — and their spouses, established three scholarship endowments to assist dedicated students in their pursuit of a college education.
He can appreciate their stories because, in some cases, he already has lived it.
Friar emerged from humble beginnings and capitalized on opportunities to achieve great things in his personal and professional lives.
As he once benefited from a similar opportunity, at Purdue University, Dr. Friar wants to keep the cycle going and ease the path for students pursuing their dreams.
The pursuit of excellence is challenging. Dr. Friar and others work hard to help disadvantaged students who are on the pathway to living their dreams.