PGM Graduate
by Sandy Gholston - October 8, 2009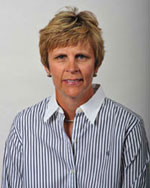 Emily Fletcher is a prime example of how you never know when opportunity is going to knock, but you sure better be ready to answer when it does.
A graduate of Ferris State University's Professional Golf Management program, Fletcher smiles and reflects positively on her time in Big Rapids as she golfed for the Bulldogs and earned her stripes in Ferris' PGM program. Opportunities for golf professionals to receive industry-ready training, particularly more than 20 years ago, were perhaps less abundant than today. But, whether it was the 1980s or the 2000s, an aspiring golf professional comes to Ferris knowing full well it's a second-to-none educational opportunity to receive the kinds of training and contacts you can't get everywhere.
"At the time, Ferris State was the only school in the country offering the Professional Golf Management curriculum," said Fletcher, who benefited from the respect Ferris' PGM program commands nationally. "I wanted to pursue my Business degree, and I was very excited about the internship opportunities offered in PGM. In hindsight, those internships proved to be a launching pad for my future career in the golf business. I was able to secure my first job out of school at Desert Highlands Golf Club in Scottsdale, Ariz., after doing an internship there first."
Of course, learning the golf business inside and out is a critical component of PGM at Ferris. But, another great aspect of FSU's program is having an opportunity to make contacts with some giants of the golfing industry across the nation — men and women mindful and respectful of Ferris State University and its PGM program.
"One of the more positive aspects of the PGM program is that you have contacts in the golf business all over the country," said Fletcher, a 1987 graduate of Ferris who played on the school's women's golf team from 1983-85 and shot an average of 82 strokes per round to rank her 11th among the all-time greats at FSU. "I always thought of the PGM program as a sort of fraternity/sorority that connects me with all PGM graduates."
It's a bond — a bond that centers on capitalizing on a great opportunity in a great program — that ties so many PGM alums together.
Fletcher built on her opportunity at Ferris and that has translated into big things since her college days. Today, Fletcher puts her PGM degree and her experiences as a golfing professional to work as head coach of the women's golf team at Northwestern University in the prestigious Big Ten Conference.
Professionally, earning the job as head coach of the Wildcats was a monumental moment.
"My appointment at Northwestern University as women's golf coach is a privilege and honor," says Fletcher, who has lived and worked in the Evanston area for more than 20 years. "I look forward to taking our golf program to the same level that our other sports have achieved — that means Big Ten Conference championships and competing for a national championship."
Fletcher has not rested on her laurels since capitalizing on the benefits of her experiences at Ferris and in PGM.
She has worked diligently to assist up-and-coming golfers who desire to fine tune their game.
On the Northwestern's Web site, it is noted that with Fletcher's assistance as primary swing instructor, professional golfer Jenny Lidback won the DuMaurier Classic — one of the LPGA Tour's major championships. Fletcher also served as assistant tournament director for the Wachovia Betsy King Classic from 1996 through 2004.
As Emily Fletcher has proven. . .when opportunity knocks. . .you better be ready.