Assistant Professor in Sports Entertainment and Hospitality Management
by John Smith - April 7, 2017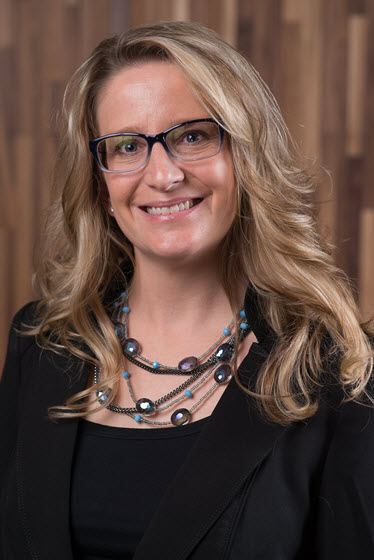 An individual's path to achieve success and find fulfillment can be realized by determining what is possible in a situation then making the most of that opportunity. Amy Dorey, an assistant professor in Ferris State University's Hospitality Management program, can attest to that, having returned to campus in late January, after leading a contingent of students serving in a variety of capacities at ESPN's Winter X Games 2017 in Aspen, Colo.
The first portion of Dorey's educational journey began at Central Michigan University, where she earned her Bachelor of Science in Biology and Environmental Science. Arriving in the Big Rapids area with experience in banquet, conference and facilities management for private events, such as weddings, Amy met Hospitality Management Coordinator Julie Doyle, which led to Dorey joining the adjunct faculty as a Food Science instructor.
"I was working as a restaurant manager at that point in my career," Dorey said. "I quickly saw the potential of the program. In time, I realized that I loved teaching."
As the Sports, Entertainment and Hospitality Management Department was in transition to broaden its emphases, Dorey sought opportunities to expose student groups to experiential learning through activities such as concessions delivery at the Van Andel Arena in Grand Rapids, Mich., supporting Showspan's efforts with the Helen DeVos Charity Extravaganza at the Michigan International Auto Show and managing presentations at the Wine and Food Festival, which is also hosted at DeVos Place Convention Center in Grand Rapids.
"It's awe inspiring, as these are all opportunities to work with industry professionals, to prepare for our students' careers," Dorey said. "These experiences support everything our students do in the classroom."
Other student experiences are developed on a smaller scale, such as bringing a group of 12 students to the Ritz-Carlton in Dearborn, Mich. (now known as The Henry, Autograph Collection, also a Marriott International, Inc. property) to serve in a sales blitz.
"We assist them in a concentrated effort to generate business leads, contacting clients by phone," Dorey said. "Our students were able to secure a great number of commitments, by making 600 contacts."
Another opportunity to expose Hospitality Management students to event development, offering guest services and behind-the-scenes duties, came in July, 2015, when iDesign, a contractor supporting productions on ESPN, sought staffing support for the debut of Mastercraft Throwdown. At the suggestion of the West Michigan Sports Commission, iDesign officials were connected to Dorey, and she was invited to bring a group of students to support this one-time event. The competition for eight elite professional wakeboarders was held at Millennium Park in Grand Rapids and aired on ABC that August as a World of X Games event.
"We developed a small team on short notice, since it was summer, and gave it a great effort, which included the chance to meet the X Games officials," Dorey said. "It was our window to develop this as an opportunity for students across campus. From the outset, our students made a good impression, which brought about an invitation to continue in guest services roles with the X Games."
The Ferris student teams participated in guest services roles at the X Games Aspen 2016, assisted in event development on the Festival grounds at last year's X Games Austin in Texas last summer, and continued their relationship with a five-day involvement at X Games Aspen 2017, which was held on Buttermilk Mountain, in late January.
"Our students make an exceptional effort, and their preparation and willingness to work has impressed the leadership at iDesign." Dorey said. "We are one of only three institutions included in the university program, working at X Games, which means a lot of being on your feet, being active in your work and interacting favorably with the guests. It is very rewarding."
To prepare for the most recent Winter X Games, Dorey said they solicited for invitations from faculty across campus, so those students could apply to be part of Ferris' team of participants in the program.
"Our team was comprised of students studying Hospitality Management, Public Relations, Music Industry Management, Communications, Marketing and a Television and Digital Media Production representative," Dorey said. "They are not there just to attend the X Games, as a solid fact of event management is being active in a 14-hour day."
The students' assignments included greeting guests, answering their questions and offering directions, seeing that Americans with Disability Act requirements were being met and supporting security staff with ingress and egress of crowds that numbered in the thousands.
"In this case, students are involved in being on the 'nice side' of security, making sure that the guests feel welcome," Dorey said. "Their responsibilities include seeing that viewing platforms are properly and safely loaded, along with a variety of other random services."
Patrons of the X Games can purchase viewing packages that provide access to a Platinum Tower, where they are provided with premium viewing for events, full-scale food and beverage service, meet-and-greet opportunities with the athletes, along with heightened access at the musical performances that are part of the festival.
"It is a hot ticket, and at a cost of $1,800, the Platinum Tower package sold out," Dorey said. "The X Games is the premier international extreme sporting event, and it is also a premier educational opportunity for our students."
Dorey and adjunct Hospitality Management Instructor Karyn Kiio were also on site in Aspen serving as members of a Guest Services Team assisting with event management and student program supervision through the Aspen Ski Company.
"While we enjoyed the experience, we were definitely working the same hours as the students, if not longer," Dorey said. "We make sure that students are learning the objectives that we set out, with daily debriefings, where we make sure there is takeaway on their part, and a review of applications for their future professional experiences."
Dorey expands on her efforts to further student learning and success by serving as a faculty advisor for the student chapters of the National Association for Catering and Events and the Professional Convention Management Association. In that role, she emphasizes the importance of networking with professionals during a student's academic career, while building a strong set of skills for lifelong learning. Dorey has added to her own credentials with a Master of Business Administration, from Ferris, in Management Tools and Techniques, as well as certification as a Registered Sanitarian with the state of Michigan.
Dorey also has supported the university's focus on opportunity, as she was a member of a strategic planning committee created to address the development of career skills and knowledge, while providing opportunities for civic engagement, leadership development, advancement and success.
"My students in Hospitality Management learn my philosophy, that this is a business with significant visibility," Dorey said. "I would challenge any student to keep themselves open to opportunity, to remain confident in their abilities and education, and to be fearless of failure. I believe these are key components to a successful and rewarding life, and career."

PHOTO CAPTION: Amy Dorey is an assistant professor of Hospitality Management, in Ferris State University's College of Business.

John Smith is the communications specialist for News Services and Social Media in University Advancement and Marketing.

For others featured in the Faces of Ferris series, visit:
https://ferris.edu/HTMLS/news/faces/