Professional Tennis Management Administrative Assistant
by Betsy Garbe - Sept. 13, 2013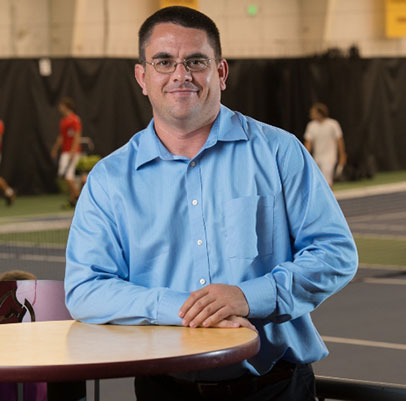 Ferris alumnus Collin Cadwell returned to the university for the opportunities it would provide, not just for himself, but for Professional Tennis Management majors and, thus, for the industry.
"It was an opportunity to affect change. As a student, I saw things with the program that I thought 'this could be better,' 'this could be different'," said Cadwell, the PTM program's administrative assistant. "To affect change, you have to be a part of the change."
Cadwell has been active in the tennis industry for more than 20 years – even before he enrolled as a student in Ferris' PTM program. He was a teaching professional at clubs in Idaho, Texas and Michigan for students of all ages and abilities.
He was drawn back to the Big Rapids area in 2006 and began working for the Racquet and Fitness Center, where he has fueled his skills as a tennis professional. It was an opportunity to be a part of a program "that can have a tremendous impact on the tennis industry," he said.
Cadwell's duties include working with prospective students, recruiting, marketing, helping with internships, academic advising and coordinating program events and workshops.
Cadwell tries to help students and players gain perspective: He tells players to remember "it's a game; enjoy it for what it is" and students learning to become a coach to "understand that being a player is different than being a coach."
"To be a good player, you have to be very self-centered," he said. "To be a good coach, you now have to put that selfishness aside and become about the other folks around you."
Students also gain perspective and practical experience through an ongoing internship at the Racquet and Fitness Center, which is a requirement for the bachelor's degree program.
"They get to see firsthand what the industry is, what the possibilities are in the industry," Cadwell said. "It also provides an opportunity for real growth and a maturing process for students, along with providing a tremendous portfolio for them in terms of entering the workforce."
In addition to his duties on campus, Cadwell is a member of Big Rapids Community Tennis Association and teaches lessons at Hemlock Park. He also coached the Big Rapids High School tennis team for five years.
Cadwell said he enjoys his position at Ferris.
"It's neat to be part of the start of so many people's careers and kind of see that process happen from freshman to senior," he said. "It's a tremendous program; Ferris is lucky to have something this unique here."


Betsy Garbe is a News Services student writer in University Advancement and Marketing.
For others featured in the Faces of Ferris series, visit:
https://ferris.edu/HTMLS/news/faces/