Head Football Coach
by Sandy Gholston - February 7, 2012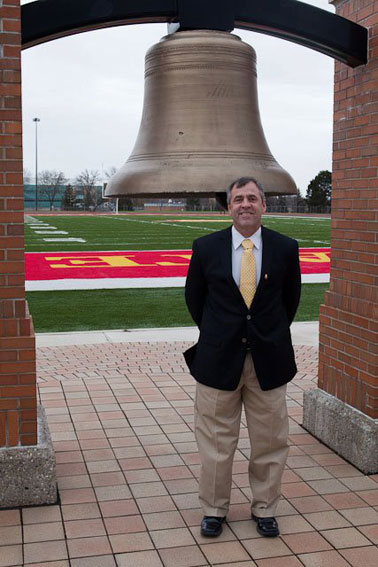 The first month and a half was a bit of a whirlwind welcome for new Ferris State University head football coach Tony Annese.
Annese, 50, was hired as the Bulldogs' new head football coach on Dec. 22, rolled up his sleeves and immediately went to work. Making the jump from a head coach position at Grand Rapids Community College to his new position at Ferris was an ambitious move – a challenge that Annese and his newly-formed coaching staff have embraced. His transition to Ferris happened in what some might describe as a blur. Annese was hired Dec. 22, and he immediately was tasked to form a staff of coaches that would assist him in running the Bulldog football program. He quickly announced the hiring of Ryan Brady, Ryan Hodges, Ryan Oshnock and Rob Zeitman as assistants. He retained Travis Eising and Joe Hensel as part-time assistant coaches, added part-time assistants Brad Corpe and Andy Tevlin, and retained the services of volunteer assistants Jack Schugars, Bart Estola, Jeff Klopf and Joe Morse.
"I'm excited and humbled about the opportunity to coach Division II football at Ferris State University," Annese said. "There is a tremendous football tradition at Ferris and this is a great chance to follow in the footsteps of some outstanding coaches and teams that have been here in the past. We have a lot of work in front of us, but I'm looking forward to developing many new relationships and building opportunities to be successful."
While hiring his assistants, Annese had another important mission: Recruit and sign a strong class of prep student-athletes to bring their talents to Ferris. Annese, who was 30-4 in three seasons as head coach of GRCC before he took over at Ferris, and his assistants signed a class of 30-plus recruits ready to suit up in the Ferris crimson and gold colors in the not-too-distant future. Recruiting, in more ways than one, is symbolic of the Ferris State University core value of opportunity. Being a student-athlete is a special opportunity for thousands of young people. They, as Annese and his staff well know, are the lifeblood of a college football program or, for that matter, any college athletic program.
Annese, who was inducted into the Michigan High School Football Coaches Association Hall of Fame in Spring 2011, and his staff put in the hard work. Fans can keep up with the thoughts of Coach Annese by following him on Twitter at: https://twitter.com/coachannese. As he himself knows, more hard work is ahead for the coaches as they aim to be ready for the spring season and eventually the fall season.
The football student-athletes are in the midst of winter conditioning as well as team meetings. The spring season is fast approaching and preparation is crucial.
Annese, however, has other head coaching responsibilities that are important as well as he seeks to reach out and make strong connections with the Ferris football alumni base and fans of the Bulldogs. He is touring the state with stops at Buffalo Wild Wings restaurants to have an opportunity to engage alumni in different regions of the state. On Feb. 9, he is scheduled for a stop in Wyoming in the Grand Rapids area, on Feb. 16 he will be in Saginaw and on Feb. 23 he will head to the Detroit area for a stop in Rochester Hills. All times at the restaurants are from 6 to 8 p.m. For more details, visit: https://www.ferrisstatebulldogs.com/sports/fball/2011-12/releases/201201305usyu5.
The new Ferris coach is excited to engage fans of Bulldog football – fans that are very passionate and eager to connect with the new head man and his staff.
As much as he and his coaches are eager to get out on the field for spring ball, Annese knows the importance of building a strong program from top to bottom. A big part of that is making strong connections with alumni and fans.
It's a lot of work for Tony Annese and his staff. Coming off an 11-0 record last season at GRCC, he is hungry. It's an opportunity to turn Ferris into a football champion. As the past has indicated, Annese is a proven winner and he has never been afraid of hard work – whether it's a little or a lot.