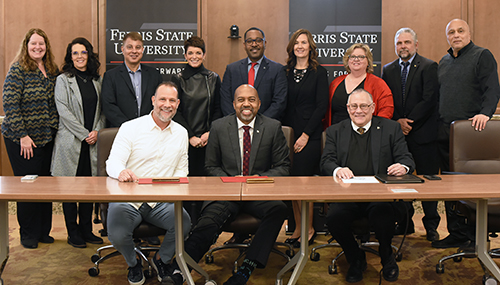 Back row (left to right): Jeanine Ward-Roof, Ferris State University vice president for Student Affairs; Lisa VonReichbauer, interim director of the Office of International Education; Paul Khanna, president of MedStar; Kathy Mullins, vice president for University Advancement and Marketing; Lincoln Gibbs, dean of the College of Health Professions, Wendy Lenon, department chair for School of Nursing; Theresa Raglin, associate dean for operations, assessment and compliance in the College of Health Professions; Steven Reifert, interim associate provost of academic operations; and David Pilgrim, vice president of diversity, inclusion and strategic initiatives. Front row (left to right): Jeff Schmitz, Ferris alumnus and MedStar vice president; Bill Pink, president of Ferris; and Bobby Fleischman, Ferris provost and vice president for Academic Affairs.

Ferris State University is teaming up with a nonprofit organization to connect globally, helping international nursing students gain training and enhanced credentials to help meet the growing demand for their skills in Michigan, across the country and beyond.
Ferris recently signed an affiliation agreement with MedStar, a nonprofit organization based in Oak Brook, Illinois, that recruits and employs qualified candidates to conduct healthcare research and develop a range of learning materials. MedStar's mission aligns with the work of Ferris' College of Health Professions, Dean Lincoln Gibbs said.
"This unique partnership not only enhances the learning environment in our Master of Nursing program through global perspectives on health and healthcare delivery but also helps meet industry staffing shortages in nursing across the country," Gibbs said.
MedStar employees will conduct healthcare research through Ferris while working in a healthcare environment, gathering data while obtaining hands-on practical experience to supplement their skill set. MedStar will pay the tuition of students pursuing a Ferris degree. Paul Khanna, president of MedStar, noted that most students would likely come to Ferris from the United Kingdom, other areas of Europe, India and Jordan.
A member of MedStar's governing board will serve on Ferris' School of Nursing Advisory Board as a nonvoting member. Ferris will assign a member of its administration to serve on MedStar's board as a member restricted to voting limited to Ferris-related matters.
"We are looking forward to our strategic partnership with Ferris State to enhance nursing opportunities in research and higher education," said Khanna, who is partnering with vice president Jeff Schmitz, a Ferris alumnus heavily involved in the partnership. "It is our first time partnering with a university. We saw a need and wanted to explore the opportunity that brought us to this partnership with Ferris State University. We see this as a win-win as nurses benefit, and it increases enrollment at Ferris."
In Summer 2021, Ferris' School of Nursing announced an additional cohort in response to workforce demands and nursing shortages. Traditionally, the university accepted 64 students but increased to 96 for the five-semester program. The five-semester program, which includes the summer, puts Ferris students on a faster track to graduation than competitors.
Provost and Vice President for Academic Affairs Bobby Fleischman emphasized the importance of this partnership in the larger scope of a healthcare industry that has taken on greater significance in recent years, particularly since the start of the COVID-19 pandemic. Ferris and MedStar leaders are confident that such partnerships are ideal for preparation. Fleischman noted Ferris' great pride in collaboration, a core value of the university.
"As we continue to build partnerships with the healthcare industry, this provides an outstanding opportunity to address the shortage of nurses in the region and across Michigan," Fleischman said. "The leadership of Dean Gibbs and Dr. Wendy Lenon, our department chair in the School of Nursing, made this partnership possible."
Ferris' College of Health Professions programs moves students into their field of study through real-world lab settings and simulations, active interaction with healthcare professionals, embedded clinical and internship experiences, student organizations, professional organization membership opportunities and more. College of Health Professions departments include Diagnostic, Laboratory and Therapeutic Sciences; Health Administration and Health Information and School of Nursing.
MedStar is a nonprofit organization that employs, recruits, and retains healthcare research candidates. MedStar also facilitates the development of learning materials, including simulations, augmented reality, interactive progressive testing and workplace-integrated modules.