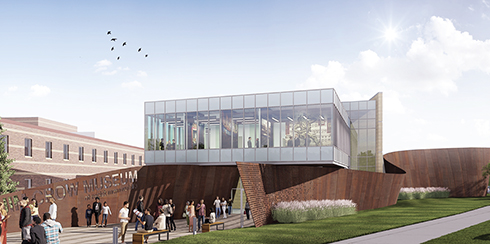 Here is a rendering of what the future Jim Crow Museum will look like at the entrance of the Big Rapids campus of Ferris State University.

Progress toward a future stand-alone home for the internationally-renowned Jim Crow Museum received a significant commitment from Ferris State University's Board of Trustees.
At their regular meeting on Friday, Feb. 17, in Big Rapids, the trustees approved a $5 million commitment to a museum committed to its mission of "using objects of intolerance to teach tolerance and promote social justice." The museum moved into its current 3,500-square-foot facility inside the Ferris Library for Information Technology and Education (FLITE) in 2012. During the past 10 years, the Jim Crow Museum's collection has grown to more than 20,000 objects making it the world's most extensive publicly accessible collection of Jim Crow-related objects.
David Pilgrim, Ferris' vice president for diversity, inclusion and strategic initiatives, is also the Jim Crow Museum's founder and curator. Pilgrim saluted this major commitment by the administration and the board of trustees.
"The financial investment by the Board of Trustees sends a powerful message," Pilgrim said. "Once built, the new Jim Crow Museum will be a centerpiece of the University's commitment to diversity, equity, and inclusion, and serves our students, the state, and the nation as a teaching and learning resource."
The future Jim Crow Museum will host lectures, conferences and workshops for Ferris students, scholars from universities across the United States, law enforcement personnel, politicians, civil leaders, religious organizations and civil rights advocates. Additionally, an expanded museum will feature a 7,500-square-foot permanent exhibit to highlight the museum's most compelling pieces and have a greater capacity to display more of the growing collection.
The museum has a $20 million fundraising goal with $1 million committed by the state of Michigan and an additional $2 million already secured from donors.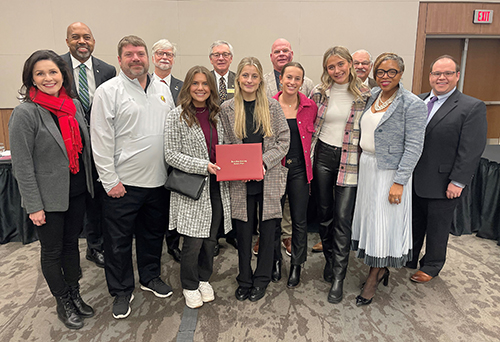 A citation of merit was presented to the Ferris State University women's soccer team on Friday, Feb. 17.

Board members approved priorities two and three of the campus wayfinding master plan at a cost not to exceed $1.5 million from the university's central funds. Included in priorities two and three are the installation of:
new, larger building identifications signs with LED message centers at the key destinations of the Ewigleben Sports Complex and Williams Auditorium.
new, larger building identification signs for the destinations of the Student Recreation Center, Racquet and Fitness Center and Katke Golf Course.
backlit, branded Ferris State University signs and Bulldog logo signs on the highly-visible destination landmarks of FLITE, at the main entrance, and Timme Center of Student Services, highlighting Admissions.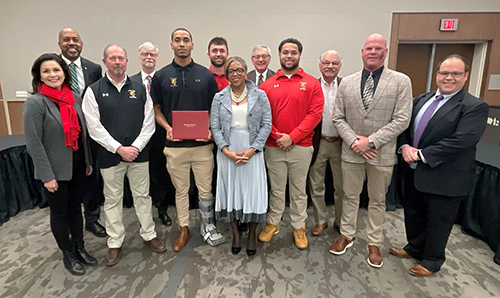 A citation of merit was presented to the Ferris State University football team during the Board of Trustees meeting on Friday, Feb. 17 in Big Rapids.

The trustees approved priority one of the wayfinding project in February 2022.
Trustees also approved citations of merit for outstanding Fall 2022 athletics seasons for football and women's soccer. The Bulldog football team won its second consecutive NCAA Division II National Championship with a 41-14 win over Colorado School of Mines on Saturday, Dec. 17, in McKinney, Texas. The women's soccer team won the NCAA Division II Midwest Region Championship and advanced to the NCAA Division II Final Four for the first time in program history.
The trustees are chair LaShanda R. Thomas, of Grosse Pointe; vice chair Ronald E. Snead, of Stanwood; secretary Kurt A. Hofman, of Grand Rapids; immediate past-chair Amna P. Seibold, of East Grand Rapids; George K. Heartwell, of Newaygo; Michael B. Fisher, of Lansing; Michael D. Ryan, of Big Rapids; and Vivian TerMaat, of Ada.
The board's next regular meeting is Friday, May 5, in Big Rapids.