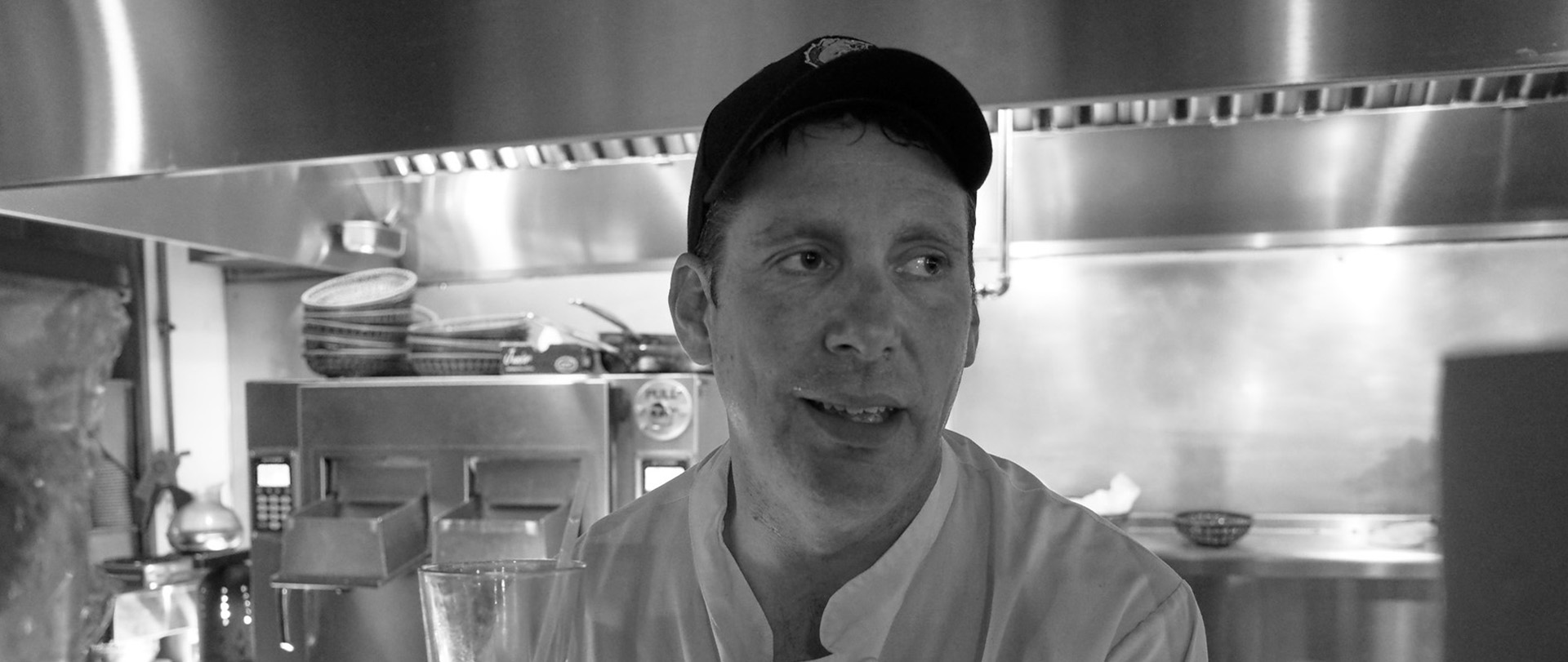 The opening exhibit of Ferris State University's Fine Art Gallery schedule for the 2022-23 academic year is "Last Call," a photographic essay on the employees of Big Rapids' iconic Schuberg's Bar and Grill. The exhibit will be available from Tuesday, Sept. 6 through Friday, Oct. 28.

An insider's tribute to one of downtown Big Rapids' signature businesses will be on display from Tuesday, Sept. 6 through Friday, Oct. 28. Ferris State University's Fine Art Gallery is featuring Jason Swearingen's "Last Call" photo essay.
Swearingen earned a Bachelor of Science in Journalism and Technical Communication from Ferris in 2016 and is an audio/visual technician for the university's Information Technology Services department. He said Schuberg's Bar and Grill serves as a "third place" in his personal experience as a line cook, to join with his home life and position at Ferris.
"It is definitely my 'third place,'" Swearingen said. "The sense of place and memory is so significant with Schuberg's since it has almost a century of history in Big Rapids. Everyone who sits at the bar or has a table or booth for lunch or dinner is an equal, very capable of contributing to a conversation, whether they do physical labor for their living or are in a professional field."
He added, "Some 'big names' have found their way to Schuberg's over the years, like author Elmore Leonard and poet Jim Harrison, along with the famous and near famous in professional sports, art and music. You regularly see former Ferris students who make a pilgrimage to be in a booth with their spouse, or children, to tell their stories of great times past."
The location is unique in the community.
"Schuberg's is also where townspeople and current students come together to enjoy a comfortable meal in an understated setting," he said. "I simply began taking individual photos in 2016, with no intention of coming to the point of offering an exhibit."
Swearingen said Fine Art Gallery Executive Director Carrie Weis encouraged him to take the creative steps of assembly and production.
"These were pictures taken for my personal satisfaction, not acquired with the intention of display, say, on a social media platform," he said. "I found it quite an engrossing process to go through the first images I shot to St. Patrick's Day of this year, to select 20 to encapsulate that timespan."
Swearingen said his "point-and-shoot" camera was purchased to gather pictures of the end of the night at Schuberg's when the patrons finish their food and drink. Then, the staff enjoys a shift drink and cleanup takes place to prepare for the next day's work.
"I was always intentional about framing the shot, right in the lens, an unedited story of the moment," Swearingen said. "I hope that I captured the dignity of the folks who close down kitchens, count the till and turn off the lights when the night ends. I told the owners, Jen and Brad Rumsey, about this project. They were very excited to know it was going to happen because they love their work, our team at Schuberg's and this community so much."
There will be an opportunity to hear from Swearingen about this exhibit on Thursday, Sept. 15, at 5 p.m., in a program continuing to 6:30 p.m. He intends to follow that appearance with further discussion at Schuberg's from approximately 6:30 to 7:30 p.m. that evening.
"I am getting very excited about this presentation," Swearingen said. "Many co-workers from Schuberg's are planning to be on hand for the question-and-answer session at the gallery, and thereafter."
Swearingen will also be at the Fine Art Gallery Tuesday, Oct. 11, at 11 a.m. for a discussion with Art History Professor Rachel Foulk, which will be open to the public. The hours of operation for the Fine Art Gallery are 9 a.m. to 5 p.m. Tuesdays through Fridays and 10 a.m. to 2 p.m. each Saturday in the David L. Eisler Center.