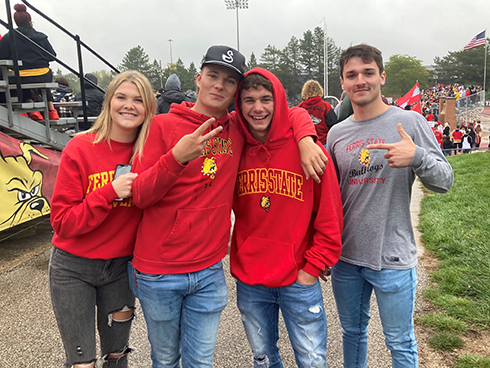 Wyatt Vogel of Webberville (second from left) joins with friends on their way to watch Ferris State University's 2022 Homecoming football game against Waldorf University of Iowa. "Bulldogs Recharged" was the theme for various events organized by a campus committee, culminating with Ferris' 69-3 defeat of the visiting Warriors.

Temperatures in the 50s and a persistent, recurring drizzle were simply part of the backdrop as thousands arrived on the Ferris State University campus Saturday, Sept. 24, for the 96th Homecoming celebration.
"Bulldogs Recharged" was the theme for the week's activities. While some supporters began the day along Michigan Avenue for the annual Homecoming parade, others settled in at Reunion Row tents or in other areas outside Top Taggart Field before the midafternoon football game against Waldorf University of Iowa. Kurt Dubowski of Big Rapids, a former Ferris running back and 1998 graduate of the College of Engineering Technology, hosted a crowd at his recreational vehicle before heading into the stadium for the contest.
"There was drizzle at times throughout the tailgate, but there was still a great crowd of supporters," Dubowski said. "Many of my football teammates have come for the game. They are all excited, and we look forward to a good one."
Wyatt Vogel of Webberville, a junior in Ferris' Professional Golf Association Golf Management, headed to an endzone seat with friends following a festive pregame celebration.
"We had a good tailgate," Vogel said. "I have been following the football team since I came to Ferris, but I have been following the Bulldog Men's Golf Team since my high school days. Even though it has rained some, we are still looking forward to another great game."
At halftime, students and fans learned that Hazelle Williams of Westland, a Dental Hygiene student, was elected Homecoming Ambassador. Sponsored by the Sigma Gamma Rho, Inc. sorority, Williams said she was thrilled by the honor, which wrapped up a series of activities and events for the contestants during the week.
"It has been a long process, but there has been so much support from all the organizations I collaborate with," Williams said. "I could never have done this alone, but I am very excited. This means everything to me."
Nearly 5,100 enjoyed the action from the stands after filling tailgating areas and open lots on either side of South Street.
High above Top Taggart Field, Ferris Athletics statistician and 2007 Pete Peterson Pride Award Winner Stanley Gustafson paused a moment in the Wheeler Pavilion before second-half duties to consider his presence at Bulldog Homecoming games since 1988.
"With the 2020 season set aside because of the pandemic, this makes my 34th Homecoming game with the statistical crew," Gustafson said. "When I started, we kept statistics by entering the information onto charts by hand. Then we hand-cranked mimeograph machines for our manually collated, stapled post-game reports."
Gustafson earned Bachelor of Science degrees through dual majors from the College of Business in 1991 and was pleased to recount some of his favorite games, whether he was logging the information or enjoying them as a fan.
"My offensive spotter, former Sports Information Director Bill' Hawk' Taylor, tapped me on the shoulder in 1995, to make sure I was looking up from my computer in time to see Chris Pulliams' 97-yard run to win the 'Snow Bowl' game here, against Saginaw Valley," Gustafson said. "It is also a great memory to have watched the broadcast of last year's Division II national championship win over Valdosta State. The football program has brought all of us so many thrills."
Ferris' 69-3 win over the Waldorf University Warriors Saturday was the largest margin of victory in a home game for the Bulldogs since Oct. 23, 1999, in a 66-7 win over Michigan Tech.